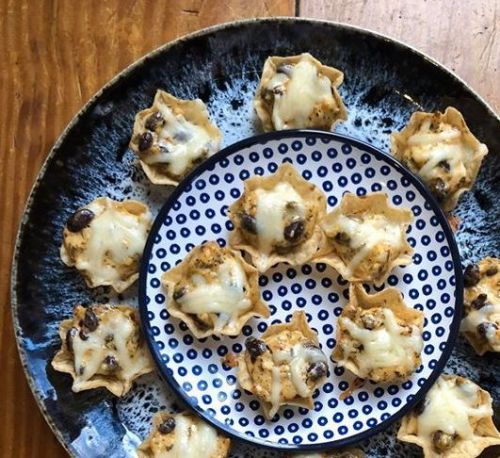 1 cup sour cream
1/4 cup mayo
1 Tbsp. Halladay's Zesty Fiesta or Garlic Chipotle Seasoning
1 cup shredded cheddar cheese, divided
1 cup black beans, rinsed and drained
Tostitos Scoops
Preheat oven to 350°F. Combine sour cream, mayo, and seasoning of choice. Fold in beans and ¾ cups of the shredded cheddar cheese. Put a heaping teaspoon of the dip mixture into a Tostitos Scoop chip; continue filling scoop chips until dip mixture is used up. Sprinkle the remaining cheese on top of each chip. Place on a cookie sheet and bake for about 10 to 12 minutes, or until hot and bubbly. Serve warm or at room temperature.
4 chicken breasts or thighs 7-8 oz each
1 Tbsp Halladays Harvest Barn Zesty Fiesta Dip & Seasoning Blend
15 oz can black beans, drained and rinsed
2 cups of whole kernel corn
1 cup of diced peppers
3/4 cup of salsa
1/2 cup of Monterey Jack or Mexican Cheese
Cilantro, Jalapenos or the garnish of your choice
Preheat Grill to Medium Heat. Place 4 large pieces of foil out and spray with cooking spray. Place a chicken piece on each piece of foil and season with Zesty Fiesta seasoning and salt and pepper to taste. Mix corn, beans and peppers together and top chicken with mixture. Fold in the ends to seal packets. Place packets on the grill, vegetable side down and grill for 10 minutes. Flip packets over and grill for 10 to 12 more minutes, until the chicken Is cooked through. Remove packets from the grill and carefully open foil and top with cheese. Loosely close the foil for a couple minutes to allow the cheese to melt.