Creative cooking made easy!
Our Recipe Books
Last Added Recipes
2 (1" round) slices cut from the center of a seedless watermelon
1 cup plain or vanilla Greek yogurt
2 Tbsp. Halladay's Harvest Barn Lemon Raspberry Cheesecake Mix
2/3 cup sliced strawberries
1/2 cup blueberries
2 Tbsp. toasted coconut

Spread a thin layer of yogurt on each watermelon slice, then stack on top of each other. Sprinkle the top with strawberries, blueberries, and then the toasted coconut. Slice into 6 or 8 pie shaped wedges to serve.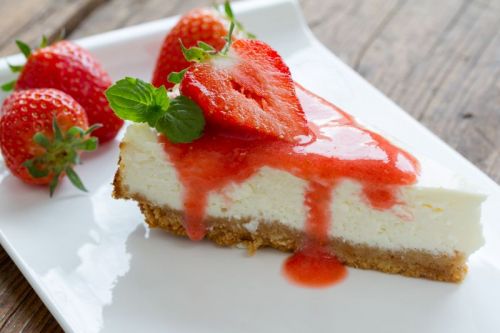 For Pie and Filling
1 Prepared Graham Cracker Pie Crust
1 pint cool whip
1 (8 oz.) block cream cheese
1 package of Halladay's Harvest Barn Strawberry Cheesecake Mix
Prepare according to package directions and chill.

For Topping
2 lbs strawberries, sliced
3/4 cup granulated sugar
1/2 cup water
3 Tbsp. cornstarch
Crush or puree 1.5 cups of the strawberries. Whisk sugar, water and cornstarch in small saucepan until smooth. Heat until the sugar is dissolved, then add in the crushed strawberries. Bring to a boil over med heat, stirring until thickened. Let cool for 30 minutes, then add additional strawberries. Top prepared cheesecake with the strawberry sauce.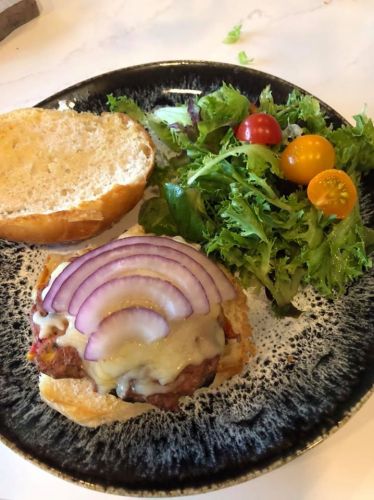 1 Tbsp. Halladay's Smoky Chipotle Burger Seasoning
1 lb ground turkey
1 cup black beans, rinsed and drained
1/2 cup of corn
1/2 cup of chopped peppers and onions if desired

Mix all ingredients together and form into 4 patties, place on a cookie sheet. Bake in a 350 degree oven for 25 minutes. Top with cheese if desired and pop back into the oven until the cheese melts.
4 chicken breasts or thighs 7-8 oz each
1 Tbsp Halladays Harvest Barn Zesty Fiesta Dip & Seasoning Blend
15 oz can black beans, drained and rinsed
2 cups of whole kernel corn
1 cup of diced peppers
3/4 cup of salsa
1/2 cup of Monterey Jack or Mexican Cheese
Cilantro, Jalapeños or the garnish of your choice

Preheat Grill to Medium Heat. Place 4 large pieces of foil out and spray with cooking spray. Place a chicken piece on each piece of foil and season with Zesty Fiesta seasoning and salt and pepper to taste. Mix corn, beans and peppers together and top chicken with mixture. Fold in the ends to seal packets. Place packets on the grill, vegetable side down and grill for 10 minutes. Flip packets over and grill for 10 to 12 more minutes, until the chicken Is cooked through. Remove packets from the grill and carefully open foil and top with cheese. Loosely close the foil for a couple minutes to allow the cheese to melt.
1 Tbsp Halladays Harvest Barn Garlic Tomato Basil Dip mix
1 lb of Boned Chicken Thighs or Breasts (cut or pounded thin)
1 medium zucchini, halved and sliced diagonally
2 Tbsp. capers/ drained and chopped
1 cup cherry tomatoes, halved
1 cup of farro
2 Tbsp. Greek Yogurt
1/2 cup of water
3 Tbsp. grated Parmesan cheese
2 Tbsp.Greek Yogurt
2 cloves of garlic minced
3 Tbsp. of olive oil

Cook farro in boiling salted water for 18 to 20 minutes and drain.
Sauté zucchini in 1 Tbsp. of olive oil for 4 minutes. Add chopped garlic and cook for another 2 minutes. Remove from pan.
Season chicken with 2 tsp. of Halladay's Harvest Barn Garlic Tomato Basil Seasoning and salt and Pepper to taste. In the zucchini pan, add another Tbsp. of olive oil and cook the seasoned chicken for 6 to 7 minutes per side until done.
In a second pan add another Tbsp. of olive oil and cook the halved cherry tomatoes for 1 to 2 minutes, flattening them as they cook. Add the water, chopped capers and remaining seasoning and cook for 1 to 2 more minutes until the sauce is thickened.
To the cooked farro add the Greek Yogurt, zucchini and 2 Tbsp. of cheese. Add salt and Pepper to taste.
Line your plate with the farro mixture, top with the cooked chicken and the pan sauce. Garnish with the remaining cheese.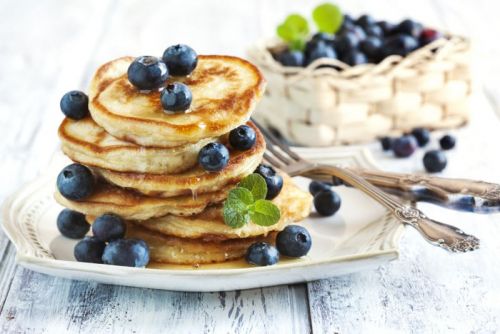 1 egg
2 Tbsp. Butter, melted or oil
1 cup buttermilk, or 1 cup milk mixed with 1 Tbsp. Vinegar or lemon juice
1 ½ cups Halladay's Buttermilk Pancake Mix
Consider some fun add-ins: coconut flakes, chocolate chips, blueberries with some finely grated lemon zest

Whisk together egg, butter and buttermilk until foamy. Add pancake mix and blend until most of the lumps are gone; let sit 2-5 minutes.
Meanwhile, heat a frying pan or griddle over medium-high heat. Brush pan lightly with oil or spray with non-stick cooking spray. Drop about ¼ cup of batter onto pan. Flip pancake over once bubbles have risen to the surface and cook the second side until golden.