Creative cooking made easy!
Our Recipe Books
Last Added Recipes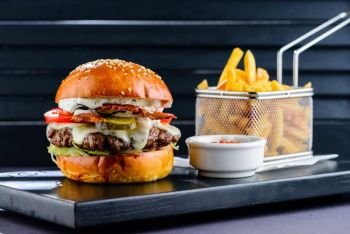 6 eggs, hard boiled and peeled
1 to 2 Tbsp. Halladay's Maple Bacon Seasoning
3 Tbsp. mayo
1 Tbsp. white or apple cider vinegar
Salt and pepper to taste
2 pieces of bacon, crisply cooked and crumbled, for garnish (optional)

Cut cooked eggs in two, removing the yolks and setting aside the whites. Crush yolks with a fork, add Halladay's Maple Bacon Seasoning, mayo, vinegar, salt and pepper to taste. Fill egg whites with yolk mixture. Sprinkle cooked bacon crumbles on top, if desired.
2 Tbsp. butter
2 Tbsp. Halladay's Seafood Alfredo Seasoning
4 oz. cream cheese, softened
½ cup sour cream
¼ cup mayo
1 cup mozzarella cheese, shredded
¼ cup parmesan cheese
1 cup of shredded cooked chicken

Melt butter, add Seafood Alfredo blend to hydrate and let sit for at least 10 minutes. Combine melted butter mixture with softened cream cheese, sour cream and mayo. Fold in the chicken, mozzarella and parmesan cheese. Pour into decorative pie plate or oven proof dish. Bake at 350°F for 20 to 25 minutes, or until hot and bubbly. Broil for an additional 2 to 3 minutes to brown, if desired. Garnish with chopped cherry tomatoes before serving, optional.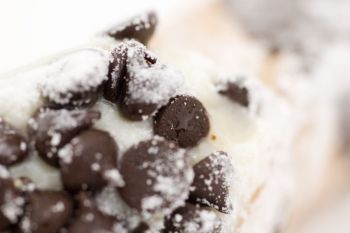 1 (8 oz.) block cream cheese, softened
1 cup ricotta cheese
1 package Halladay's New York Style Cheesecake
2 Tbsp. sugar
2/3 cup mini chocolate chips

Blend ricotta, Halladay's cheesecake mix, sugar and softened cream cheese. Fold in mini chocolate chips. Chill for at least one hour. Serve with waffle sugar cones broken into medium size pieces.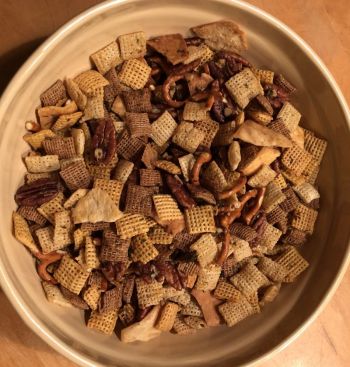 2 cups Corn Chex Cereal
2 cups Wheat Chex Cereal
2 cups Rice Chex Cereal
1 cup nuts of choice
1 cup pita chips, pretzels or bagel chips, crumbled
½ stick butter
2 Tbsp. maple syrup
2 Tbsp. Halladay's Maple Bacon Seasoning

Combine cereals, nuts, and pita chips in a medium bowl. Melt butter then add maple syrup and Maple Bacon Seasoning. Pour melted butter mixture over the cereal mix, stirring as you go. Microwave mixture on high for a total of about 3 minutes; pausing to stir after each minute. Pour onto a cookie sheet and let cool. Store in a sealed container until you are ready to serve.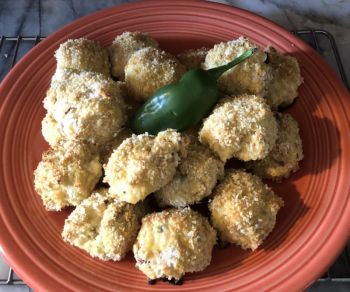 Filling ingredients:
2 Tbsp. Halladay's Maple Bacon Seasoning
4 slices crisply cooked bacon, drained and chopped
2 (8 oz.) blocks cream cheese
1 cup shredded cheddar cheese
1 medium jalapeño pepper, seeded and diced.

Coating Ingredients:
1 cup flour
3 eggs, beaten
1 cup panko crumbs
Blend softened cream cheese with Maple Bacon Seasoning. Fold in cheddar cheese, cooked chopped bacon and diced jalapeño pepper. Chill for at least one hour, until firm.
Form filling mixture into small balls. Roll in flour, then egg wash, then panko crumbs. Bake at 375°F for about 15 to 20 minutes, or until golden brown.