Creative cooking made easy!
Our Recipe Books
Last Added Recipes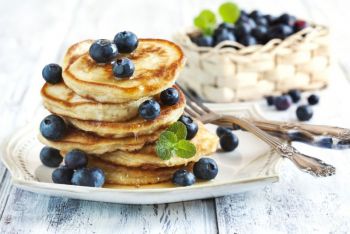 1 egg
2 Tbsp. Butter, melted or oil
1 cup buttermilk, or 1 cup milk mixed with 1 Tbsp. Vinegar or lemon juice
1 ½ cups Halladay's Buttermilk Pancake Mix
Consider some fun add-ins: coconut flakes, chocolate chips, blueberries with some finely grated lemon zest

Whisk together egg, butter and buttermilk until foamy. Add pancake mix and blend until most of the lumps are gone; let sit 2-5 minutes.
Meanwhile, heat a frying pan or griddle over medium-high heat. Brush pan lightly with oil or spray with non-stick cooking spray. Drop about ¼ cup of batter onto pan. Flip pancake over once bubbles have risen to the surface and cook the second side until golden.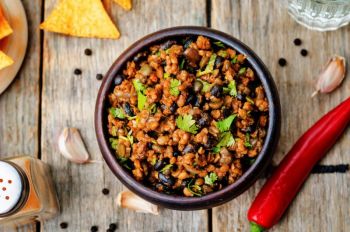 1 package Halladay's Farmhouse Chili Seasoning Blend
1 (12 oz.) package Lightlife Plant Based Crumbles, or other vegetarian ground beef substitute
1 (14.5 oz) can crushed tomatoes
2 cans kidney or black beans, drained and rinsed
1 can garbanzo beans, drained and rinsed
1 small onion, chopped
1 red or green bell pepper, seeded and chopped
2 jalapenos, seeded and chopped, optional
1 cup dark beer, optional

Saute chopped onion, bell pepper, and jalapeno until slightlyl brown. Stir in Lightlife Plant Based Crumbles and the contents of Halladay's Farmhouse Chili Seasoning. Add your crushed tomatoes, beans and beer, if desired. Simmer for 30 minutes, or until all the flavors are well blended. Top with sour cream, shredded cheddar cheese, fresh cilantro or sliced jalapeno. 
Wonton wrappers
cooking spray

Preheat oven to 350°F. Lightly coat a mini muffin tin with cooking spray. Cut a small corner off of each Wonton wrapper to form an octagon. Press gently into muffin tins and finely mist with cooking oil. Bake for 4-6 minutes if you are returning to the oven with a filling, or 6-8 minutes if they are being served cold. Freeze or use within 24 hours.
8 oz of cream cheese
1/2 cup of sour cream
1 1/2 tablespoons of spicy garlic dill dip
6 slices of white bread or 6 soft tortilla rounds

Mix softened cream cheese with sour cream and dip mix.Spread thin layer on bread or tortilla , put another piece of bread or tortilla on top. Spread this layer with thin layer of cheese mixture and thin slices of salmon. Wrap and let chill at least one hour. Cut into small squares to serve.
1 (14 oz.) can artichoke hearts, drained and chopped
½ cup mayo
½ cup sour cream
½ cup Parmesan cheese, grated
1 cup mozzarella, shredded
2 Tbsp. Halladay's Spinach & Artichoke Seasoning
24 pre-baked Savory Wonton Wrappers (Find this recipe in our Easy Entertaining recipe category)

Preheat oven to 350°F. First, find and make our Savory Wonton Wrappers. The recipe for these can be found in the Easy Entertaining category of our recipes page.
In a medium bowl, combine the first six ingredients listed above and mix well. Stuff a teaspoon of the mixture into each wonton shell. Place filled shells on a baking sheet and bake for 5-7 minutes, or until hot and bubbly.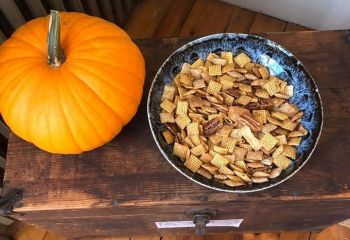 2 cups Corn Chex Cereal
2 cups Wheat Chex Cereal
2 cups Rice Chex Cereal
1 cup pecans and/or walnuts
1 cup pita chips or pretzels
1 stick of butter
1 package Halladay's Pumpkin Cheesecake Mix

Combine cereals, nuts and chips in a medium bowl. Melt the butter and pour over cereal mixture, stirring as you go. Sprinkle the Pumpkin Cheesecake mix over the mixture and stir gently until well blended. Microwave for 3 minutes, stopping to stir after each minute. Pour onto a cookie sheet to cool. Once cool, store in a sealed bag or container until ready to serve.