Creative cooking made easy!
Last Added Recipes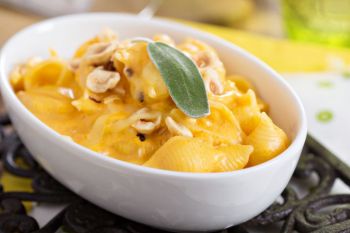 1 lb. pasta shells, cooked
4 Tbsp. butter
3 rounded Tbsp. flour
1 cup chicken or vegetable stock
2 Tbsp. honey
2 cups milk
4 Tbsp. Halladay's Cheddar Ale Seasoning
1 (15 oz.) can pumpkin puree
2 ½ cups shredded sharp cheddar cheese, divided
Melt butter in a large skillet. Whisk in flour and for 1 minute. Whisk in chicken stock and simmer until reduced, 3- 5 minutes. Whisk in honey followed by milk and seasoning. Cook, stirring often, until thickened; whisk in pumpkin. Stir in 2 cups of cheese; salt and pepper to taste. Stir in pasta. Pour into a 13x9-inch casserole dish and sprinkle with remaining cheese. Broil until cheese is melted and bubbling.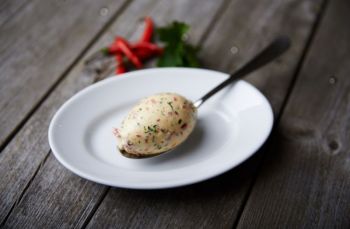 1 stick butter, softened
1 to 2 tsp. Halladay's Seasoning
Combine seasoning with butter; let sit 30 minutes.
3 to 4 Tbsp. Halladay's Farmhouse Five Onion Seasoning
2 lbs. ground beef
¾ cup bread crumbs
2 eggs
1 small onion, chopped (optional)
½ cup ketchup
Preheat oven to 350˚F. Combine ingredients and transfer to a loaf pan. Bake until cooked through, about 1 hour.
Our Recipe Book