Creative cooking made easy!
Our Recipe Books
Last Added Recipes
6 Tbsp butter, separated
1 onion, halved and sliced
1/2 lb breakfast sausage
mushrooms, thinly sliced
1 1/2 Tbsp Halladay's Roasted Garlic & Rosemary Seasoning
4 Tbsp. flour
3 cups of whole milk
1 lb. of green beans, cooked
1 1/2 cups French's fried onions
salt and pepper, to taste

Preheat oven to 350°F. Melt 2 Tbsp of butter in a large skillet over medium heat. Add onion and sausage and cook until tender, stirring occasionally. Add mushrooms and Roasted Garlic & Rosemary Seasoning, cook until golden. Transfer to a bowl.
In the same skillet, melt remaining 4 Tbsp. of butter over medium heat. Whisk in flour and cook until golden, about 2 minutes. Gradually whisk in milk, then season with salt and pepper. Bring to a simmer and cook until thickened, about 4 minutes.
Combine green beans, sausage and onion mixture, and sauce, in your favorite casserole dish. Bake until hot and bubbly, about 30 minutes. Top with fried onions and heat another 5 minutes.
1 prepared flatbread pizza crust
2 Tbsp. olive oil
1 Tbsp. Halladay's Roasted Garlic & Rosemary Seasoning
1 cup sharp cheddar cheese, shredded
1 large green apple or honey crisp apple, thinly sliced
1/2 a red onion, thinly sliced
1 small sweet potato, lightly cooked, peeled, and thinly sliced

Preheat oven to 425°F. In a small bowl, combine olive oil and seasoning. Lightly coat the pizza crust with seasoned oil mixture. Layer the pizza with shredded cheese, apples, onion and sweet potato. Bake on cooking sheet for 10-12 minutes.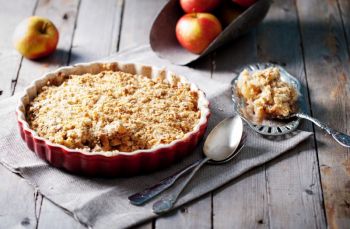 4 cups apples, peeled and sliced
1 stick butter
1 package Halladay's Apple Crisp Mix

Peel, core and slice 4 cups of apples, then place them in to a 9" pie plate. Set aside and make the topping. Cut one stick of butter into small pieces and blend with Halladay's Apple Crisp mix. Crumble topping mixture over apples. Bake at 350°F for approximately 20-30 minutes, or until bubbly and lightly browned.
3 cups water
1 package Halladay's Broccoli Cheddar Soup Mix
1 cup half $ half or milk

Whisk together water and package contents, bring to a boil. Reduce heat and simmer for 10-15 minutes. Add half & half. For a richer soup, add shredded cheddar cheese, broccoli, ham or bacon. Serve in a small soup crock or in a loaf of bread, hollowed out as a bowl.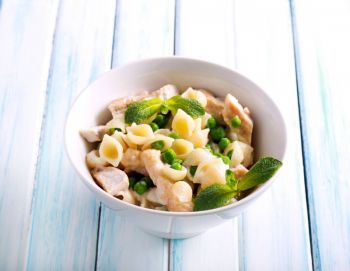 ½ cup regular or light mayo
½ cup non-fat buttermilk
1 Tbsp. Halladay's Harvest Ranch Seasoning
8 oz. large shell pasta
1 cup frozen peas
2 cups arugula
1 cup cooked chopped chicken

Blend mayo, buttermilk, and Harvest Ranch Seasoning. Chill for at least one hour.  Cook pasta according to directions on package, adding in the peas during the last minute of cooking. Drain and set aside.  Combine pasta, peas, chicken and arugula in a bowl. Add desired amount of dressing just before serving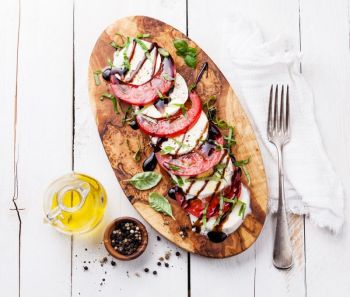 ½ cup olive oil
¼ cup balsamic vinegar
1 Tbsp. Halladay's Garlic Tomato Basil Seasoning
2 to 3 large ripe tomatoes
Buffalo mozzarella cheese

Combine olive oil, balsamic vinegar, Halladay's Garlic Tomato Basil Seasoning and let sit for at least one hour. Slice tomatoes and cheese. Lay tomatoes and cheese on a serving dish and drizzle with the dressing before serving.