Creative cooking made easy!
Our Recipe Books
Last Added Recipes
Wonton wrappers
cooking spray

Preheat oven to 350°F. Lightly coat a mini muffin tin with cooking spray. Cut a small corner off of each Wonton wrapper to form an octagon. Press gently into muffin tins and finely mist with cooking oil. Bake for 4-6 minutes if you are returning to the oven with a filling, or 6-8 minutes if they are being served cold. Freeze or use within 24 hours.
8 oz of cream cheese
1/2 cup of sour cream
1 1/2 tablespoons of spicy garlic dill dip
6 slices of white bread or 6 soft tortilla rounds

Mix softened cream cheese with sour cream and dip mix.Spread thin layer on bread or tortilla , put another piece of bread or tortilla on top. Spread this layer with thin layer of cheese mixture and thin slices of salmon. Wrap and let chill at least one hour. Cut into small squares to serve.
1 (14 oz.) can artichoke hearts, drained and chopped
½ cup mayo
½ cup sour cream
½ cup Parmesan cheese, grated
1 cup mozzarella, shredded
2 Tbsp. Halladay's Spinach & Artichoke Seasoning
24 pre-baked Savory Wonton Wrappers (Find this recipe in our Easy Entertaining recipe category)

Preheat oven to 350°F. First, find and make our Savory Wonton Wrappers. The recipe for these can be found in the Easy Entertaining category of our recipes page.
In a medium bowl, combine the first six ingredients listed above and mix well. Stuff a teaspoon of the mixture into each wonton shell. Place filled shells on a baking sheet and bake for 5-7 minutes, or until hot and bubbly.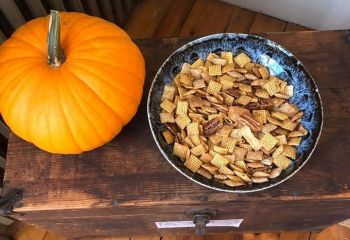 2 cups Corn Chex Cereal
2 cups Wheat Chex Cereal
2 cups Rice Chex Cereal
1 cup pecans and/or walnuts
1 cup pita chips or pretzels
1 stick of butter
1 package Halladay's Pumpkin Cheesecake Mix

Combine cereals, nuts and chips in a medium bowl. Melt the butter and pour over cereal mixture, stirring as you go. Sprinkle the Pumpkin Cheesecake mix over the mixture and stir gently until well blended. Microwave for 3 minutes, stopping to stir after each minute. Pour onto a cookie sheet to cool. Once cool, store in a sealed bag or container until ready to serve.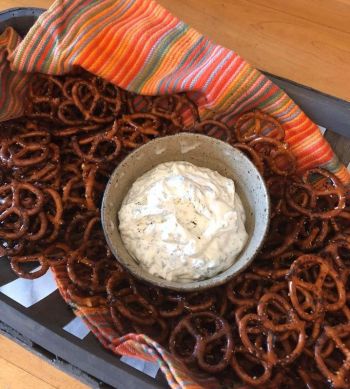 1 stick unsalted butter
2 Tbsp. Halladay's Buffalo Chicken & Blue Cheese Seasoning
1 (12 oz.) bag pretzel rounds or sticks

1-2 Tbsp. Halladay's Harvest Ranch Seasoning
½ cup sour cream
½ cup mayo

Melt butter in a small sauce pan. Add the Buffalo Blue Cheese Seasoning and let mixture hydrate in the butter. Pour pretzels into a mixing bowl, add seasoned butter mixture and toss to coat the pretzels. Preheat oven to 300°F. Line a cookie sheet with parchment paper; pour pretzels onto the pan in a single layer. Bake for approximately 30 minutes, stirring at least once halfway through. While pretzels are baking, prepare the dip for the pretzels by combining the Harvest Ranch seasoning with sour cream and mayo. The dip can be made ahead of time. Let pretzels cool and serve with Harvest Ranch Dip