Creative cooking made easy!
Our Recipe Books
Last Added Recipes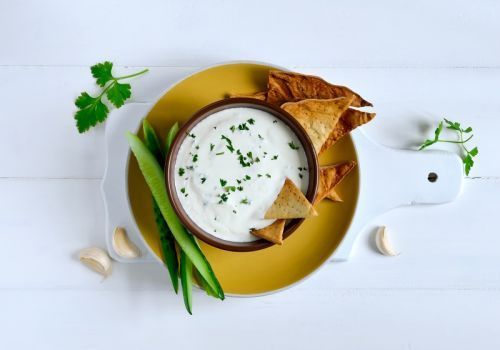 1 Tbsp Halladay's Harvest Barn Dip Mix (our favorites include Lemon Spinach and Cucumber Dill
1 cup plain Greek yogurt
1 to 2 Tbsp light mayo, if desired
Combine all ingredients. Chill several hours, or overnight for the most flavorful dip.
¼ cup vegetable oil
½ cup popcorn kernels
1 package Halladay's Maple Cheesecake mix
¼ tsp salt
Pour all items into a med sized saucepan, stir. Cover pan with a well fitting lid. Heat contents slowly using low to med heat. Be sure to cook low and slow, if your heat is too high the sugar will burn. It will take a couple minutes to get warm enough for the kernels to pop. Shake the pan so that the kernels on the bottom do not burn. Remove pan from heat when the popping slows down. Leave the cover on for a minute or two until you don't hear any more kernels popping. Pour onto a sheet pan in a single layer to cool.
1 ½ lbs ground beef
1 small onion, chopped
1 package Halladay's Farmhouse Chili Seasoning
1 (15 oz) can crushed tomatoes
2 (15 oz) cans red kidney beans or black beans, drained and rinsed
1 cup of dark beer, optional
Brown ground beef and drain fat. Sauté onion and add to beef. Add Halladay's Farmhouse Chili Seasoning contents, crushed tomatoes and beans. Add beer if desired. Simmer for 30 minutes or until all flavors are well developed.
Top with sour cream, shredded cheese and crumbled corn chips if desired.
1 (15 oz) can black beans, drained and rinsed
½ cup panko crumbs
2 Tbsp Halladay's Harvest Barn Zesty Fiesta Seasoning
1 egg plus one egg white, beaten.
2 Tbsp olive oil
Mash beans well. Add breadcrumbs, Halladay's seasoning and egg mixture; combine well. Let sit for a few minutes, then form into 4 patties. Fry in oil for approximately 4 minutes per side. Serve on your favorite bun, with your favorite toppings or forget the bun and serve alongside a nice salad for a light and healthy dinner.
2 Tbsp olive oil
1 medium onion, chopped.
2 medium zucchinis halved and sliced.
1 cup fresh or frozen corn kernels
1 can diced tomatoes.
1 Tbsp Halladay's Harvest Barn Garlic Chipotle Blend
2 cans black beans drained and rinsed.
8 (6") corn tortillas
1 ½ cups shredded jack or Mexican cheese blend.
(1 lb. cooked ground turkey or beef, for the non-vegetarian version)
Preheat oven to 350°F. Heat oil in a skillet and cook onions and zucchini until soft. Add in corn, tomatoes, Halladay's Chipotle Seasoning and beans. Cook until the liquid reduces by half. (If adding meat, add cooked ground turkey or beef to veggie mixture and simmer to combine flavors)
Coat a 9 x 13-inch pan with cooking spray. Spoon ⅓ of the vegetable mixture on the bottom of the pan, spreading evenly. Top with four tortillas. Spoon half of the remaining veggie mixture evenly atop the tortillas, then add four more tortillas. Finish off by spooning the last of the veggie mixture and sprinkling the top with shredded cheese.
Bake for approximately 30 to 35 minutes, or until hot and bubbly. Serve with sour cream, crumbled tortilla chips, avocado, scallions or your favorite toppings.
1 ½ cups Halladay's Harvest Barn Buttermilk Pancake Mix
1 cup Buttermilk
1 large egg
2 Tbsp Vegetable Oil for cooking
Gently mix pancake mix, egg, and milk.
plus:
1 cup grated carrots.
1 tsp Apple Pie Spice
¼ cup raisins, optional
¼ cup pecans or walnuts, optional
Don't overmix your batter. It's okay to have a few lumps. As you stir gluten develops and that makes for tough pancakes. Let the batter sit for 3 to 5 minutes before cooking. You can make your batter up to 24 hours ahead. It may need to be thinned a bit if it sits.
You need even heat; not too high, not too low. Once your pan is evenly heated to the correct temperature your pancakes will be perfect.