Easy Holiday Entertaining
12/04/2018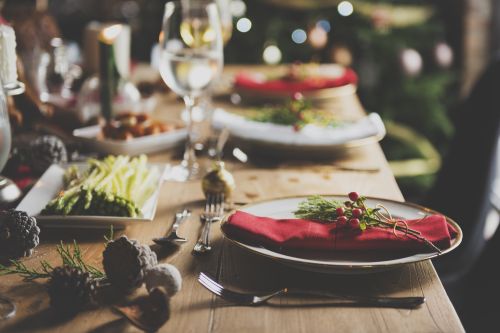 The holiday season is the best time of the year to host a festive party. It is also the most stressful time of the year with so much going on in our busy schedules. With some quick planning and some delicious Harvest Barn mixes you can be in and out of the kitchen in no time, spending time with your guests!
Plan on 3 to 5 appetizers, cheeses and fresh fruit and 1 to 2 different dips with some fresh veggies to round out your selection. A couple warm appetizers are always appreciated.You want to plan for 8 to 10 bites per person. Keep your party simple with items you can prepare ahead of time with just a couple of hot items that can be popped in the oven at the last minute.
If you don't have time to bake consider one of Halladays no bake cheesecake mixes whipped into a mousse, served in small glasses or our delicious cannoli dessert dip.
Creating the perfect cheeseboard: Select at least three interesting cheeses, prosciutto, Sidehill Farms Fig Jam, thinly sliced crusty French bread, a nice brand of crackers, figs and grapes. Leave most of the cheese uncut in pretty wedges so that guests can cut their own pieces. Arrange it all on a rustic board and enjoy!
Hot Bacon Cheddar Ale Dip
1 medium onion, halved and sliced
2 Tbsp. olive oil
4 oz. cream cheese, softened
¾ cup sour cream
½ cup mayo
1 cup shredded cheddar cheese
4 slices crisply cooked bacon, chopped
2 Tbsp. Halladay's Cheddar Ale Seasoning

Sauté onions in olive oil until softened and lightly browned. Combine the softened cream cheese, Halladay's Cheddar Ale Seasoning, sour cream and mayo. Fold in the cooked onion and cooked chopped bacon. Pour into decorative pie plate or oven proof dish. Bake at 350°F for 20 to 25 minutes, or until hot and bubbly. Serve with warm French bread, pita chips, crackers or kettle cooked potato chips.
---
Maple Bacon Chex Mix
2 cups Corn Chex Cereal
2 cups Wheat Chex Cereal
2 cups Rice Chex Cereal
1 cup nuts of choice
1 cup pita chips, pretzels or bagel chips, crumbled
½ stick butter
2 Tbsp. maple syrup
2 Tbsp. Halladay's Maple Bacon Seasoning
Combine cereals, nuts, and pita chips in a medium bowl. Melt butter then add maple syrup and Maple Bacon Seasoning. Pour melted butter mixture over the cereal mix, stirring as you go. Microwave mixture on high for a total of about 3 minutes; pausing to stir after each minute. Pour onto a cookie sheet and let cool. Store in a sealed container until you are ready to serve. its the perfect addicting snack mix that will keep your guests nibbling happily.
---
Maple Bacon Poppers
Filling ingredients:
2 Tbsp. Halladay's Maple Bacon Seasoning
4 slices crisply cooked bacon, drained and chopped
2 (8 oz.) blocks cream cheese
1 cup shredded cheddar cheese
1 medium jalapeño pepper, seeded and diced.
Coating Ingredients:
1 cup flour
3 eggs, beaten
1 cup panko crumbs
Blend softened cream cheese with Maple Bacon Seasoning. Fold in cheddar cheese, cooked chopped bacon and diced jalapeño pepper. Chill for at least one hour, until firm.
Form filling mixture into small balls. Roll in flour, then egg wash, then panko crumbs. Bake at 375°F for about 15 to 20 minutes, or until golden brown.
---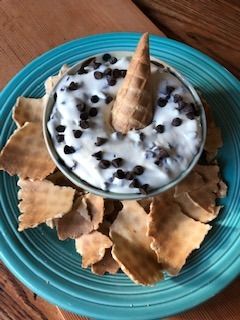 Cannoli Dip
1 (8 oz.) block cream cheese, softened
1 cup ricotta cheese
1 package Halladay's New York Style Cheesecake
2 Tbsp. sugar
⅔ cup mini chocolate chips
Blend ricotta, Halladay's cheesecake mix, sugar and softened cream cheese. Fold in mini chocolate chips. Chill for at least one hour. Serve with waffle sugar cones broken into medium size pieces.