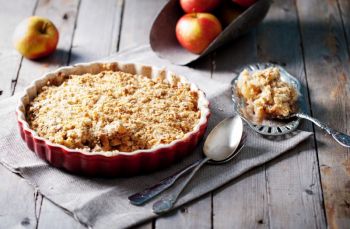 4 cups apples, peeled and sliced
1 stick butter
1 package Halladay's Apple Crisp Mix

Peel, core and slice 4 cups of apples, then place them in to a 9" pie plate. Set aside and make the topping. Cut one stick of butter into small pieces and blend with Halladay's Apple Crisp mix. Crumble topping mixture over apples. Bake at 350°F for approximately 20-30 minutes, or until bubbly and lightly browned.