Sweet & Spicy Jerk Shrimp & Pineapple Skewers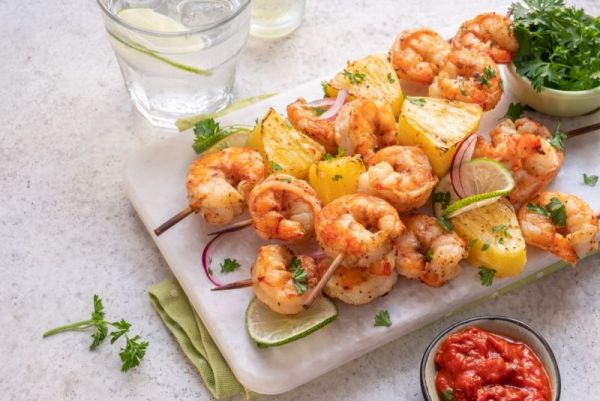 1 lb (20-25) shrimp, peeled and deveined (or chicken cut into 1-inch cubes)
1 (20 oz) can pineapple chunks
2 Tbsp Halladay's Sweet & Spicy Jerk Seasoning
¼ cup olive oil, or other neutral oil
Wooden skewers soaked in water for at least 30 minutes, or reusable metal skewers
Mix Halladay's Sweet and Spicy Jerk Seasoning olive oil, marinade shrimp or chicken for at least 30 minutes, up to 2 hours.
Add marinated shrimp or chicken and pineapple chunks to skewers, alternating between the two.
Grill over medium-high heat for 2-3 minutes on each side, until the shrimp is pink and no longer translucent. If using chicken, cook until no longer pink in the middle. Serve immediately and enjoy!