For kebabs:
Grapes
2 bananas, sliced
Lemon juice
Strawberries
Toss bananas with lemon juice to prevent browning. Thread grape on toothpick, add banana slice and top with strawberry for Grinch's hat.
For dip:
1 cup Greek yogurt
1 cup Cool Whip
2 Tbsp. Halladay's Double Chocolate, Key Lime or Strawberry Cheesecake
Combine all ingredients. Fold mixture into small bowl and surround with fruit skewers.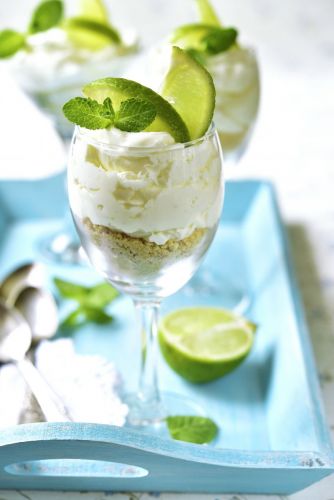 1 package Halladay's Key Lime Cheesecake
1 cup Greek yogurt
1 (8 oz.) container Cool Whip, defrosted
Combine cheesecake and yogurt; fold in Cool Whip. Serve in parfait glasses and garnish with fresh fruit or a small wafer cookie. Can be served plain or layered with fresh fruit such as sliced strawberries and blueberries.