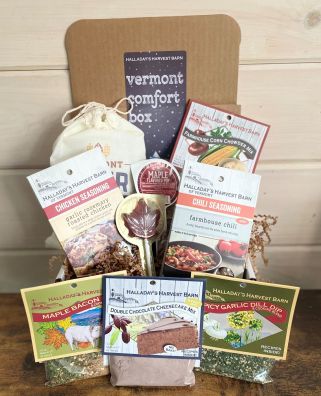 Vermont Comfort Box
Send a loved one a comfort box to brighten their day.
**Some minor product substitutions may be necessary to get your order out in a timely fashion. Please contact us with any questions or concerns.
Includes:

Vermont Beer Bread - Garlic Herb
Farmhouse Corn Chowder
Garlic Rosemary Roasted Chicken Seasoning
Spicy Garlic Dill Dip Mix
Double Chocolate Cheesecake Mix
Farmhouse Chili Seasoning
2 Maple Lollipops
Please allow up to 72 hours for your order to ship.
*Depending on the contents of your order, gift boxes may ship to you unassembled. They take only a few moments to put together for gift giving.