French Onion Mac and Cheese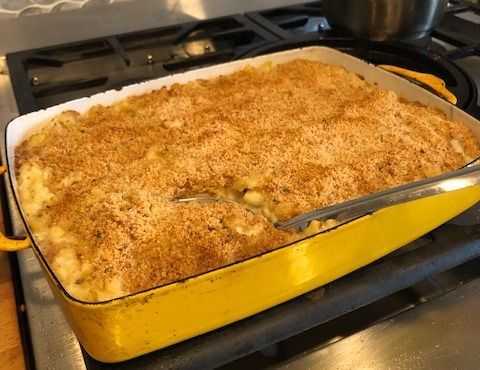 To Caramelize the onions:
3 large sweet onions sliced
2 Tbsp olive oil
1 Tbsp Halladays Harvest Barn Boursin Cheese Seasoning
For the Cheese Sauce:
4 Tbsp of all purpose flour
16 oz. of sharp cheddar cheese /grated
4 oz of shredded mozzarella
1 tsp of apple cider vinegar
pinch of coarse salt
pinch of black pepper
1 lb of pasta cooked according to directions
1 tablespoon of olive oil
For Crumb Topping
1 Tbsp. Harvest Barn Boursin Dip Mix
1 cup of breadcrumbs
1 Tbsp butter
Preheat the Oven to 350 degrees
In a heavy bottom skillet over med high head add the oil and sliced onions.
Allow to cook about 5 minutes. Add the bousin mix, stir and cook until carmelized
and golden brown.Put in a bowl and set aside.
To make the cheese sauce melt the butter and oil in the same skillet over med heat. Add the flour and cook 1 to 2 minutes. Add half the milk to the skillet and stir until the mixture thickens. Add the remaining milk and season with salt and pepper. Add the cheese and stir until all the cheese is well blended. Pour in the apple cider vinegar and fold
in the onions and cooked pasta.
Spoon the mac and cheese into a 4 qt. casserole dish.
To top with bread crumbs.
Melt the butter in a skillet. Add the bread crumbs and boursin blend. Toast the crumbs in the butter mixture until lightly browned. Spread on top of the macaroni mixture and bake uncovered for 30 minutes or until the top is golden brown and bubbly.