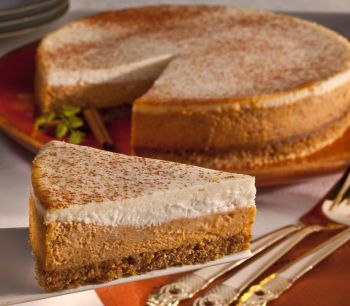 1 (6 oz.) package refrigerated pie crusts
1 (15 oz.) can pre-spiced pumpkin pie filling
1 (14 oz.) can sweetened condensed milk
2 eggs
1 (8 oz.) bar cream cheese
1 (8 oz.) tub Cool Whip or 8 oz. whipped cream
1 package Halladay's Maple Cheesecake

Preheat oven to 425°F. In a large mixing bowl, combine pumpkin pie filling, condensed milk and eggs and beat until well blended. Place pie crust in 9-inch pie plate and pour in filling. Bake for 15 minutes. Reduce heat to 350˚F and bake for an additional 35-40 minutes, or until knife inserted 1 inch from crust comes out clean. Meanwhile, prepare maple cheesecake according to package directions. Allow pie to cool, roughly 35-40 minutes. Top pie with Maple Cheesecake filling and refrigerate for 1-2 hours before serving.