1 cup bean of choice, drained
1/2 lb. ground beef, browned and drained of fat
2 Tbsp. Halladay's Farmhouse Chili (mild) or Firehouse Chili Seasoning (hot)
1/2 cup mayo
1 cup sour cream
1 1/2 cup Mexican blend cheese, shredded
Preheat oven to 400˚F. Combine all ingredients and fold into a 9-inch pie plate or ramekin. Bake until hot and bubbly, about 25-30 minutes.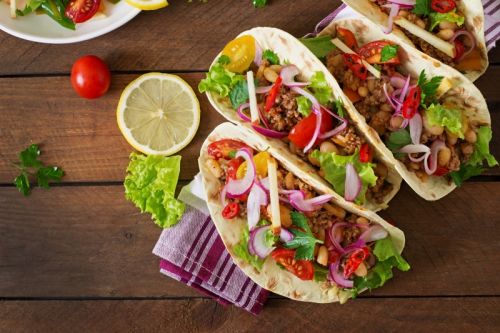 1 1/2 lbs. pork shoulder, halved
1 package Farmhouse Chili (mild) or Firehouse Chili (hot) or 2 Tbsp. Garlic Chipotle Seasoning
1 (28 oz.) can crushed or diced tomatoes
1 to 2 (14.5 oz.) cans desired beans
1 package hard or soft taco shells
Desired toppings such as shredded lettuce, cheese, salsa and sour cream
Season meat with salt and pepper; coat with seasoning. Add meat and tomatoes to slow cooker. Cook on low for 7-8 hours, or on high for 5-6 hours. Add beans and heat through. Stuff tacos with slow cooker contents and desired toppings.