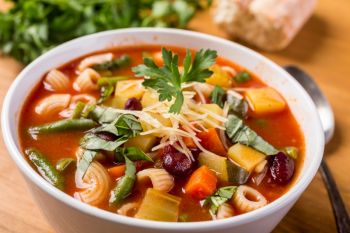 10 cups water
1 package Halladay's Farmhouse Minestrone Soup, divided
1 (28 oz.) can diced tomatoes
˝ lb. sweet Italian sausage, cooked and drained (or cooked, diced ham)
2 carrots, chopped
2 celery ribs, chopped
1 (15.5 oz.) can cannellini beans
1 medium zucchini

In a slow cooker, combine water, beans and spice mixture from package, tomatoes and sausage, reserving pasta for later. Cook on low for 4-6 hours. In a medium skillet, sauté carrots and celery until soft, about 3-5 minutes; add to soup in the last 2 hours of cooking. Add pasta, cannellini beans and zucchini in the last hour of cooking. Salt and pepper to taste.
For a vegetarian version, remove sausage from recipe or substitute for vegan sausage.