Your New Go To Pasta Salad with 5 Variations
07/31/2020
Okay I will admit it! I am a food snob. I love veggies, bright colors and spices added to nearly everything! There is nothing so unappealing to me at a party than elbow macaroni slathered with mayo with a few token shreds of celery thrown in. I just walk by that mess. It is so not worth the calories.
With a little bit of creativity and thought the new pasta salads are colorful, packed with veggies, herbs and flavors.
Today, we're sharing our favorite ways to dress up a basic pasta salad recipe. These salads will have your guests cheering! 
To get you started and save you time, check out this pantry list to have on hand to create a pasta masterpiece in minutes!
A variety of bow tie, cavatappi, orecchiette and other fun pastas
Olive oil
A good quality mayo
Red wine vinegar
A variety of Halladay's Harvest Barn spice packets.
Favorite pasta salad seasonings include: Lobster Bisque, Cucumber Dill, Dilly Herb, Lemon Spinach, Buffalo Chicken & Blue Cheese, Harvest Ranch, Maple Bacon, BLT, and Garlic Tomato Basil.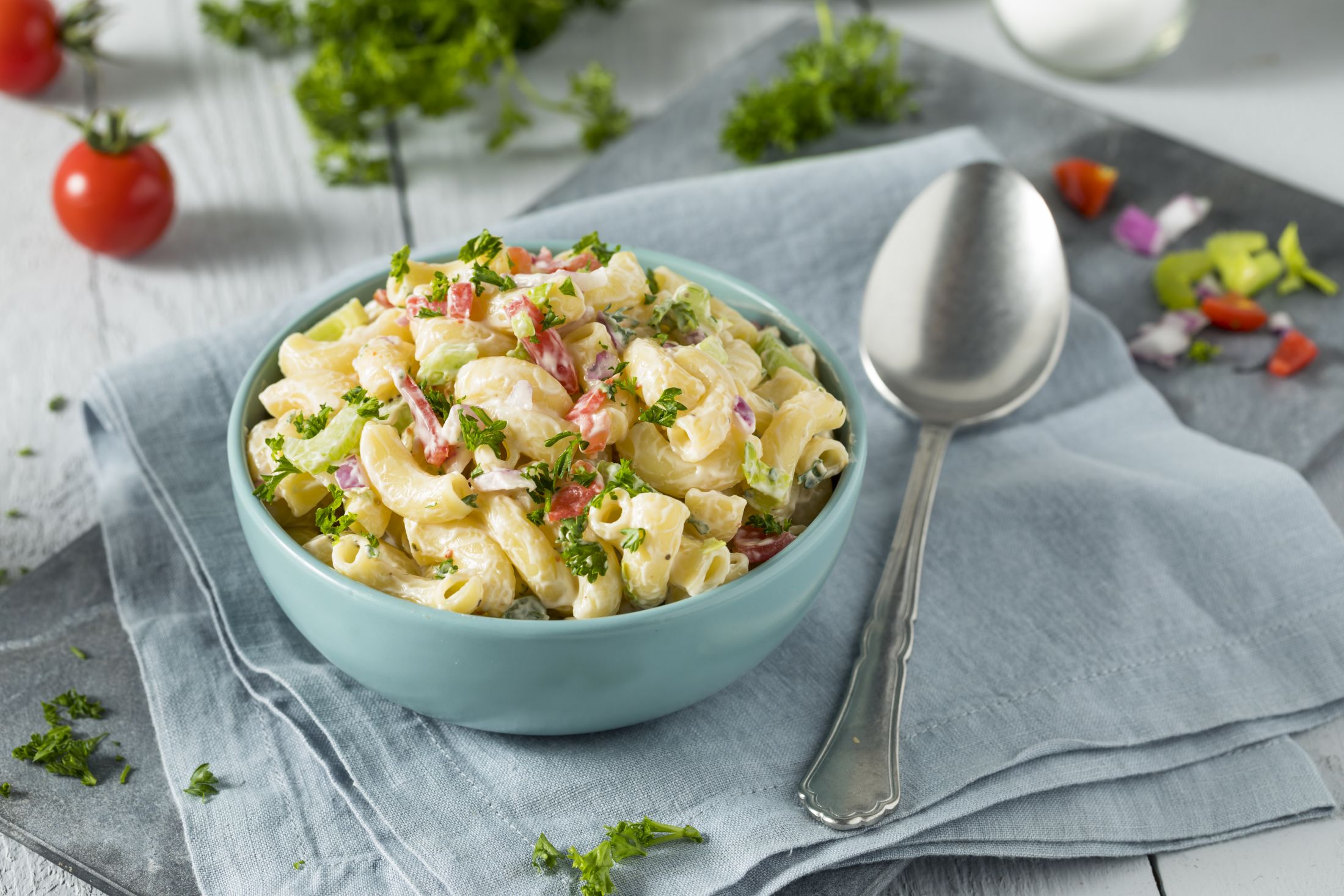 BASIC RECIPE
For Dressing
   ˝ cup of Greek yogurt
   ˝ cup of mayo 
   *1 Tbsp of desired spice blend
add a splash of red wine vinegar if you would like to add a bit of tangy flavor.
Combine all dressing ingredients using your favorite Harvest Barn Seasoning.
12 oz of cooked pasta drained and rinsed
1 cup of diced celery
1 cup of shredded carrots
Combine Dressing with cooked pasta and other ingredients. Chill. You might want to add a couple additional tablespoons of mayo before serving if the salad is a bit dry.
*Variations:
Seafood Pasta Salad: Add 1 Tbsp Lobster Bisque Seasoning to your dressing, and 8 oz cooked shrimp, crab or lobster meat and 1 cup of cooked peas.
Cucumber & Dill Pasta Salad: Add 1 Tbsp Cucumber Dill seasoning to your dressing. Just before serving add 1 cup of peeled cubed cucumber to your salad.
B.L.T. Pasta Salad: Add one Tbsp of BLT seasoning to your dressing. Fold in ˝ lb of crisp chopped cooked bacon and 1 cup of halved cherry tomatoes. Just before serving, fold in 2 to 3 cups of thinly sliced iceberg lettuce.
Classic Pasta Salad:  Add one Tbsp Dilly Herb Seasoning to your dressing. Add in one can of drained white tuna and 1 package of frozen peas, blanched and cooled.
Tomato Basil Pasta Salad: Add one Tbsp Garlic Tomato Basil seasoning to your dressing. Add in one cup of halved cherry tomatoes and ˝ cup of sliced black olives if desired.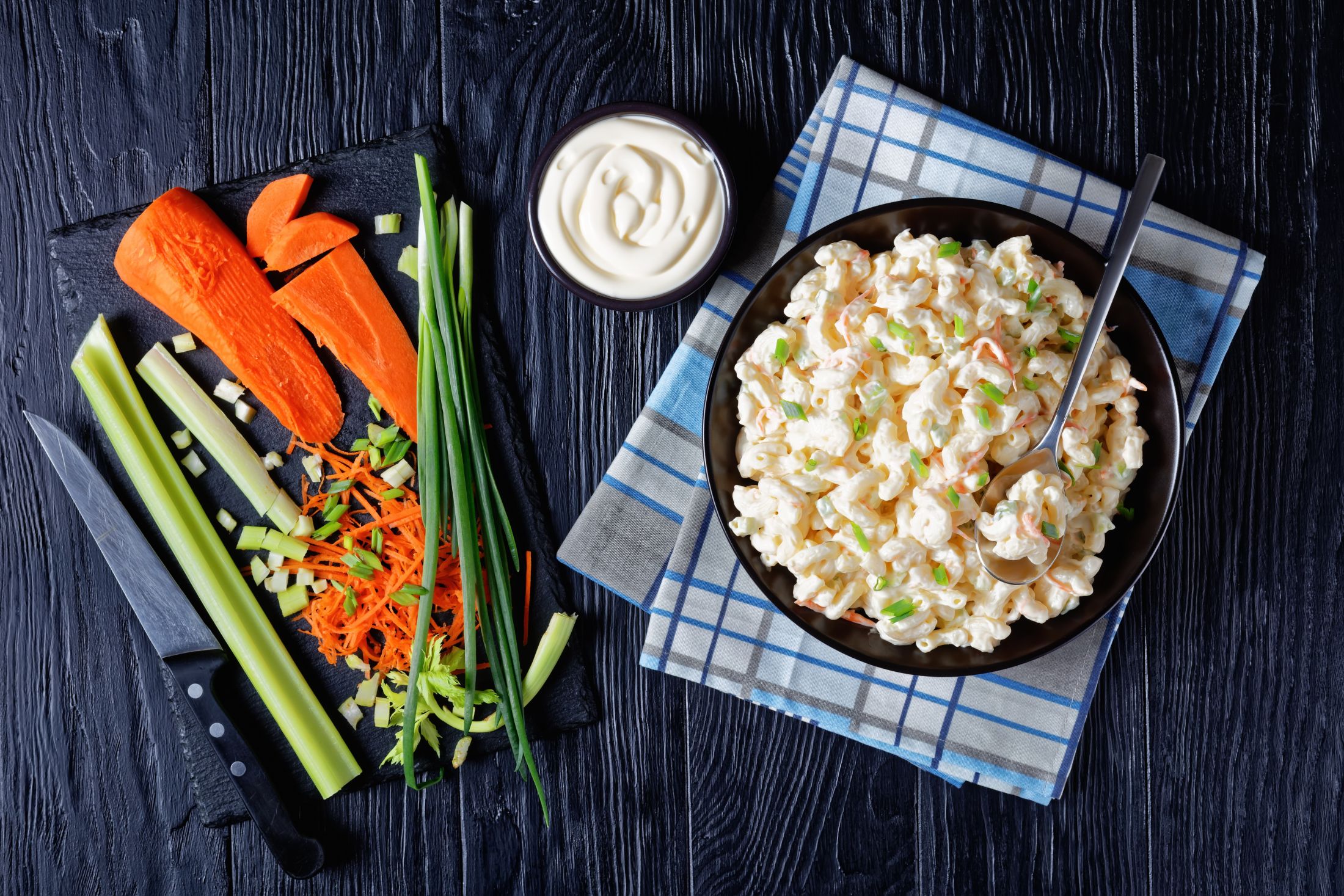 If you have Harvest Barn seasonings on hand, they all work well to make your pasta salad the star of the barbeque. Add veggies, add spice!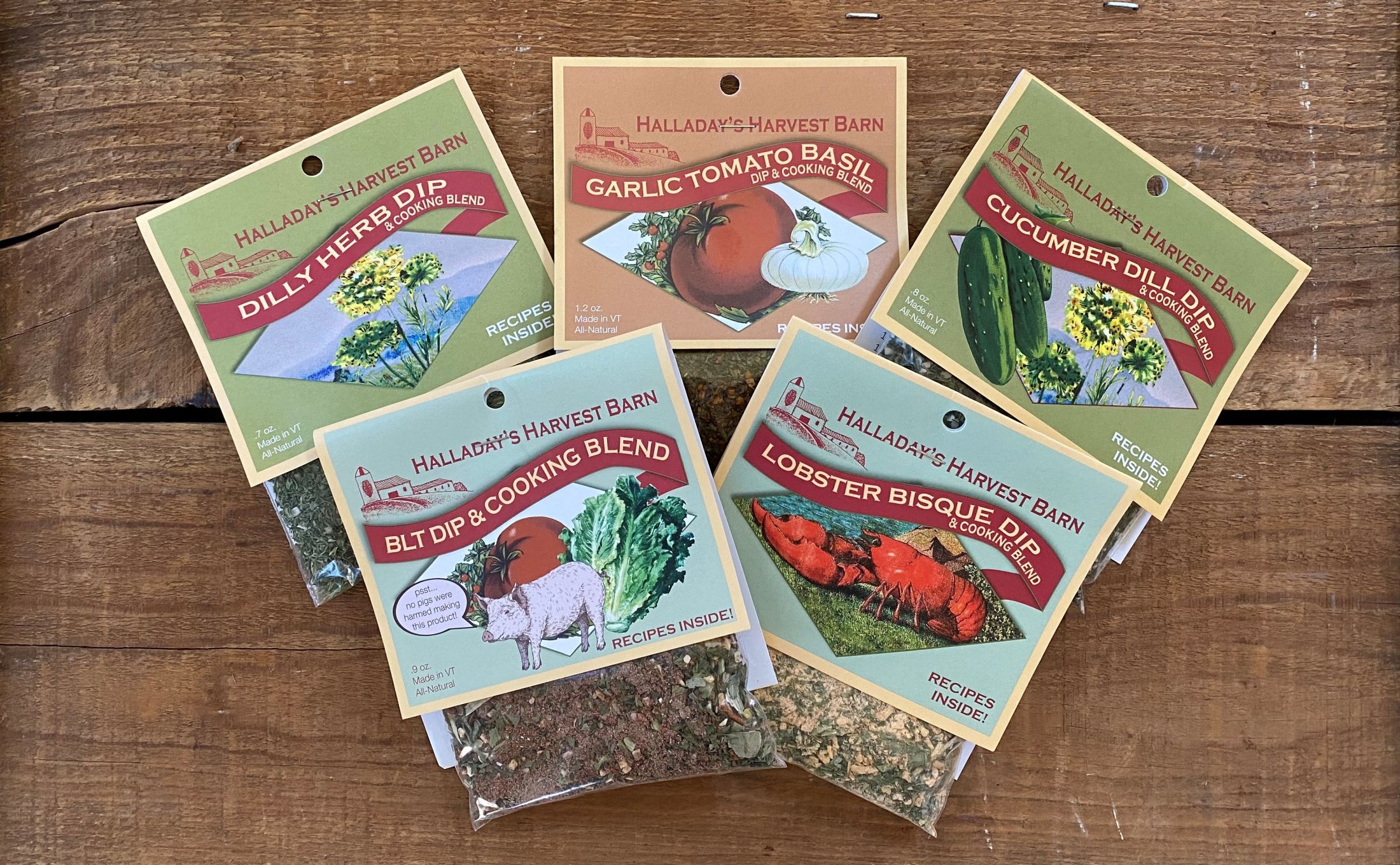 Want to stock up on our spice mixes to create the recipes above? These five mixes are our favorites, and are used in the above variation recipes.
Garlic Tomato Basil, Lobster Bisque, Cucumber Dill, Dilly Herb, BLT Dip
If you try any of these recipes, we want to see your pictures! Post to Instagram or Facebook and tag us @halladaysharvestbarn and use the hashtag #halladaysathome so we can see them.
Have fun with it - pasta salad will never be boring again!
-Kathleen Govotski, Owner Halladay's Harvest Barn