Strawberries, Yes Please!
06/10/2022
Strawberries are a classic. Our Strawberry Cheesecake mix is a great way to get your strawberry fix, even when strawberries are not in season.
---
STRAWBERRY ICEBOX CAKE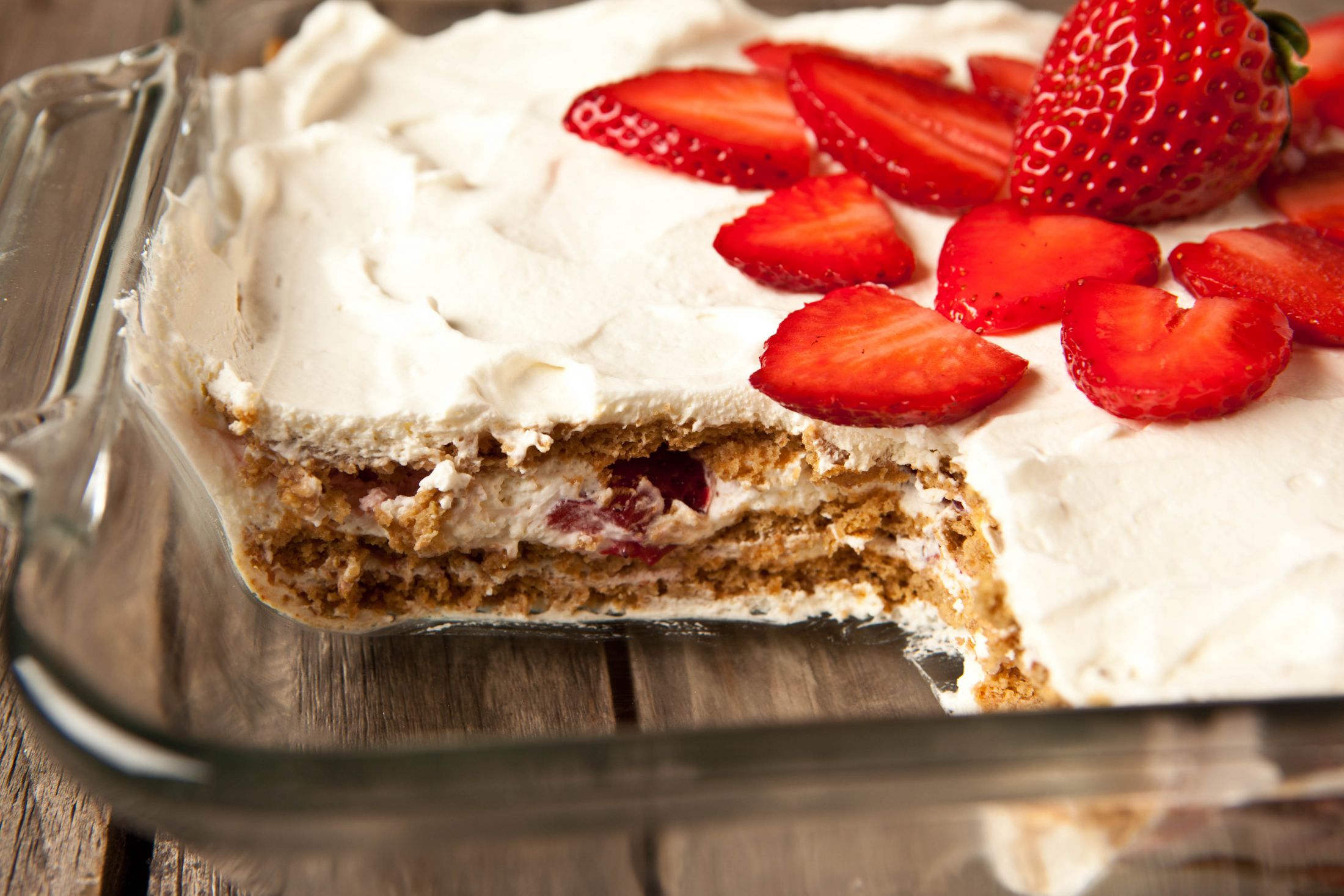 Our Strawberry Icebox Cake is a remake of a classic recipe. When refrigerated for a couple of hours, all the layers meld together to make a delicious cake-like concoction with no baking. Simply alternate graham crackers, strawberries, and Halladay's Harvest Barn Strawberry Cheesecake mix in layers to create this signature dessert.
•  1 package Halladay's Strawberry Cheesecake
•  1 (8 oz.) container Cool Whip or 8 oz. whipped cream
•  2 sleeves graham crackers
•  2 lbs. strawberries, sliced and added to 1 Tbsp. sugar
Fold Cool Whip into cheesecake mix. Add thin layer of whipped cream mixture to bottom of a baking dish. Layer ingredients, first graham crackers, then Cool Whip, followed by strawberries. Continue to layer until ingredients are gone. Refrigerate at least 4 hours before serving. Cake will keep for two days in the refrigerator.
---
STRAWBERRY PARFAITS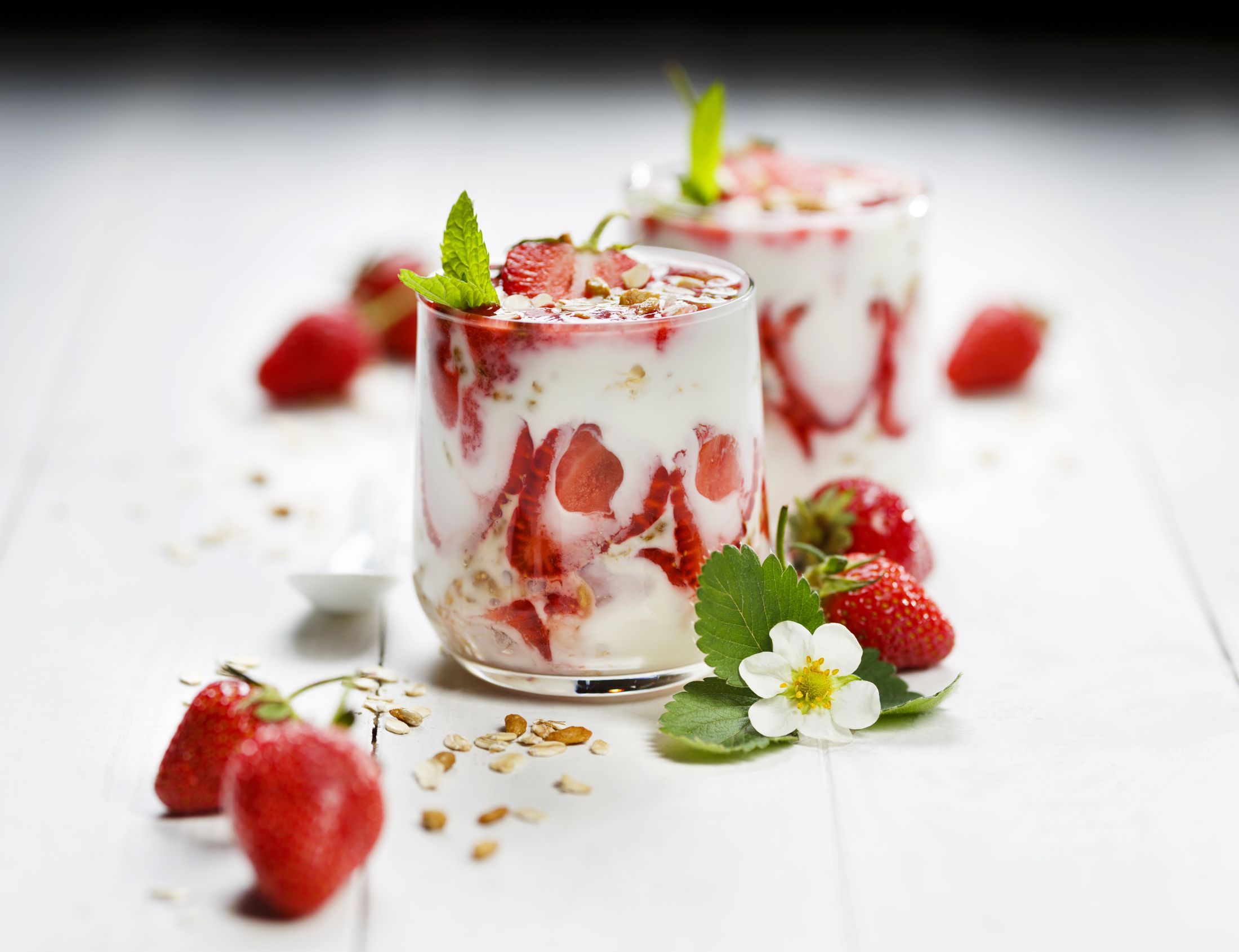 Strawberry Parfaits are a light and delicious dessert that are great for brunch or after a heavy dinner. Alternate your glass size to make mini or full-sized treats.
•  1 package Halladay's Strawberry Cheesecake
•  1 (8 oz.) bar cream cheese, softened
•  1 (8 oz.) Cool Whip or 8 oz. whipped cream
Combine cream cheese and cheesecake mix; fold in Cool Whip. Layer cheesecake mixture with fresh strawberries and top with whipped cream.
---
CHEESECAKE DIPPED STRAWBERRIES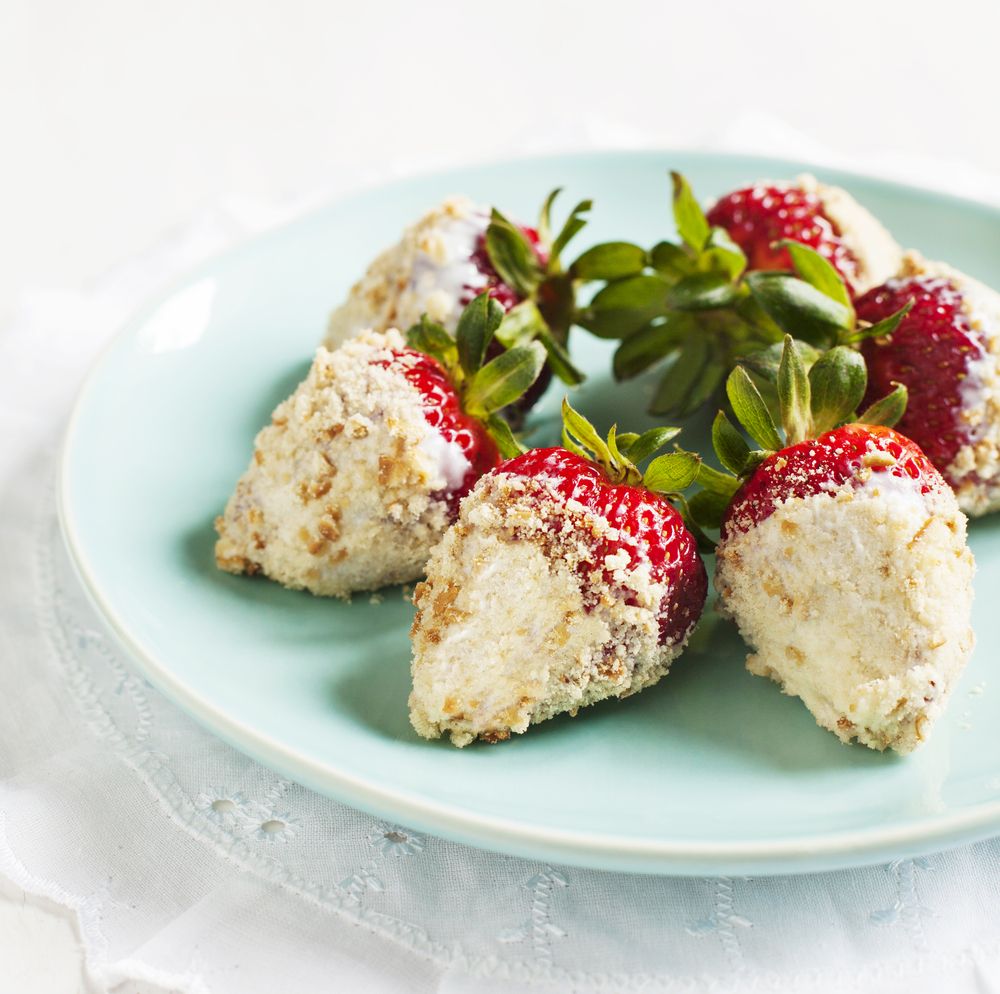 Strawberry Cheesecake Dip is a fun party dip that is great for nibbling. This tasty dessert features a fresh strawberry that is dipped in our prepared cheesecake mixture, then dipped in graham cracker crumbs to get the full cheesecake experience in a single bite! Try this recipe with our classic Strawberry Cheesecake, or mix it up with some other favorites such as Double Chocolate, Sea Salted Caramel, or Lemon Raspberry.
•  1 quart of fresh strawberries, washed and patted dry (double for a larger gathering)
•  1 package Halladay's Harvest Barn Cheesecake Mix of choice
•  1 (8 oz) package cream cheese, softened
•  ½ cup sour cream
•  ½ cup graham cracker crumbs
Mix softened cream cheese, sour cream, and Harvest Barn Cheesecake mix of choice in a decorative bowl. Place strawberries, cheesecake mixture, and a small bowl of crumbs on a decorative plate. Have guests dunk the strawberries in the dip and then the crushed graham cracker crumbs.
---
If you try any of these recipes, we want to see your pictures!
Post to Instagram or Facebook and tag us @halladaysharvestbarn and use the hashtag #halladaysathome so we can see them.
~ Kathleen Govotski, Owner Halladay's Harvest Barn