Salted Caramel Obsession
09/24/2021
Halladay's has two great caramel blends. Our Sea Salted Caramel Cheesecake and our Caramel Apple Dip are both great bases for sweet comfort fall desserts. We played in the kitchen this week and came up with some great recipes for you to try at home.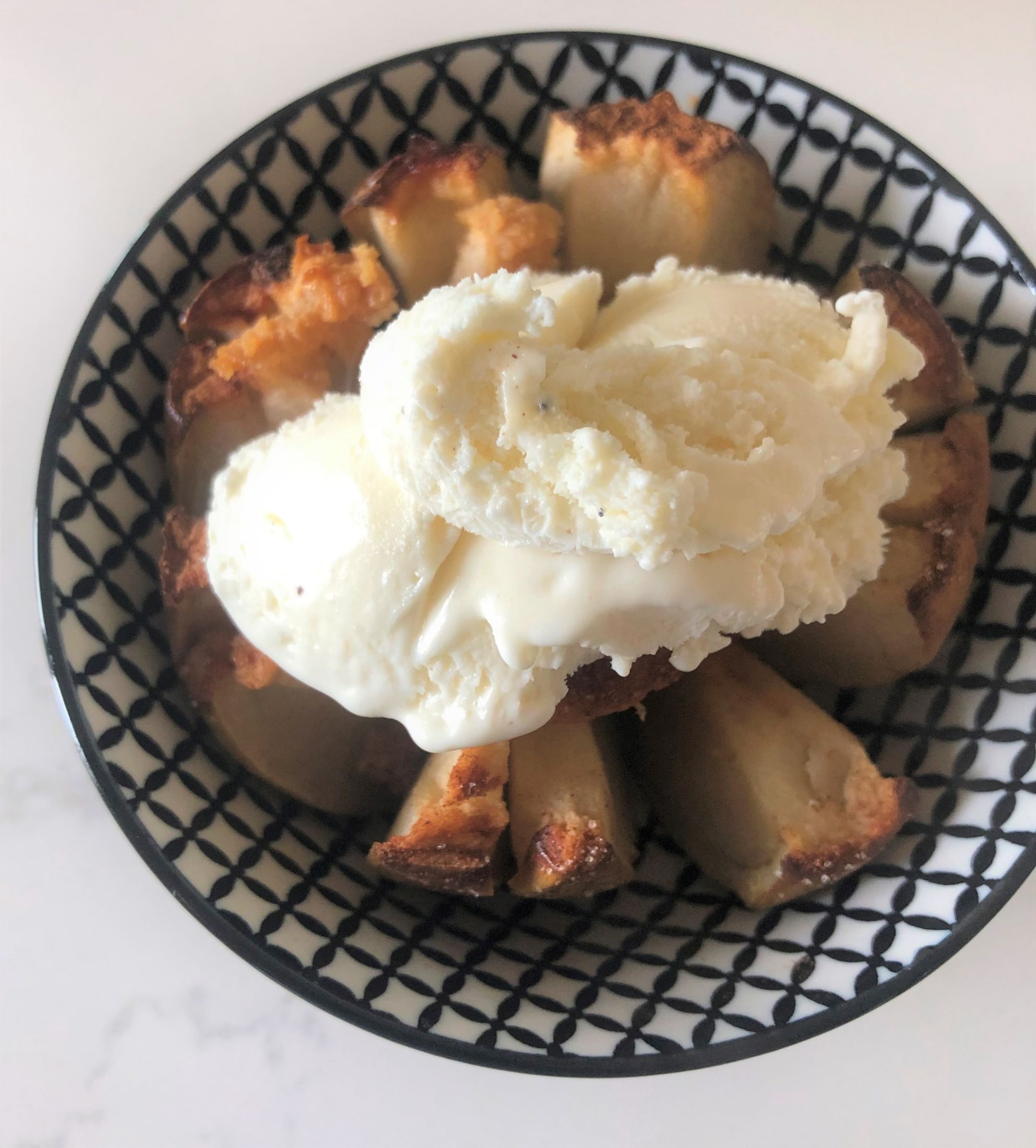 The blooming caramel apple is a delicious update on the classic baked apple. The apple is cored and sliced so that it forms a beautiful flower shape when it is baked. The caramel melts into the middle of the apple and it is delicious served warm with ice cream or whipped cream.
The original recipe called for a baking time of just 15 minutes but we found they needed a much longer baking time. We first tried the recipe with Granny Smith apples but found we had better results with Honeycrisp, Gala or Braeburn apples.
BLOOMING CARAMEL APPLES
1 Package Halladay's Caramel Apple Dip Mix
1 (8 oz) block cream cheese, softened
6 to 8 apples
¾ cup boiling water
Cooking spray
Sugar and cinnamon for dusting
Preheat oven to 375°F.  Combine softened cream cheese with Caramel Apple Dip mix, set aside.
Slice the top off of the apples and cut out the core with a corer or scoop out core and seeds with a spoon, without cutting through the bottom of the apple.  We found a measuring spoon worked well.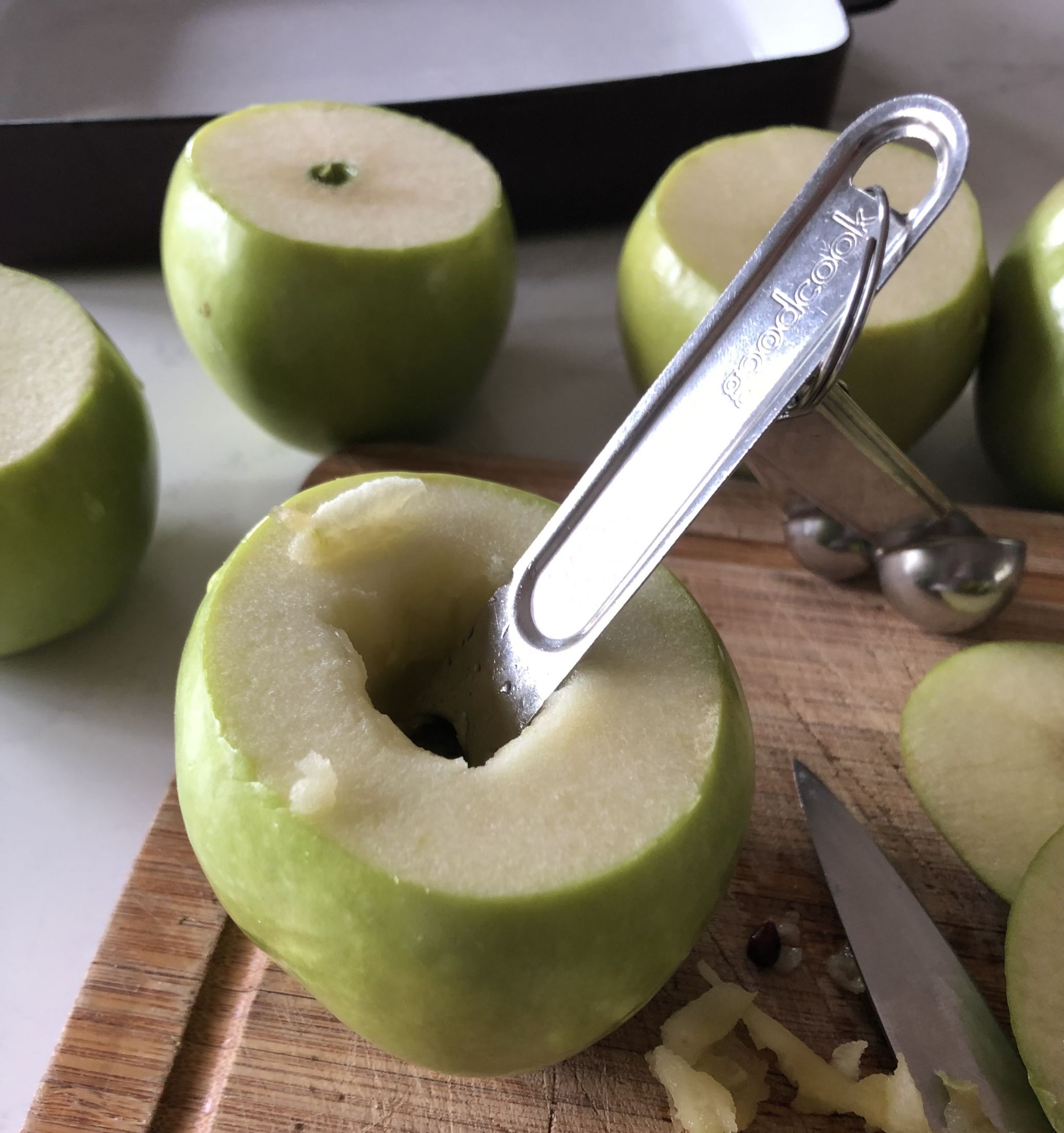 Cut a circle around the inside of the apple, then score vertically through the apple without cutting all the way through. See photo below.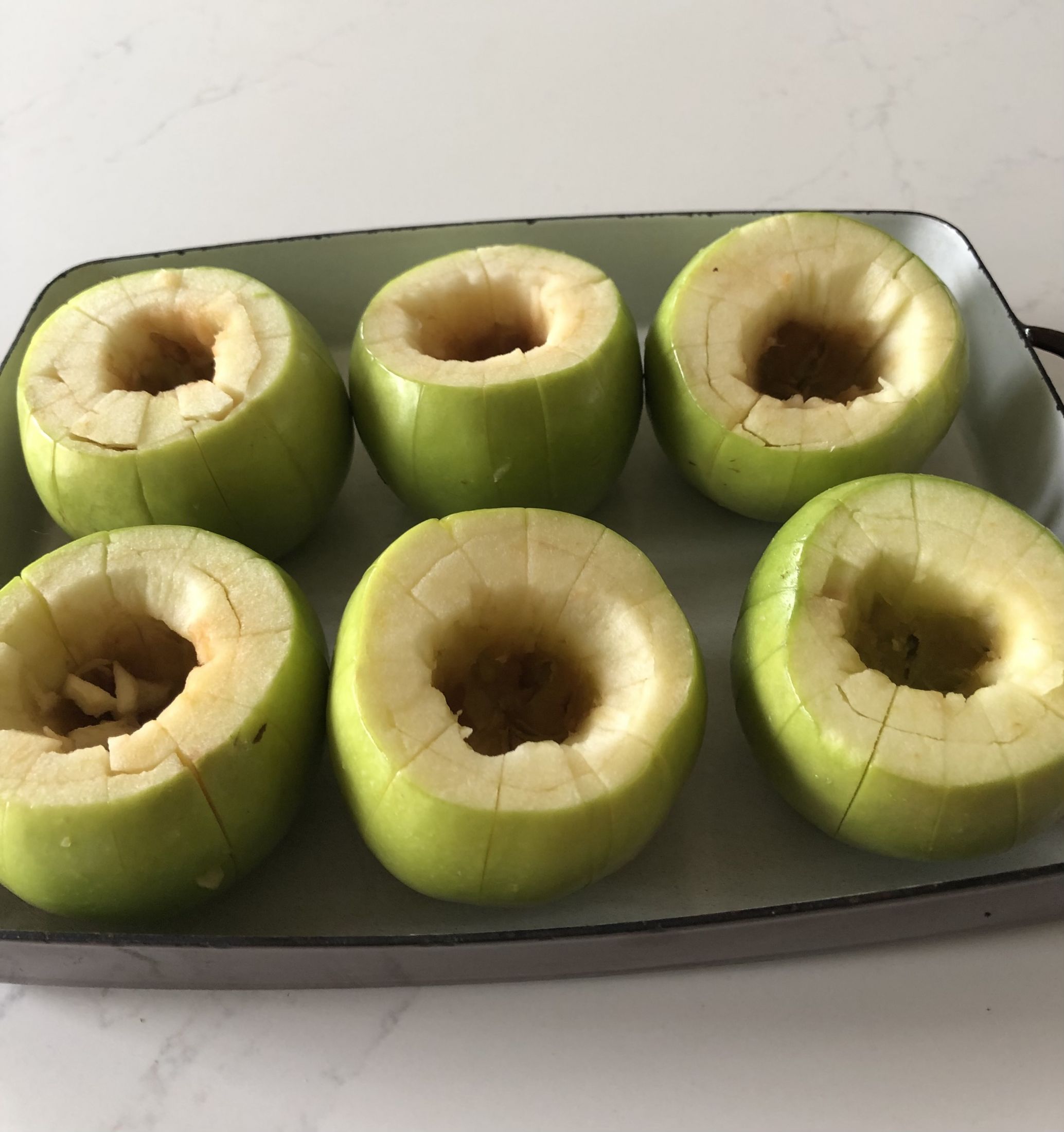 Put apples in a backing dish. Pour boiling water into the bottom of the dish. Spray the tops of the apples with cooking spray, then sprinkle them with sugar and cinnamon.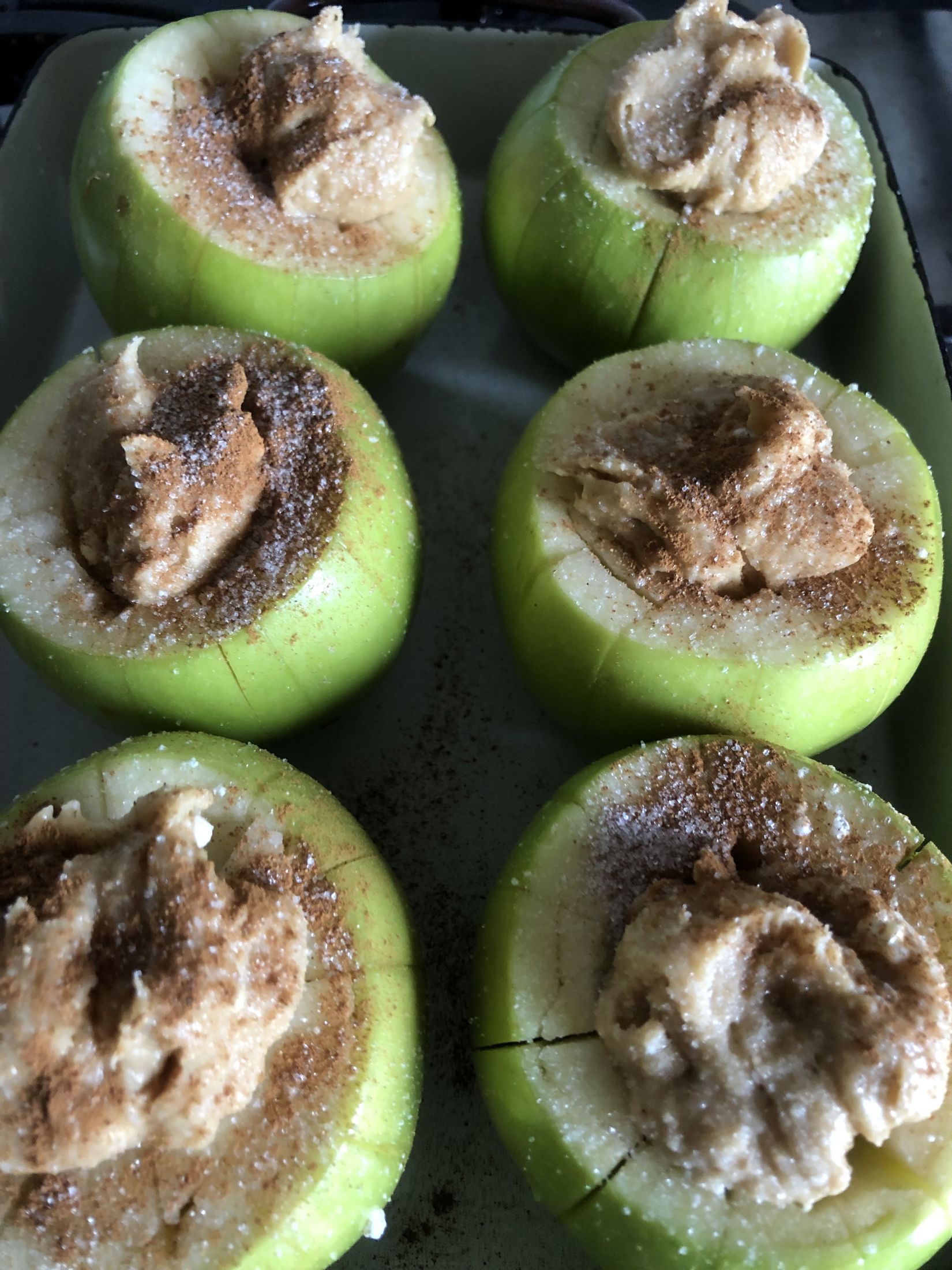 Bake for 30 minutes. Remove dish from the oven and scoop about a tablespoon of caramel mixture into the center of each apple. Return baking dish to the oven and bake for an additional 15 to 30 minutes, or until apple is soft but not mushy.
Serve warm with ice cream or whipped cream. Yum!
SALTED CARAMEL CHEESECAKE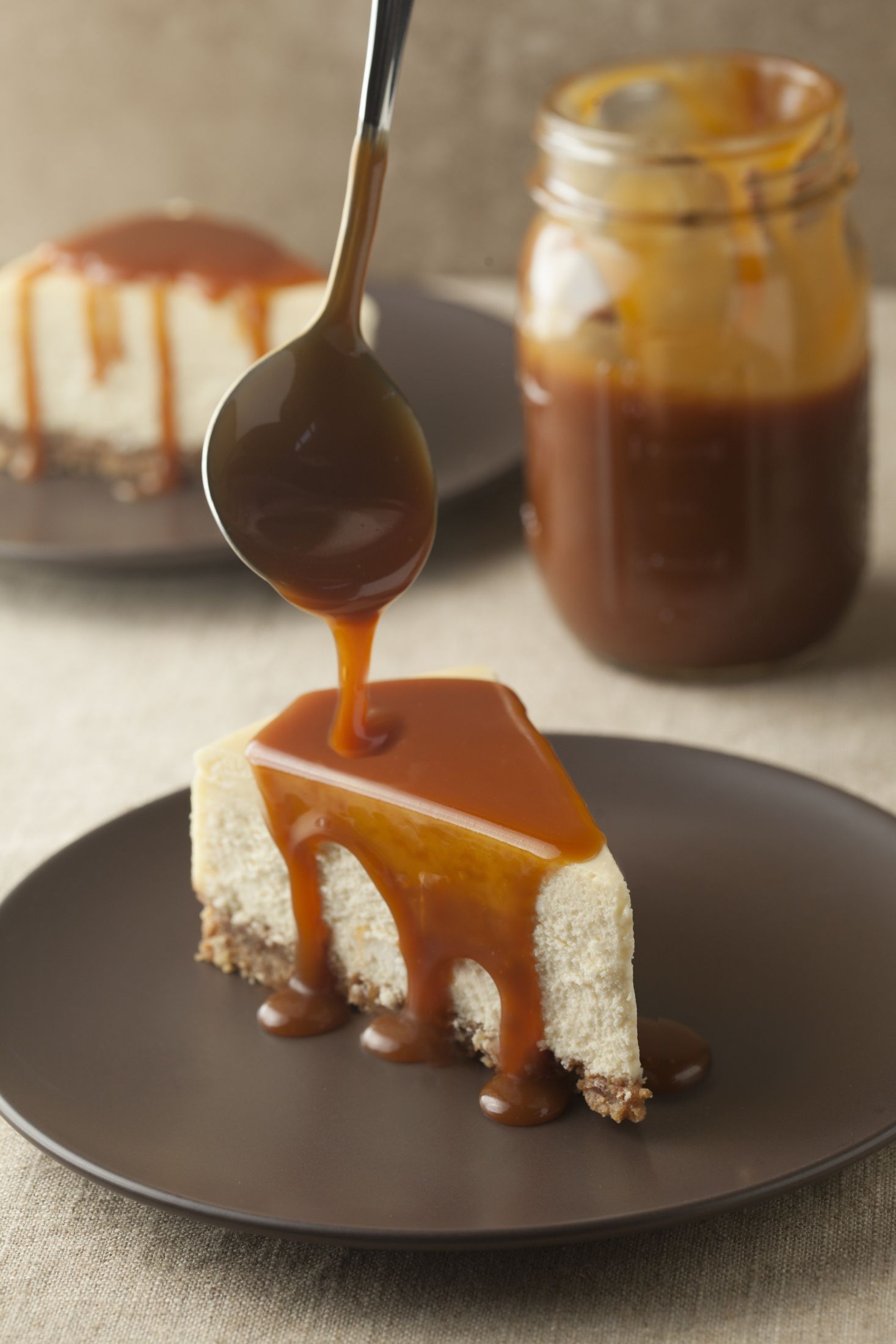 Our salted caramel cheesecake mix is very easy to whip up for a delicious dessert. We love it in a chocolate pie shell with chocolate sauce drizzled over the top. The sweet caramel flavor is enhanced and balanced out with a bit of sea salt.
1 (8 oz) package cream cheese, softened
1 package Halladay's Sea Salted Caramel Cheesecake
1 (8 oz) container Cool Whip
1 prepared chocolate pie crust
Caramel sauce, for drizzling, if desired
Combine softened cream cheese with our cheesecake mix.  Fold in Cool Whip; pour into prepared pie shell and chill before serving. Drizzle with caramel sauce, if desired.
SALTED CARAMEL BROWNIES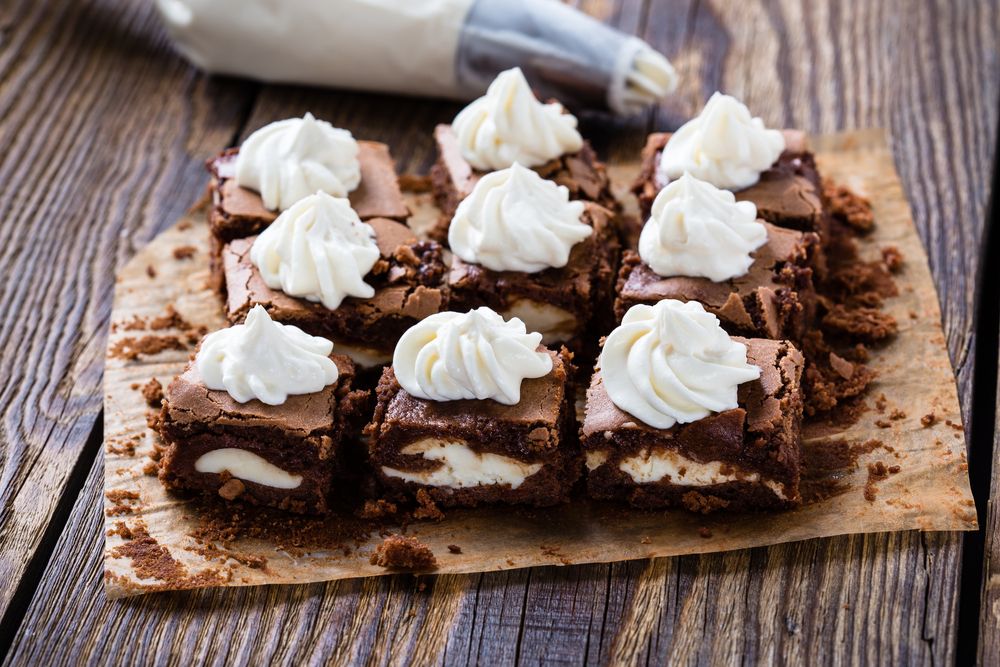 Who doesn't love brownies? Our Salted Caramel Brownies start with a basic box mix but is finished off with our Sea Salted Caramel Cheesecake mix swirled through. They are always the first dessert to be gone at any party.
1 package brownie mix
1 package Halladay's Sea Salted Caramel Cheesecake
1 (8 oz.) bar cream cheese, softened
1 (8 oz.) container Cool Whip or 8 oz. whipped cream
Prepare brownies according to package directions and let cool. Blend cheesecake mix with cream cheese; fold in Cool Whip. Spread mixture over brownies or pipe onto individual brownie squares.
SALTED CARAMEL PECAN CHEESEBALL
Cheeseballs were really popular at parties in the 60's and 70's. We have created a sweet dessert version of these with our Sea Salted Caramel Cheesecake mix.  We have crispy pecans on the outside with a slightly sweet caramel inside. It's great served with vanilla wafers, graham crackers, or crisp apple slices.
1 Tbsp. butter
1 Tbsp. water
1 package Halladay's Sea Salted Caramel Cheesecake, divided
1 (8 oz.) bar cream cheese, softened
1 cup pecans, coarsely chopped
Melt butter in a small fry pan. Add water and 3 Tbsp. cheesecake mix; swirl to combine. Fold in pecans. Cook over low heat for 2 to 3 minutes. Pour onto waxed paper or foil to cool; set aside. Add remaining cheesecake to cream cheese; blend well. Refrigerate one hour. Roll in cooled pecans. Serve as a dessert with vanilla wafers or crisp apple slices.
If you try any of these recipes, we want to see your pictures! Post to Instagram or Facebook and tag us @halladaysharvestbarn and use the hashtag #halladaysathome so we can see them. Enjoy!  
-Kathleen Govotski, Owner Halladays Harvest Barn