Potato Salad 3 Ways!
07/22/2022
Potato Salads are one of our favorite barbeque sides. Just about every picnic or potluck features one. We have been in the kitchen working on some fun new twists on this popular go to dish. Why not add a little spice to this classic with some Harvest Barn spice packets to create your new family go to recipe.
POTATO SALAD TIPS
Use waxy potatoes such as red skin potatoes or Yukon Gold. Baking potatoes such as Russet or Idaho will be drier and will easily crumble. Leave the skin on thin skinned potatoes for easier prep.

Cover with lots of cold water and salt well

Once your water boils, cover and cook on low heat. Don't overcook.

You can cook your potatoes whole if the sizes are similar or cube first. The cubes can get a bit waterlogged. If you cool your potatoes before dressing, they do tend to firm up.

Add vinaigrette dressings while potatoes are still hot and creamy dressings when the potatoes have cooled.

Add a little vinegar to bring out the flavor and add in herbs, celery, onions, and relish for crunch and flavor.
FRENCH STYLE POTATO SALAD
French style potato salad is a great alternative to the traditional potato salad. Whether you do not care for mayonnaise or you are just looking for something different it's a fun change up on this classic.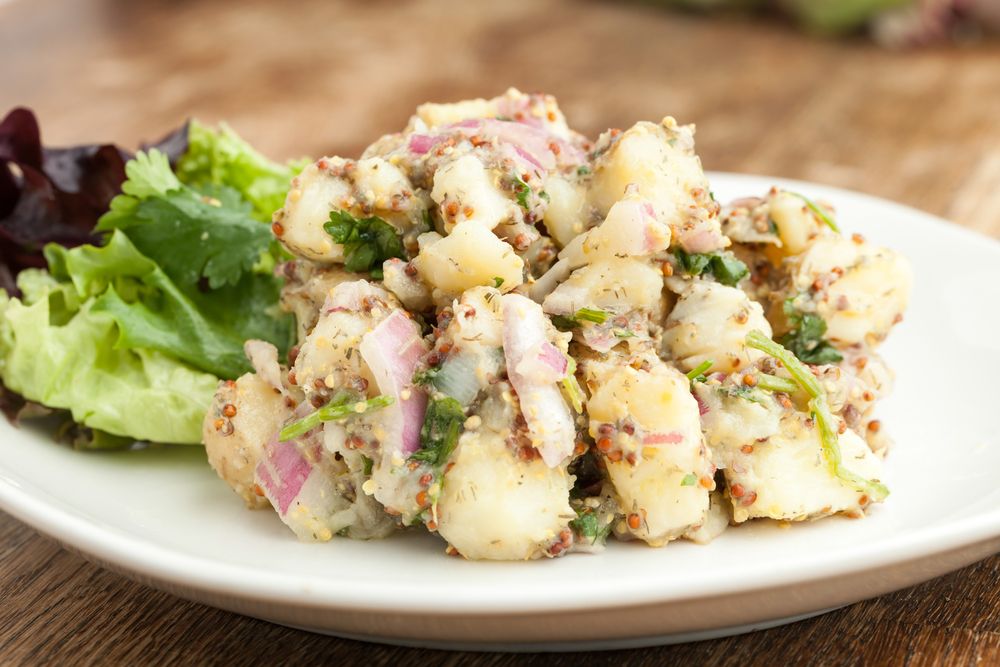 3 lbs red potatoes, cooked, halved and sliced
¼ cup red wine vinegar
1 tsp Dijon mustard
½ cup olive oil
1 Tbsp Halladay's Harvest Barn Garlic Herb Dip and Seasoning Blend
Salt and fresh ground pepper to taste
Toss dressing with slightly cooled potatoes. Serve warm or at room temperature.
RANCH POTATO SALAD
Ranch Potato Salad is creamy and a slightly different version of the traditional potato salad. We have substituted Greek yogurt for most of the mayo to lighten the salad up with just a bit of mayo added to give it a bit of tang.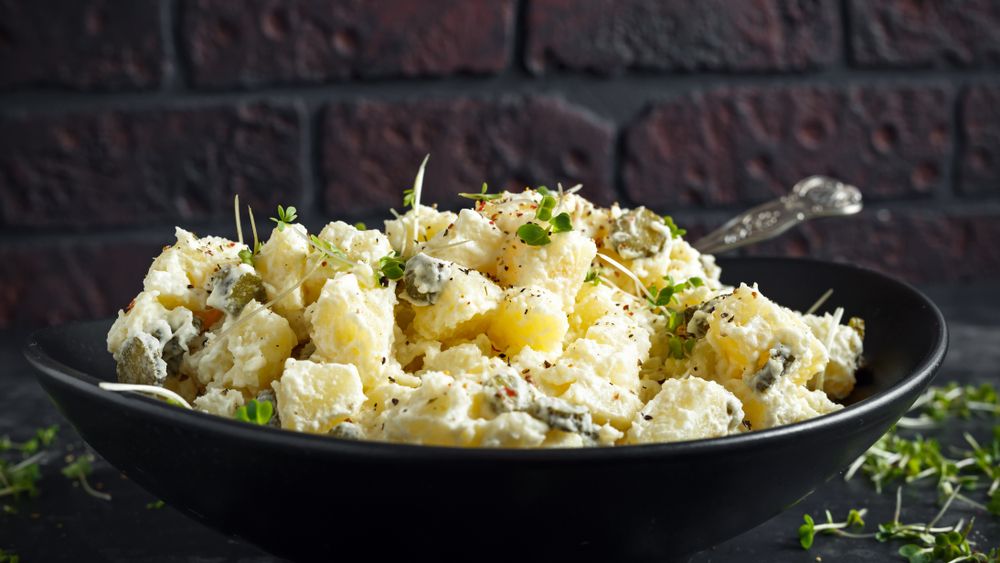 3 lbs potatoes cooked, cubed and cooled
1 cup Greek yogurt
½ cup mayo
2 Tbsp Halladay's Harvest Barn Harvest Ranch Dip and Seasoning Blend
½ cup finely diced celery
¼ cup finely diced red onion, optional
Mix all ingredients well and chill before serving.
BACON CHEDDAR ONION POTATO SALAD
Bacon Cheddar Onion Potato salad is the ultimate tasty take on this summer classic. Cheddar cheese and crispy bacon along with a creamy Cheddar Bacon Onion dressing make this so yummy.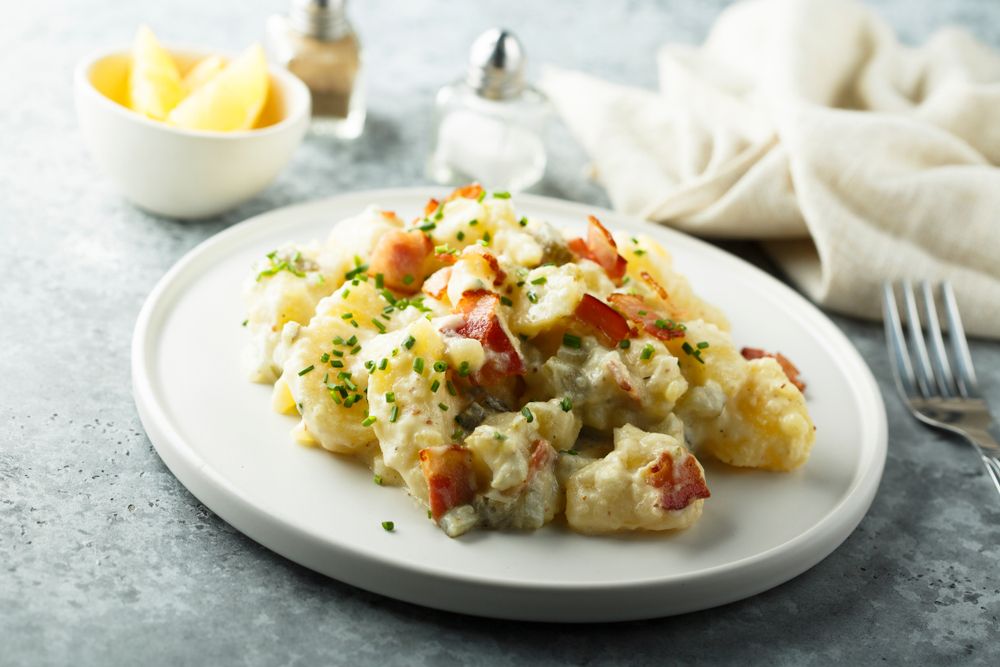 3 lbs. potatoes cooked, cooled and cubed
1 cup mayo
1 Tbsp Halladay's Bacon Cheddar Onion Dip and Seasoning Blend
¼ to ½ cup celery, finely diced
6 slices crisply cooked bacon, drained and chopped
1 cup shredded cheddar cheese
¼ cup red onion finely diced, optional
While potatoes are cooking, add the Bacon Cheddar Onion Dip and Seasoning Blend to the mayo to create your dressing. Thin with a little bit of milk if too thick.
Gently add the dressing, cheese, celery and onion to the potatoes. Chill before serving. Add the bacon in just before serving if you would like it to still be crisp.
If you try any of these recipes, we want to see your pictures!
Post to Instagram or Facebook and tag us @halladaysharvestbarn and use the hashtag #halladaysathome so we can see them.
~ Kathleen Govotski, Owner Halladay's Harvest Barn