Mix of the Month: Vermont Special Sauce
08/19/2022
The Vermont Special Sauce happened as many good things do, on a whim! My son Justin and I were getting a bit silly naming off possible new items for 2022. With over 80 products on the shelves, what would be new and different for this year? Justin blurted out Vermont Special Sauce. Hmmm, sounded kind of good...maybe a little strange?
At the start of formulating new blends, ideas go to our mailing list in a survey to see what you all would like. We were very surprised to see that the Vermont Special Sauce was a hit before we had actually invented it. We played around with different flavor profiles. Surely since it was the Vermont Special Sauce it had to have a bit of maple in it. Perhaps a bit of spice would be good.
The staff was treated to a burger and fries party and the serious testing began. In a blind taste test each mix was evaluated. It was mother against son! Justin's mix was chosen as the favorite and we went into production. Now you can enjoy the Vermont Special Sauce as much as we do! Dip responsibly!
We love the sauce on burgers and fries. Its great as a dip with chips, try it on crab cakes or shrimp or on a roast beef or turkey sandwich. Find you own favorite ways to enjoy this new bestseller.
Today we worked in the kitchen on some other great recipes for this fun new blend!
BASIC SPECIAL SAUCE RECIPE
Combine above ingredients and mix well. Chill for at least one hour before serving for best flavor.
CHEESEBURGER PIZZA
Cheeseburger Pizza? It sounded interesting so we gave it a trial run in the kitchen today. It was super simple to prepare and everyone loved it! Our Vermont Special Sauce was spread thinly on the pizza crust and then topped with cooked burger meat and cheddar cheese. After it came out of the oven we sprinkled some shredded lettuce, pickle slices, and a light drizzle of the Special Sauce. So easy, so tasty!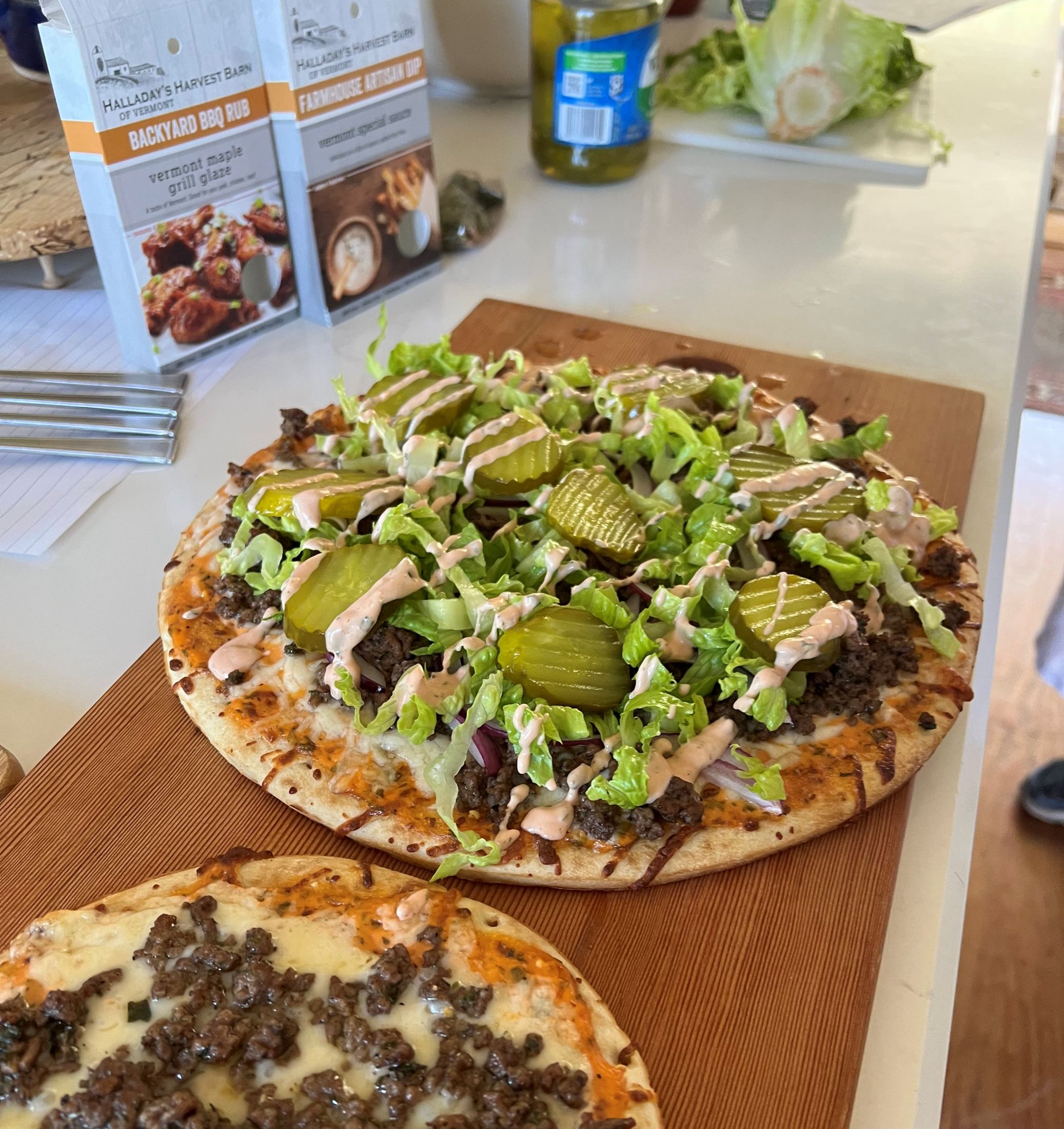 Preheat oven to temperature specified on dough package. While oven is pre-heating, prepare ground beef.
In a sauté pan over medium heat, combine ground beef with our Vermont Special Sauce seasoning. Cook until no longer pink, breaking up pieces and stirring occasionally. Add salt and pepper to taste. Drain beef and set aside.
Spread a thin layer of prepared Vermont Special Sauce on the pizza dough. Top with the cooked beef and shredded cheese, reserving some for garnish after cooked.
Cook according to pizza dough directions, or until crust is cooked and the cheese is melted.
Remove pizza from the oven and top with the shredded lettuce, pickles and red onion. Drizzle a little more Special Sauce on the pizza along with some shredded cheddar. Slice and serve.
We made one 10" pizza and two 5" pizzas with this recipe.
BAKED POTATO WEDGES
We knew that the Vermont Special Sauce would be great with French fries since it was staff tested and approved. We decided to make some baked potato wedges to try today. I can't tell you how many of these I dipped and ate as they were hot out of the oven. We tried the potatoes using the Vermont Special Sauce Seasoning and also with our Barbeque Rub for Chicken and Ribs. They were both tasty but the Barbeque Rub on the potatoes with the prepared Vermont Special Sauce was the favorite! Cut your potatoes the same size so that they cook evenly. They are better served immediately but can be popped back in the oven to reheat them.
Preheat oven to 400°F. Line a baking sheet with parchment paper or tin foil.
Place the potatoes, olive oil, and seasonings in a bowl; mix well to coat. Spread the potatoes in a single layer on the prepared sheet. Bake for 30 to 35 minutes or until golden brown and tender.
Serve with our Vermont Special Sauce as a dipping sauce (recipe above).
KETO FRIENDLY CHEESEBURGER SALAD BOWL
After the heavier potato wedges and the pizza, we wanted to work on a lighter healthy version of the sauce and a dish we would enjoy it on. We created a keto friendly cheeseburger salad bowl. We used the Vermont Special Sauce Mix to season up a pound of turkey burger, but you could also use beef. We assembled it in a bowl with shredded lettuce, avocado, tomatoes, shredded cheddar cheese, and red onions. We then topped it all with a drizzle of the Vermont Special Sauce made with light mayo, non-fat yogurt and sugar-free ketchup.
Add seasoning, salt and pepper to taste, to turkey burger. Sauté in small pan until the turkey is cooked through then drain. Assemble ingredients in salad bowls. Drizzle with Vermont Special Sauce.
If you try any of these recipes, we want to see your pictures! Post to Instagram or Facebook and tag us @halladaysharvestbarn and use the hashtag #halladaysathome so we can see them.
-Kathleen Govotski, Owner Halladay's Harvest Barn