Meatless Mondays
10/30/2020
Meatless Mondays is the new buzzword phrase I've been hearing a lot lately. I did a bit of research and it turns out there are a lot of benefits to going meatless one day a week. Whether you want to include dairy and eggs or go vegan is your choice! Going meatless one day a week improves your health and the health of the planet. If everyone went meatless just one day a week, the US would save 1 billion gallons of water and omit 1.2 million tons of carbon dioxide. Going meatless would also save $750 a year on your food budget.
There are lots of meat substitutes out there these days. Textured Vegetable Protein (TVP) is a soy protein flour that can be used as a substitute for ground beef in many recipes. It is hydrated with a 1:1 water ratio and really mimics the texture of beef quite well. It also soaks up flavors nicely. TVP is only about ⅓ the cost of beef. We used it in chili and it was really quite hard to tell the difference! It is still a highly processed food so I am a bit on the fence about making it a big part of my diet.
BLACK BEAN BURGERS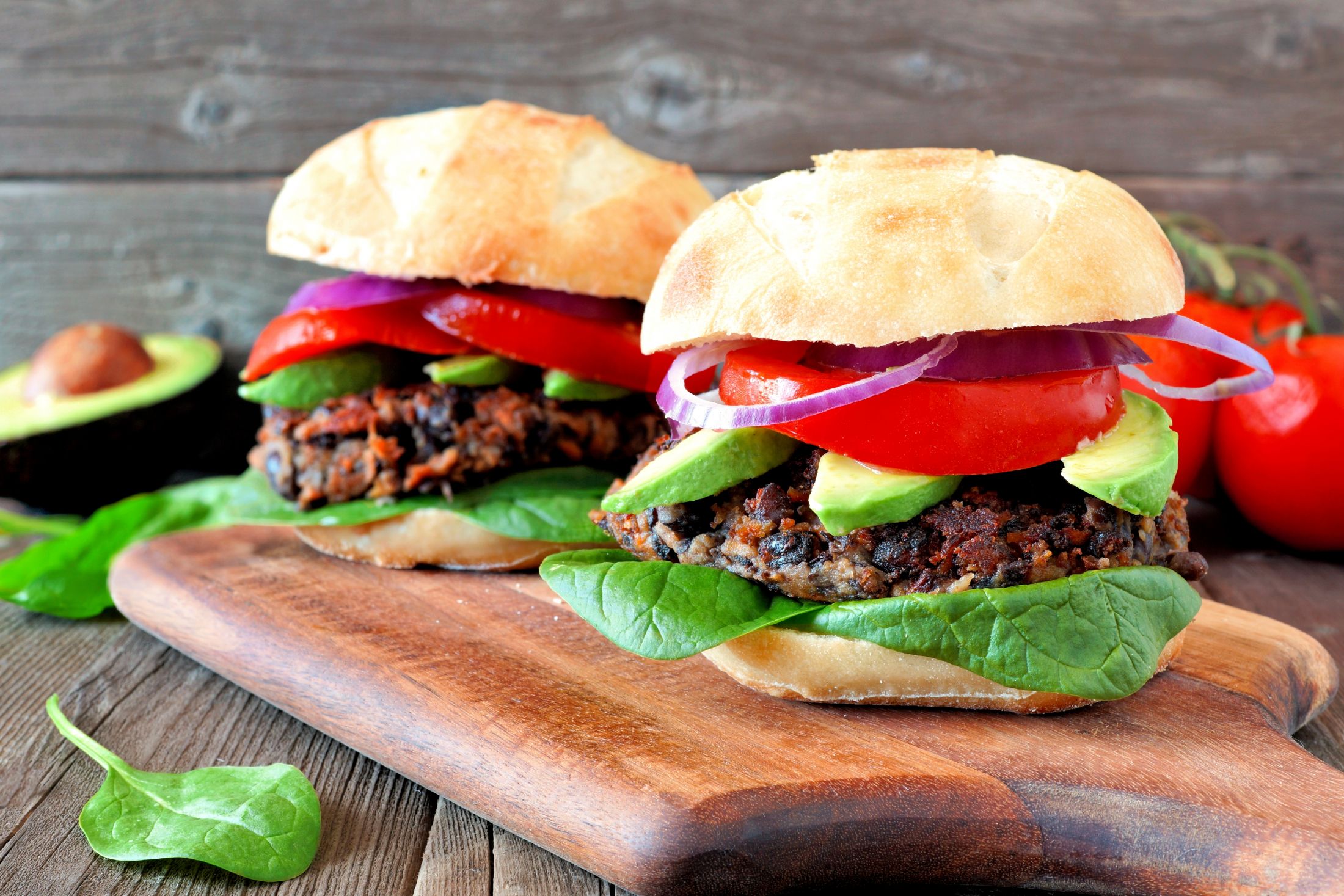 These fun burgers are so easy to make and are inexpensive and hearty. With your favorite burger toppings, you won't miss the beef and they might become your new favorite!
1 (15 oz) can black beans, drained and rinsed
˝ cup panko crumbs
2 Tbsp Halladay's Harvest Barn Zesty Fiesta Seasoning
1 egg plus one egg white, beaten
2 Tbsp olive oil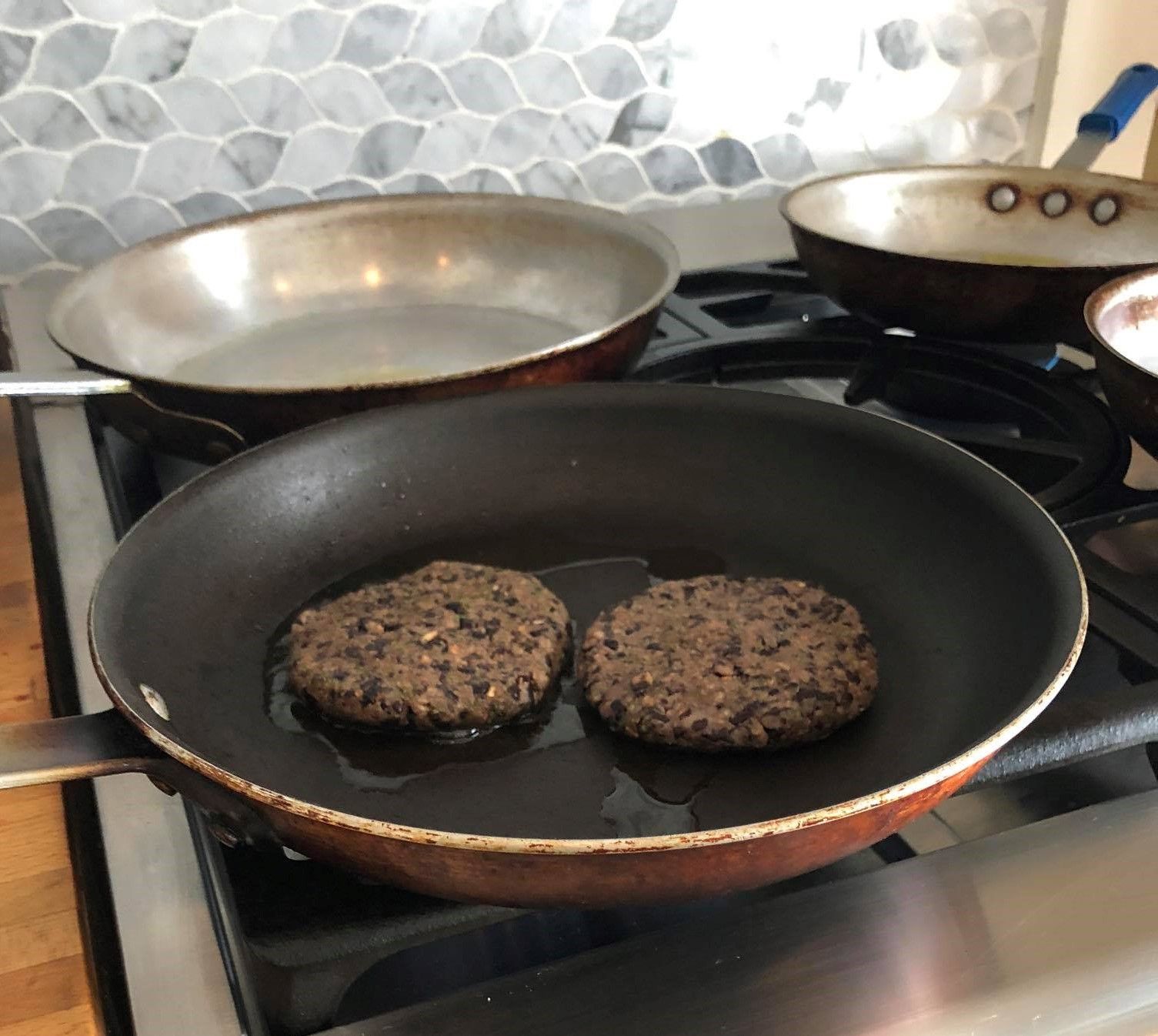 Mash beans well. Add bread crumbs, Halladay's seasoning and egg mixture; combine well. Let sit for a few minutes, then form into 4 patties. Fry in oil for approximately 4 minutes per side. Serve on your favorite bun, with your favorite toppings or forget the bun and serve alongside a nice salad for a light and healthy dinner.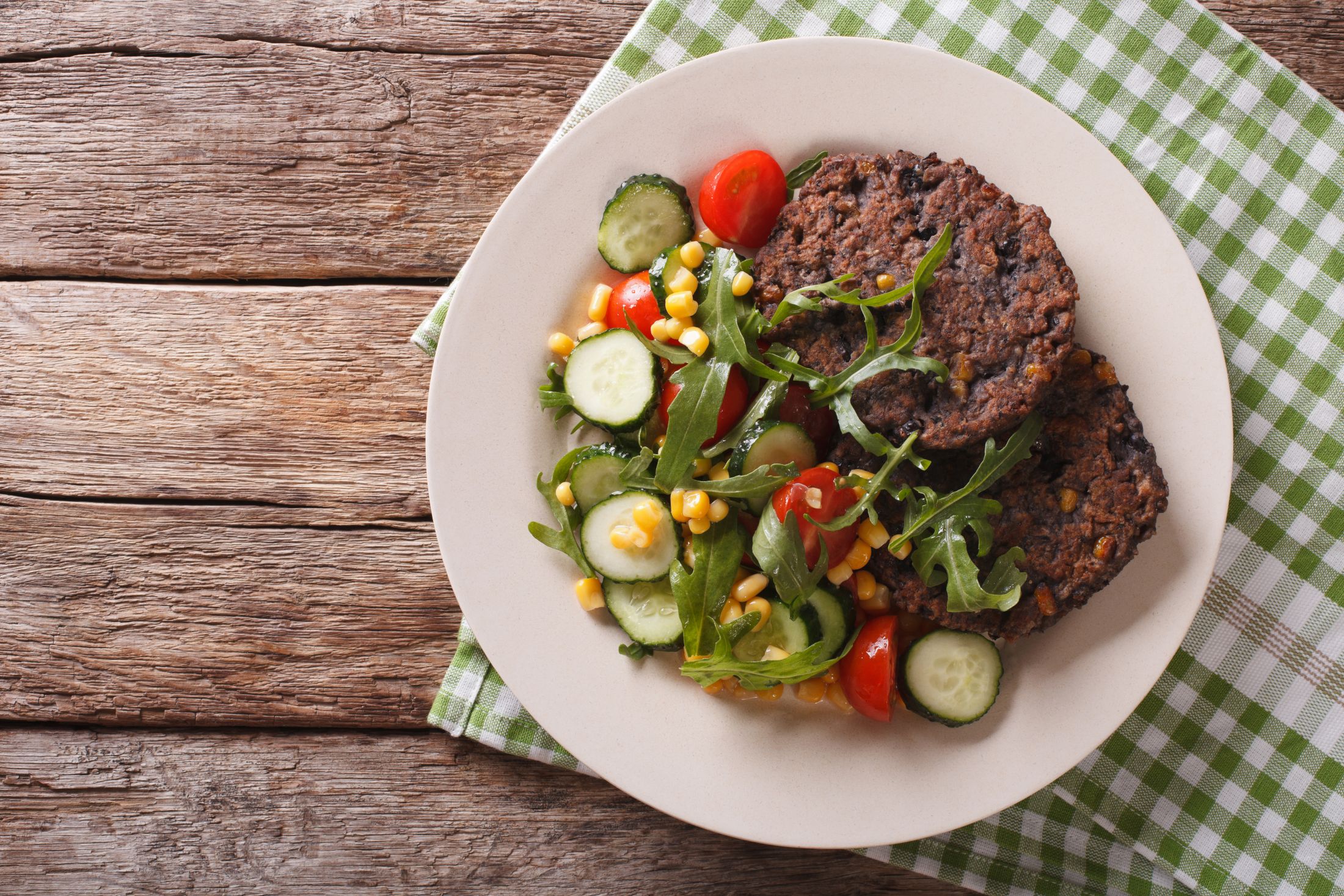 MEXICAN ZUCCHINI CASSEROLE
This summer we had zucchini overload from the garden. This recipe was so flavorful that we decided to keep it in the dinner rotation all year. It is hearty and delicious and sneaks in lots of flavorful veggies. You could also add 1 lb. of ground turkey or beef if you don't want to go meatless; we have tried and enjoyed both versions!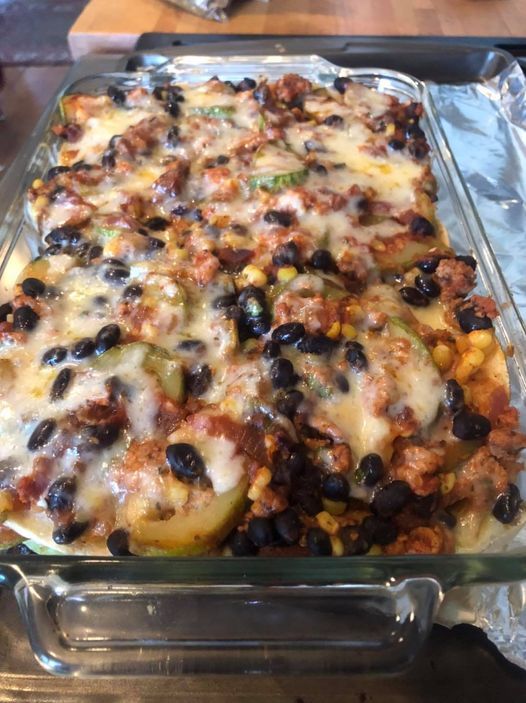 2 Tbsp olive oil
1 medium onion, chopped
2 medium zucchinis, halved and sliced
1 cup fresh or frozen corn kernels
1 can diced tomatoes
1 Tbsp Halladay's Harvest Barn Garlic Chipotle Dip & Seasoning Blend
2 cans black beans, drained and rinsed
8 (6") corn tortillas
1 ˝ cups shredded jack or Mexican cheese blend
(1 lb. cooked ground turkey or beef, for the non-vegetarian version)
Preheat oven to 350°F. Heat oil in a skillet and cook onions and zucchini until soft. Add in corn, tomatoes, Halladay's Chipotle Seasoning and beans. Cook until the liquid reduces by half. (If adding meat, add cooked ground turkey or beef to veggie mixture and simmer to combine flavors)
Coat a 9 x 13-inch pan with cooking spray. Spoon ⅓ of the vegetable mixture on the bottom of the pan, spreading evenly. Top with four tortillas. Spoon half of the remaining veggie mixture evenly atop the tortillas, then add four more tortillas. Finish off by spooning the last of the veggie mixture and sprinkling the top with shredded cheese.
Bake for approximately 30 to 35 minutes, or until hot and bubbly. Serve with sour cream, crumbled tortilla chips, avocado, scallions or your favorite toppings.
VEGETARIAN CHILI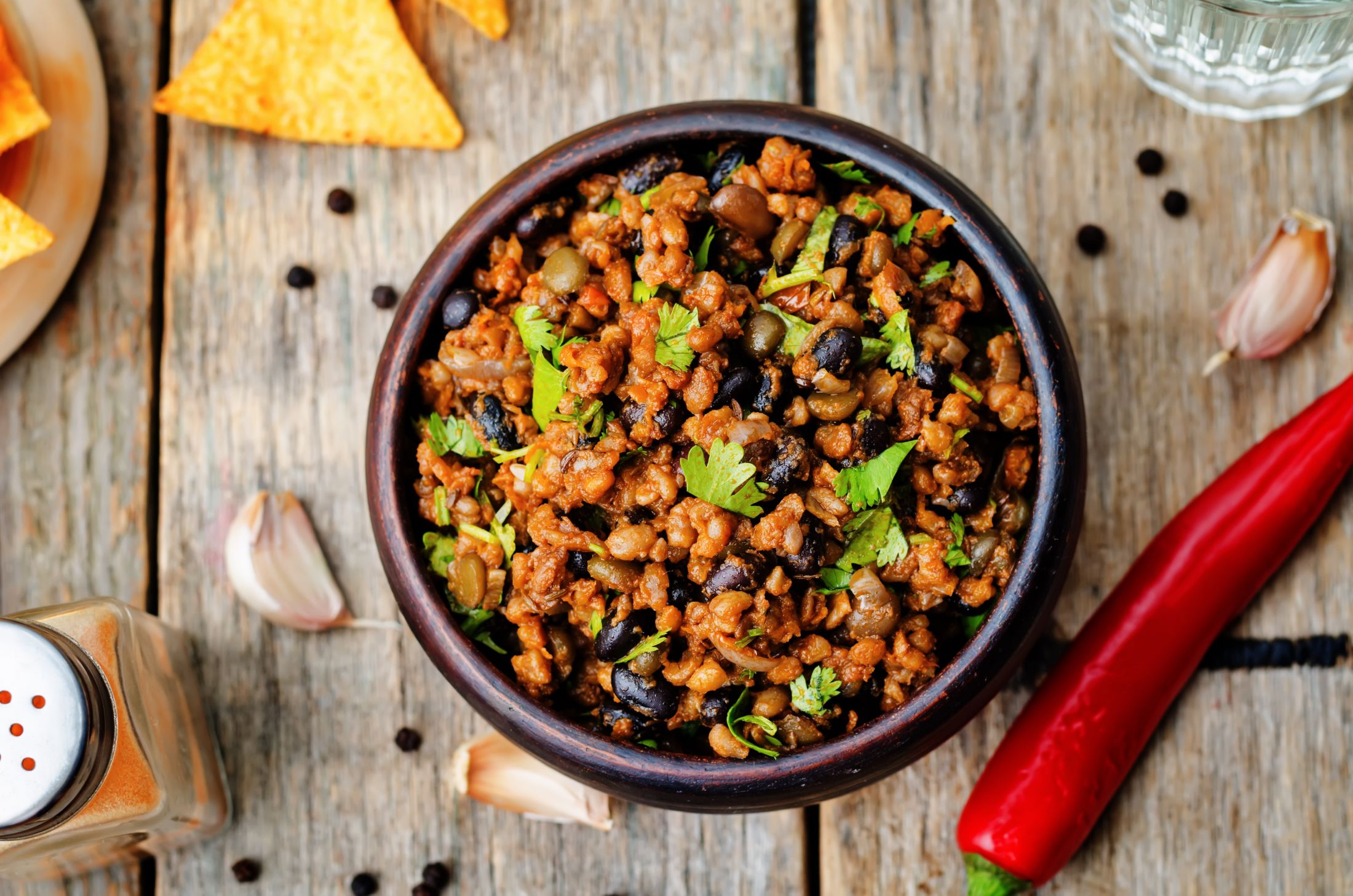 1 cup of dried TVP (Bob's Red Mill is good)
1 cup hot water
1 package Halladay's Harvest Barn Farmhouse Chili Seasoning
1 onion, chopped
1 red pepper, chopped
2 cans red chili beans or 2 cans black beans, drained and rinsed
1 (14.5 oz) can crushed tomatoes.
2 Tbsp olive oil
Hydrate TVP in hot water, set aside. In a stock pot, sauté onions and red peppers in olive oil. Add beans, tomatoes, Halladay's Chili Seasoning and hydrated TVP. Simmer for 30 minutes, or until all flavors are well combined.
So, there you have it - three delicious Meatless Monday meals to add to your dinner rotation! You know we love seeing you use our mixes, so share your photos with us if you make any of the above. Post to Instagram or Facebook and tag us @halladaysharvestbarn and use the hashtag #halladaysathome so we can see them!
Enjoy every bite!
-Kathleen Govotski, Owner Halladay's Harvest Barn