Main Dish Salads: Yum!
04/23/2021
Restaurant salads can be so interesting and fun, while at home salads can tend to be a bit boring. Iceberg lettuce and bottled dressing are not this foodies dinner choice. I find if I buy some great quality leaf lettuce, red cabbage, and carrots, I can wash and prep everything and have a mini salad bar ready to go in the fridge for the week. It is easy to change things up with some additions.
Remember to add complex carbs, healthy fats, and protein to your salad.

High quality proteins might include chicken, grass fed beef, uncured meats, hard boiled eggs, and raw cheeses.

Complex carbs might include rice, barley, quinoa, lentils, beans, and whole wheat pasta.

Add some seasonal fruits for sweetness and interest, I like pears, strawberries or blueberries.

Commercial salad dressings contain unhealthy oil and unwanted ingredients. Use fresh lemon juice or red wine vinegar with olive oil and a pinch of your favorite Halladay's Herb seasoning.

For toppings add some nut, seeds, or croutons for crunch.
For all of these salads start out with some good greens , carrots and purple cabbage or whatever base you like.
ORANGE CHIPOTLE CHICKEN SALAD
Marinate Chicken In our Orange Chipotle Barbecue Sauce
Serve grilled marinated chicken with salad greens base, orange slices and chick peas
Dressing:
½ cup olive oil
¼ cup vinegar
1 Tbsp orange juice
1 tsp Halladay's Garlic Chipotle Seasoning
JERK CHICKEN SALAD
Rub Chicken with Halladay's Sweet & Spicy Jerk Chicken Seasoning, and grill
Serve grilled chicken on lettuce and greens base
Add avocado, black beans, corn, tomatoes or toppings of choice
Drizzle with our creamy RANCH DRESSING recipe
½ cup light or regular sour cream
½ cup light or regular mayo
1 to 2 Tbsp Halladay's Harvest Ranch Seasoning
2 to 3 Tbsp milk
Whisk together sour cream, mayo and seasoning. Whisk in milk to reach desired consistency.
BARBECUE PORK TENDERLOIN AND STRAWBERRY SALAD
Rub Pork Tenderloin with Halladay's Barbecue Rub for Chicken & Ribs
Roast at 350ºF until meat thermometer reads 145º. Slice thin and serve over a bed of greens with fresh strawberries and feta cheese, and walnuts if desired.
Serve with a light toss of olive oil and balsamic vinegar
AVOCADO AND SHRIMP SALAD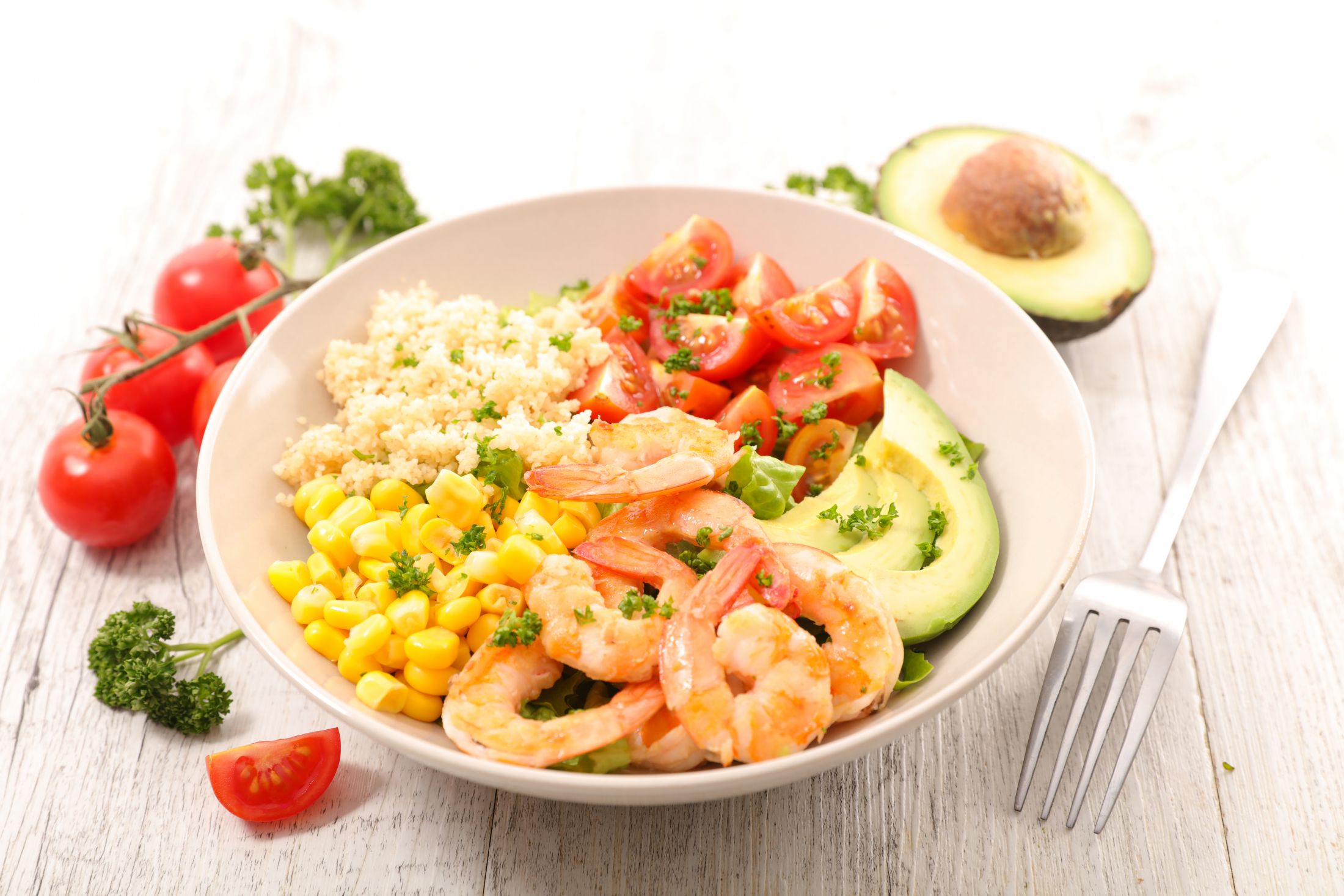 Peel and cook shrimp
Toss salad greens with shrimp, avocado, roasted corn, and cherry tomatoes.
Dress with Halladay's Ranch Dressing, recipe found above
BLT DINNER SALAD
For a salad that is a bit different, try our BLT Dinner Salad! This hearty salad is pasta and salad in one. Top with grilled or rotisserie chicken for an extra hearty dinner.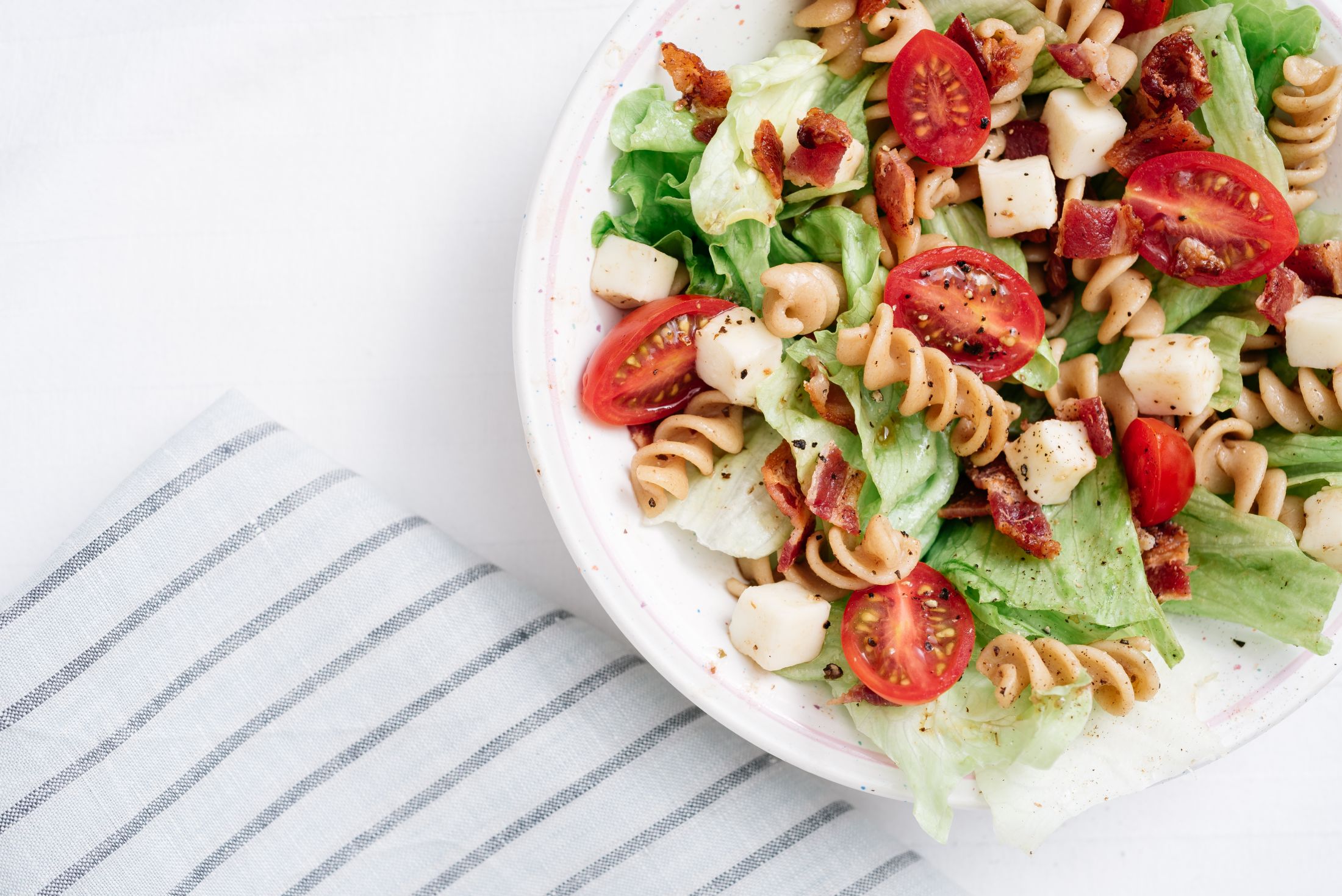 1 lb pasta of choice, we like Rotelle or Farfalle
3 Tbsp Halladay's BLT Seasoning
1 ½ cups regular or light mayo
¼ cup milk
1 lb bacon, crisply cooked, drained and chopped
1 pint cherry tomatoes, quartered
3 cups iceberg lettuce, shredded
fresh mozzarella, cubed (optional)
Cook pasta of choice to al dente. Drain the pasta and set aside to cool. Combine seasoning, mayo and milk in a large bowl. Add cooked pasta, cooked bacon, and cherry tomatoes. Toss well to combine, chill for at least 1 to 2 hours. Before serving, add more mayo if needed, fresh mozzarella, if desired, then fold in the shredded lettuce.
So, there you have it - 5 delicious dinner salad recipes, perfect for spring and summer!  If you try any of these recipes, we want to see your pictures! Post to Instagram or Facebook and tag us @halladaysharvestbarn and use the hashtag #halladaysathome so we can see them.
-Kathleen Govotski, Owner Halladay's Harvest Barn