Fun Campfire Food
06/11/2021
As I travel Route 5 in Vermont, I keep seeing campers rolling off the highway and tents and kayaks are strapped to roof racks. Camping, the great American obsession is hitting its summer stride! There is nothing like getting away from home and relaxing around the campfire. There is something so mesmerizing about those flames and all the good times to be had gathering with friends and family.
Our Happy Camper box is the perfect collection of spice packets to give to a friend who loves camping, or to gift to yourself for your next camping adventure!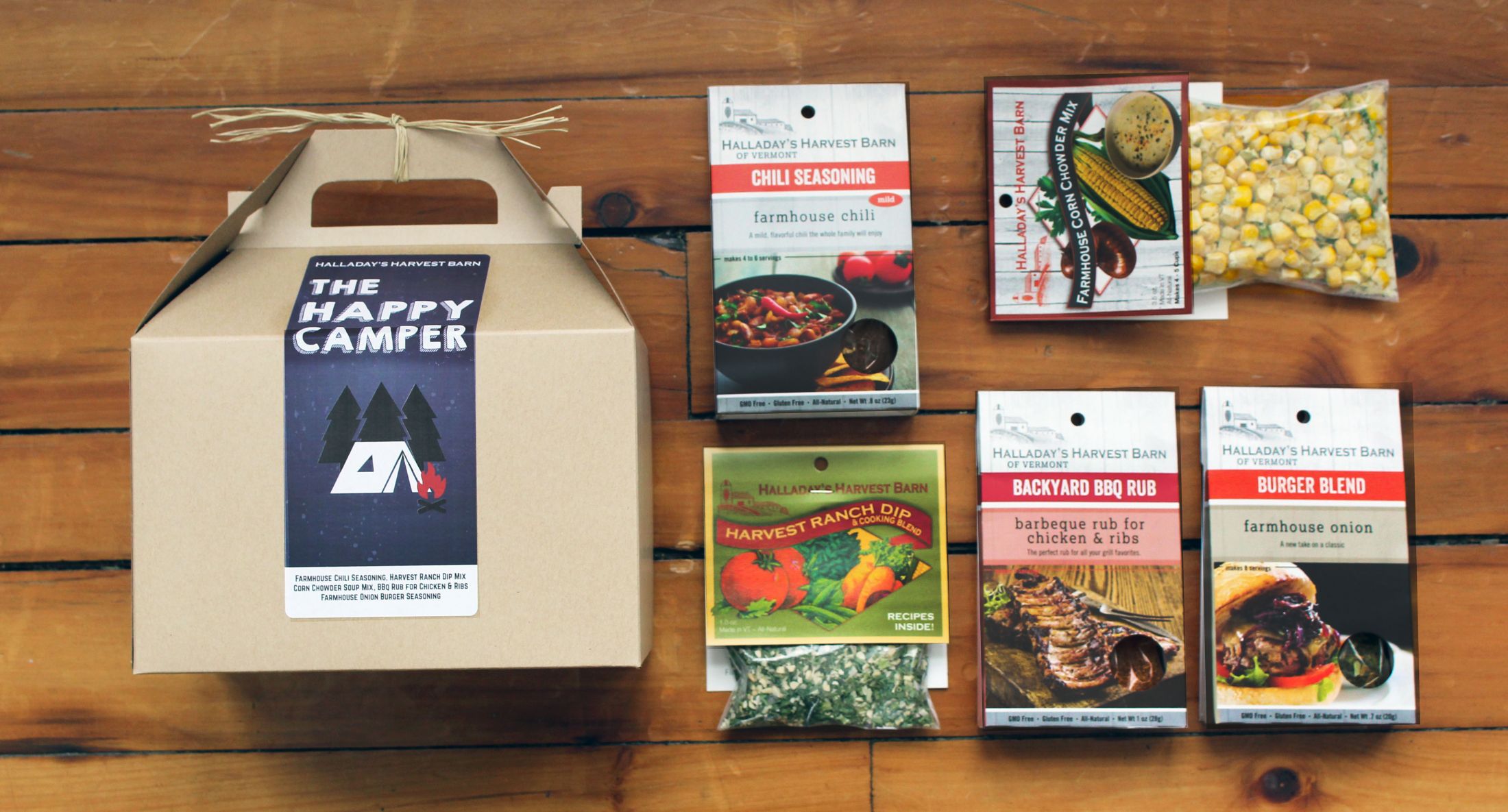 We have put together some simple recipes to take your campfire meals to the next level. We love foil packets for summertime grilling. Add a few spices and ingredients to your food, wrap it in a little tented foil, and less than 30 minutes later all of the flavors magically meld together to create a tasty dinner.
CAMPFIRE SAVORY ONION POTATOES
2 lbs red potatoes, cubed
2 Tbsp olive oil
1 Tbsp Halladay's Harvest Barn Farmhouse Onion Burger Seasoning
¼ tsp salt
¼ tsp pepper
Toss potatoes with oil, seasoning, salt, and pepper; place in a foil packet and seal tightly. Place over hot coals (not open flames) and cook, turning every 5 minutes, for about 15 to 25 minutes; until done. Carefully open foil packet and dig in!
BBQ CHICKEN GRILL PACKETS
1 lb boneless chicken breasts or thighs, cubed
1 red onion, roughly chopped
1 red
1 Package Halladay's Harvest Barn Barbeque Rub for Chicken & Ribs
Shredded cheese, optional
Evenly coat chicken with BBQ Seasoning, cover and let sit in your cooler to marinate. Prepare four tin foil packets. Combine the chicken with peppers and onions and add ¼ of the mixture to each piece of tinfoil. Add 2 to 3 pieces of corn, sprinkle with salt and pepper. Seal up foil packets and cook over medium heat coals for 15 to 25 minutes. Open carefully, sprinkle with shredded cheese if desired, and enjoy!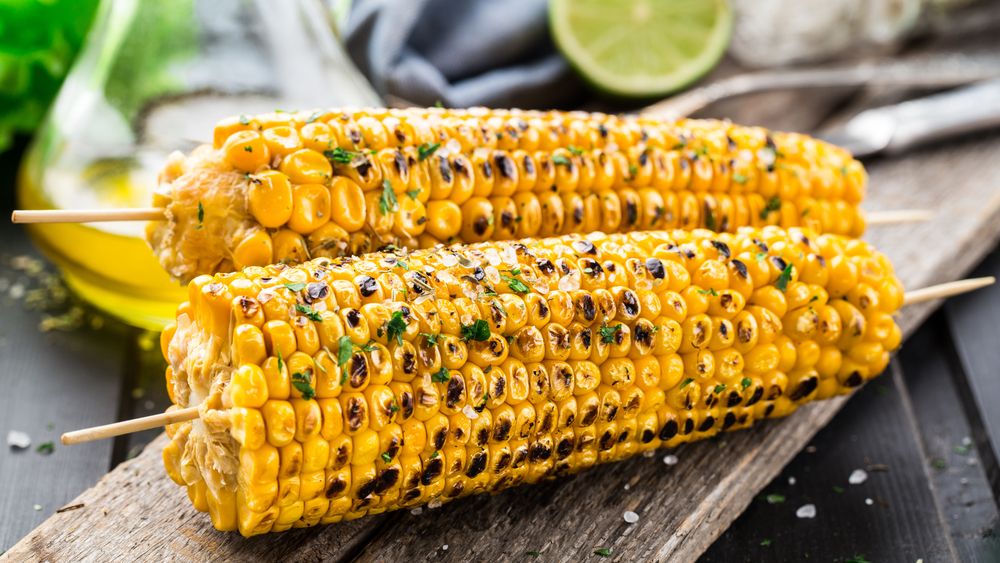 HERB BUTTERED CORN ON THE COB
1 stick butter, softened
1 Tbsp Halladay's Harvest Barn Harvest Ranch Seasoning
6 to 12 ears of corn
Soak corn in their husks for at least 30 minutes. Prepare the herb butter by mixing the seasoning with the softened butter. Roast corn over hot coals (not open flames) for about 30 minutes, turning often. Shuck corn and serve with herb butter.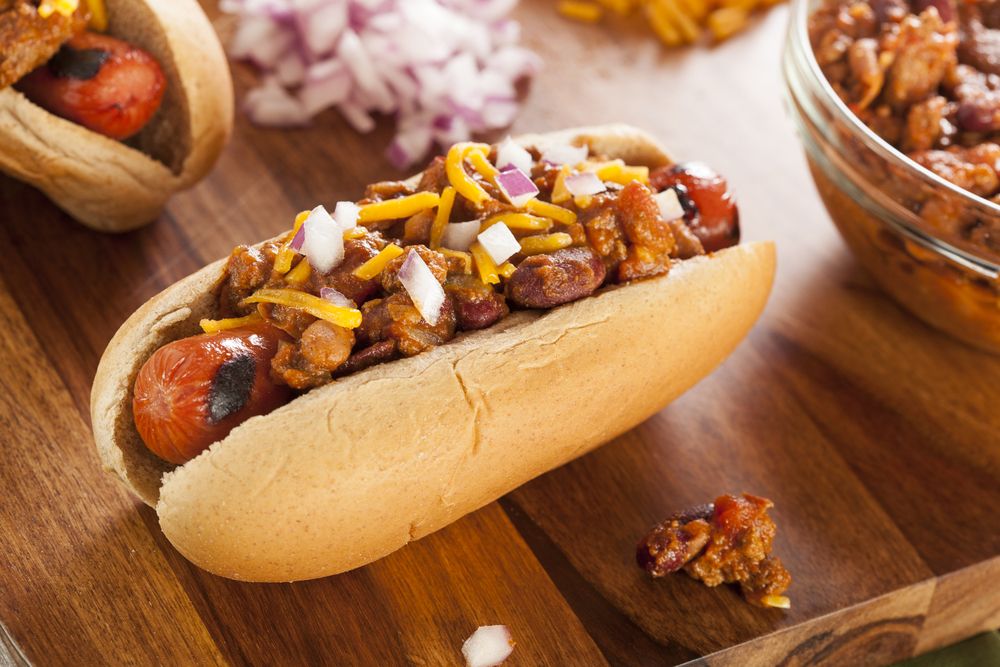 CHILI CHEESE DOGS
1 lb ground beef
1 package Halladay's Harvest Barn Farmhouse Chili Seasoning
1 (14.5 oz.) can tomato puree
6 oz beer of choice
6 to 12 hot dogs
Hot dog rolls of choice
Topping Ideas: shredded cheddar cheese, chopped onions, chopped jalapeno, condiments, etc.
Brown beef in a skillet over coals (not open flame). Add pureed tomatoes, Chili Seasoning, and beer. Simmer for at least 20 minutes. Serve chili and cheese over grilled hot dogs in toasted buns. Yum!
If you try any of these recipes, we want to see your pictures! Post to Instagram or Facebook and tag us @halladaysharvestbarn and use the hashtag #halladaysathome so we can see them.
-Kathleen Govotski, Owner Halladay's Harvest Barn