Flavorful Stuffed Squash: Three Recipes to Try this Fall!
10/22/2021
Winter squash are so hearty and tasty. They are filled with flavor and are a great source of vitamins and minerals. They are low in calories and carbs compared to potatoes or pasta and are very filling.
Justin had fun in the kitchen working with some flavorful Harvest Barn mixes to create some warming fall and winter recipes. The staff were our usual front-line tasters. We hope you enjoy them as much as we did.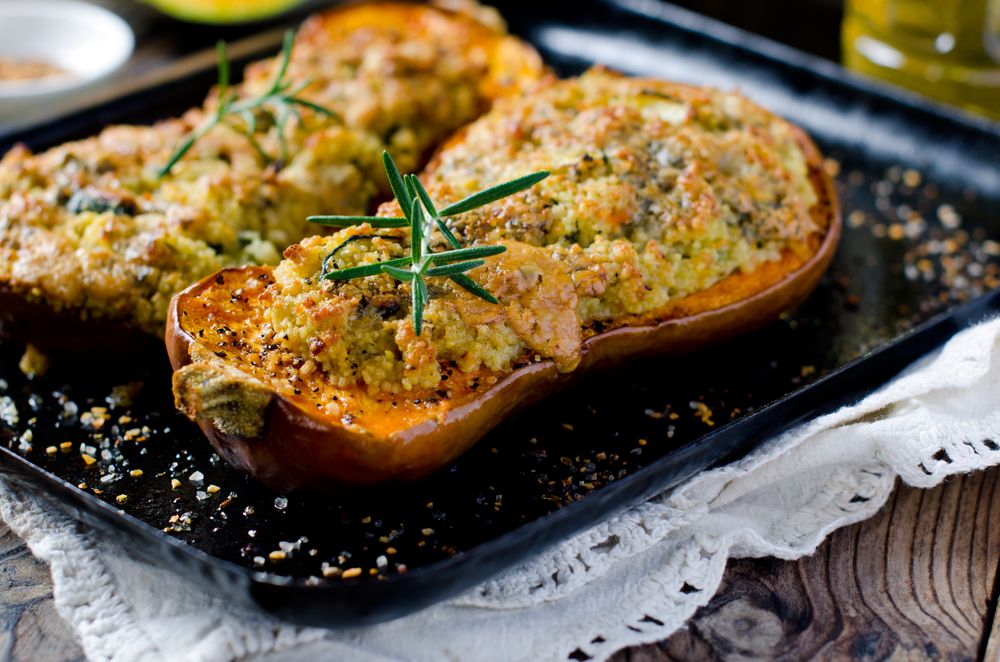 STUFFED BUTTERNUT SQUASH WITH SCAMPI WILD RICE
2 medium butternut squash
1 Tbsp olive oil
1 small yellow onion, finely chopped
1 cup mushrooms, finely chopped
1 cup wild rice
½ cup frozen green peas
2 Tbsp Halladay's Harvest Barn Scampi Seasoning
1 cup grated Parmesan Cheese, optional
Roast Squash:
Preheat oven to 350°F. Cut the Butternut Squash in half lengthwise and remove seeds with a spoon.
Place cut side down on a baking sheet and roast for 45 minutes, or until soft.
Rice Filling:
Heat oil in a large pot or Dutch Oven, add mushrooms and onions and sauté for 2 to 3 minutes until onions are soft. Add rice and stir well to combine. Add peas, Scampi seasoning, and salt and pepper to taste. Cook for 5 minutes. Add 1 cup of water and bring to a boil. Turn heat to low, cover and simmer for 25 to 30 minutes. Turn off heat and let sit for 5 to 10 minutes.
Assemble the Squash:
Once the squash is fork tender, scoop out some of the flesh leaving ½ inch thick around the shell.
Add the squash pulp to the rice mixture. Spoon the rice and squash mixture evenly into the shells.
If using parmesan cheese sprinkle ¼ cup over each squash half. Broil on high for about 3 minutes for cheese to melt and brown nicely.
SPAGHETTI SQUASH TWO WAYS
We love spaghetti squash in our house. Its so fun to cook it and shred into spaghetti! Alone It is rather plain but it absorbs the flavor of whatever you put it with nicely. We have created a Mexican version and also a version using our most loved Spinach Artichoke Dip!
Basic Spaghetti Squash Cooking Directions:
Preheat oven to 350°F and line a cookie sheet with parchment paper or a silicone mat. Place the whole spaghetti squash in the microwave for 5 minutes. This softens the squash slightly, cuts down on the cooking time and makes it easier to cut.
Cut the squash in half lengthwise and scoop out seeds. Drizzle with olive oil and salt and pepper. Roast for about an hour or until the flesh scoops out easily.
While your squash is cooking make your filling.
ZESTY FIESTA STUFFED SPAGHETTI SQUASH
1 (4 lb) spaghetti squash
2 Tbsp olive oil
1 red bell pepper, diced
1 med yellow onion, diced
½ lb ground beef (or ground turkey)
1 (14 oz) can black beans, drained and rinsed
1 (14 oz) can diced tomatoes
1 cup frozen corn kernels
2 Tbsp Halladay's Harvest Barn Zesty Fiesta Dip & Seasoning Blend
¼ cup minced cilantro, optional
Salt and pepper to taste
1 cup shredded jack cheese
Add olive oil to a skillet and heat until hot, add onions and bell peppers and sauté until soft. Add the ground beef or turkey and cook until done. Drain any excess fat. Add the black beans, tomatoes, corn and Zesty Fiesta seasoning; cook until heated through.
Scoop out the spaghetti squash flesh from the shell. Mix with the meat and vegetable mixture. Add salt and pepper to taste. Stuff the empty shells with the filling and top with cheese. Place in a hot oven for 15 to 20 minutes to heat through and melt the cheese.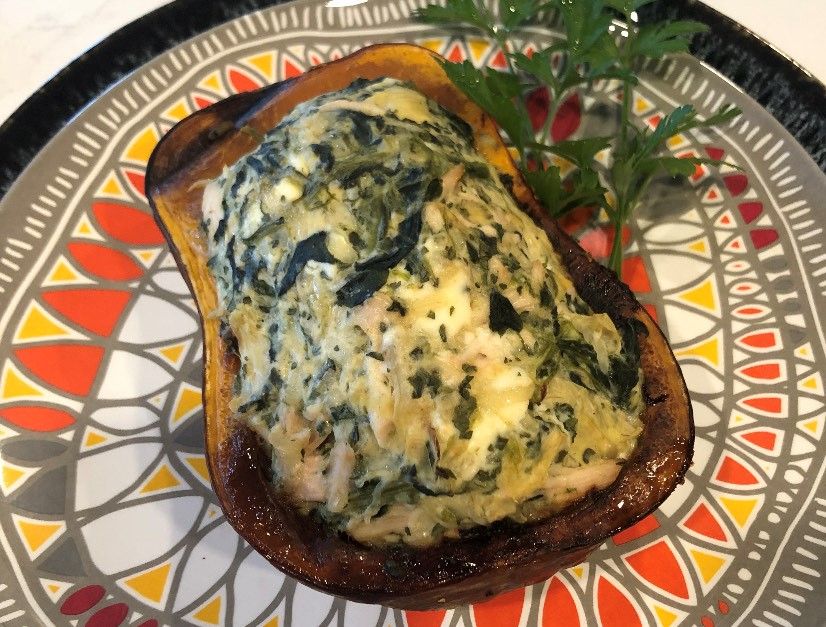 SPINACH ARTICHOKE STUFFED SPAGHETTI SQUASH
2 Tbsp Halladay's Spinach Artichoke Seasoning
1 (15 oz) can artichoke hearts, drained and chopped
½ cup mayo
½ cup sour cream
½ cup mozzarella (plus ½ cup set aside)
½ cup grated parmesan cheese
1 cup shredded rotisserie chicken, optional
Combine all ingredients together. Scoop out spaghetti squash flesh and add to spinach mixture. Add salt and pepper to taste and put back in the shells. Sprinkle remaining mozzarella cheese on top. Put back in the oven for 20 to 30 minutes, or until heated through and cheese is melted.
We hope you enjoy these three flavorful stuffed squash recipes this fall! If you try any of these recipes, we want to see your pictures! Post to Instagram or Facebook and tag us @halladaysharvestbarn and use the hashtag #halladaysathome so we can see them. Enjoy!
-Kathleen Govotski, Owner Halladays Harvest Barn