Fish for Dinner
03/25/2022
On the blog this week we are going to share some of our favorite fish and seafood recipes. It can be frustrating to cook fish at home. Perfectly cooked fish in the best restaurants is often dry and flavorless when made at home. The FDA recommends that fish be cooked to 145°F. Many chefs serve salmon at 125°F. If you take your fish out of the oven just before it reaches the optimum temperature it should be perfect, as it will continue to cook a bit after removal. You might plan on about 10 minutes of cooking time per each inch of fish. When your fish is done it will lose the shiny transparent look and turn an opaque milky white all the way through and will flake easily. With the right seasonings and the freshest fish, you can create simple tasty dinners.
Fish is filled with omega 3 fatty acids and vitamins such as D and B2. Its rich in phosphorous, calcium and is a great source of minerals. The American Heart Association recommends that you include fish in your diet at least 2 times a week. Fish is also a low fat, high protein food with a relatively low-calorie count.
LEMON PARMESAN FISH
Lemon Parmesan Fish is a simple and delicious dish perfect for a spring night. It's super easy to prepare and is great paired with spring asparagus and a light salad.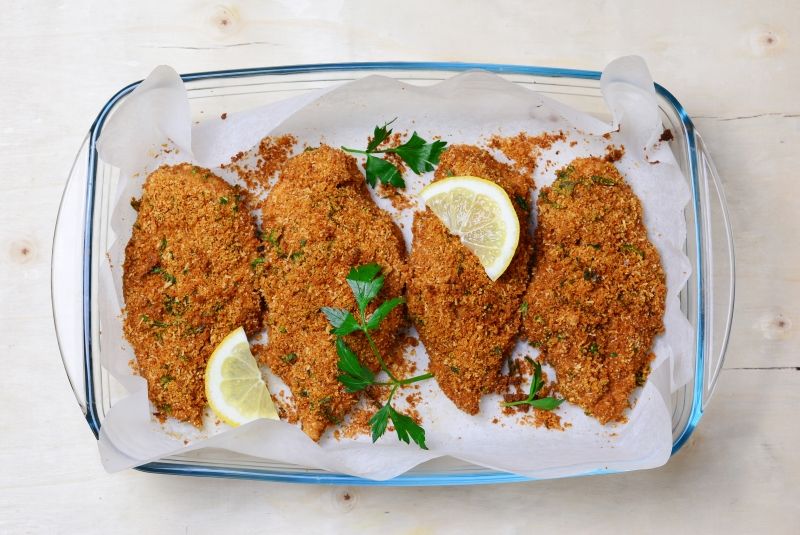 ½ cup Corn Flakes cereal, crushed
1 Tbsp. Parmesan cheese, grated
1 Tbsp. Halladay's Lemon Spinach Seasoning
1 Tbsp. butter, melted
¼ tsp. pepper
4 (4 oz.) pieces flounder or sole
Preheat oven to 450°F. Spray pan with nonstick spray. Combine all ingredients except fish. Sprinkle mixture over fish and bake until fish flakes easily, about 15 minutes.
DIJON HERB CRUSTED SALMON
Dijon crusted salmon is delicious. The mustard crumb topping crisps up nicely at the end and the yogurt sauce adds another layer of flavor. Cook your salmon to 145°F if you like it firm or to 125°F if you like it a bit rarer.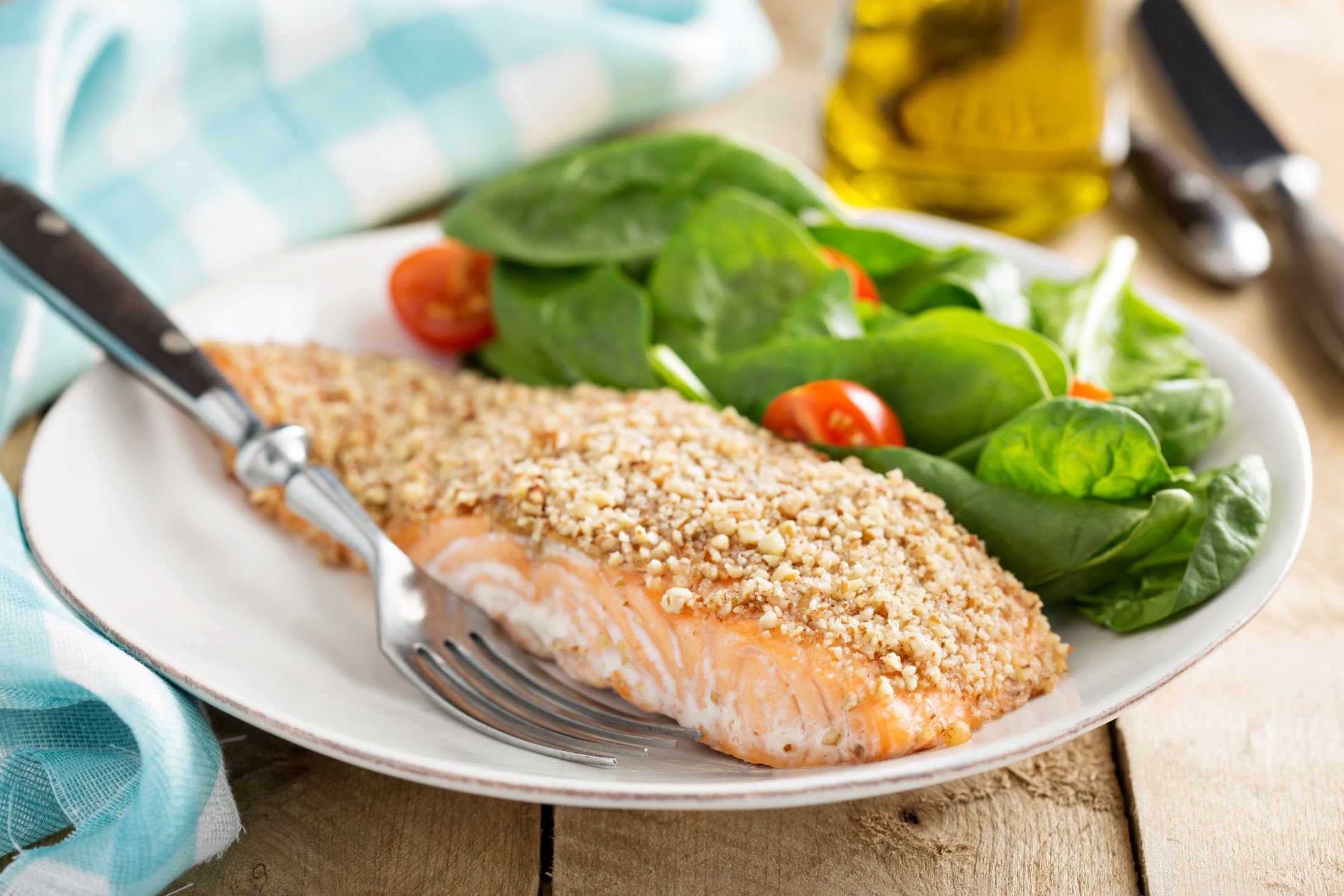 1 tsp. red wine vinegar
¼ cup plain Greek yogurt
2 tsp Halladay's Dilly Herb Seasoning
2 6 oz. salmon fillets skinned
½ cup whole wheat panko breadcrumbs
1 Tbsp. canola oil
1 Tbsp. Dijon mustard
Preheat oven to 450°F. Combine vinegar, yogurt and 1 Tbs. of seasoning; set aside. Arrange fish on a foil lined baking sheet; season with salt and pepper. Bake 10 minutes or to desired doneness. Remove pan from oven. Combine panko, remaining seasoning, oil and mustard and spoon evenly over fish. Broil for 1 to 2 minutes until topping is brown. Serve yogurt sauce over salmon.
CREAMY BAKED SCALLOPS
Our creamy baked scallops come together with just a few simple ingredients; you will be amazed! This company friendly or special date night dish tastes like a 4-star restaurant experience. It is rich and creamy and we love it served with rice pilaf and green beans.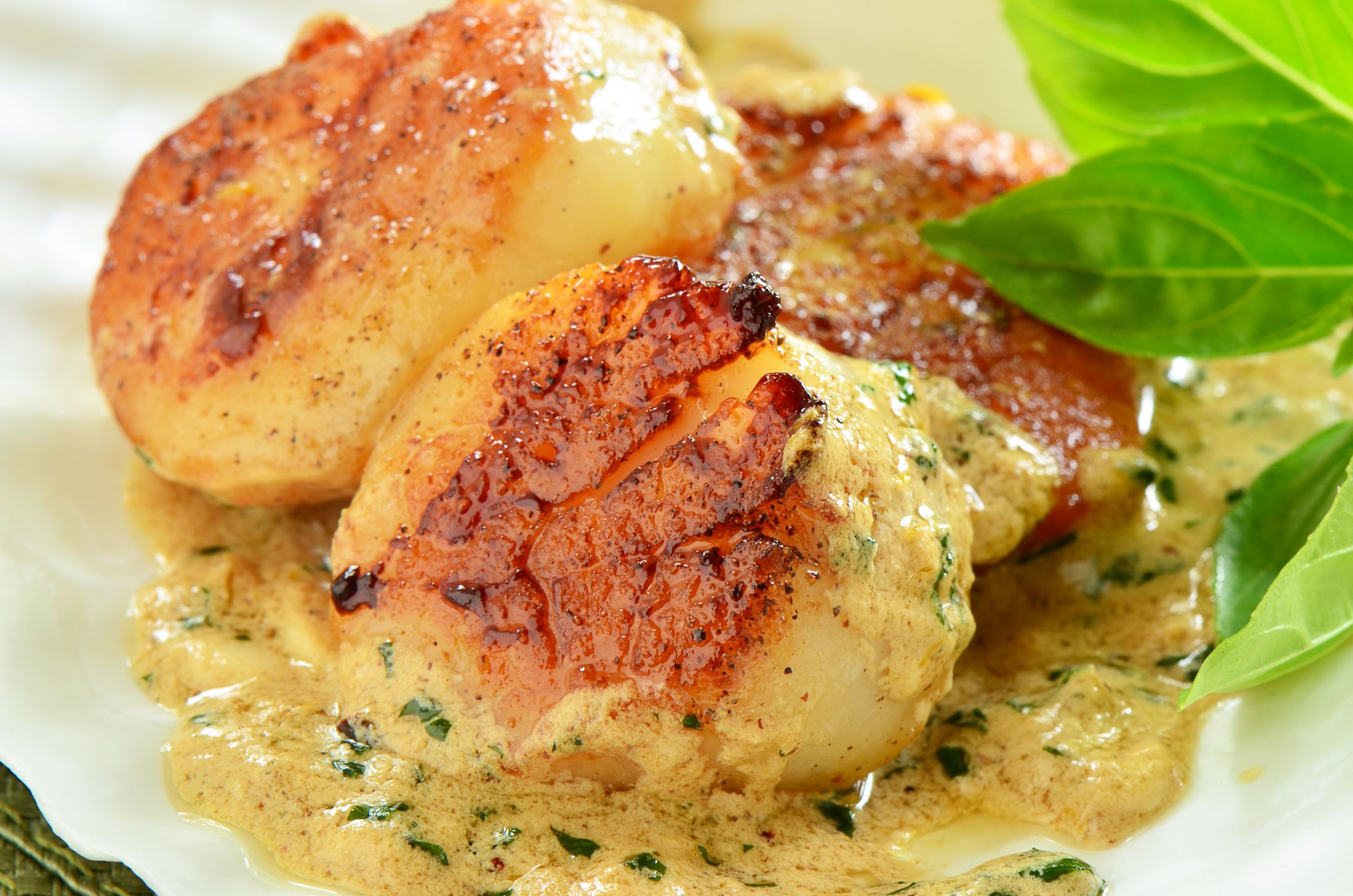 1 lb. scallops
1 cup mozzarella cheese, shredded
½ cup mayo
1 (8 oz.) can clams, drained
3 Tbsp. Halladay's Lobster Bisque Seasoning
Preheat oven to 350°F. Place scallops in an even layer in a baking dish. Combine remaining ingredients and pour over scallops. Bake for 15 minutes, then broil until golden brown, about 3-5 minutes.
If you try any of these recipes, we want to see your pictures! Post to Instagram or Facebook and tag us @halladaysharvestbarn and use the hashtag #halladaysathome so we can see them. Enjoy!  
 
-Kathleen Govotski, Owner Halladay's Harvest Barn