Dip of the Month: Maple Habanero
03/04/2022
We are just edging into Maple Month in Vermont. It's early March and signs of tapping are all around us. Many of the traditional buckets have been replaced with clear tubing but the golden sap that flows from the trees is still mother nature's sweet miracle each spring.
Vermonters love to sweeten up nearly everything with a touch of syrup. Maple is a natural sweetener. While too much of any sweetener is not ideal, maple syrup is a great source of essential minerals including, calcium, magnesium, zinc and potassium and manganese. It has a higher concentration of minerals and antioxidants and has fewer calories than honey. It is much healthier than artificial sweeteners.
We are featuring some recipes with our Maple Habanero Dip this month in honor of maple season.  This dip has some zing to it with just a touch of sweetness from the maple. It is one of my favorite seasonings to add to chili, tacos, chicken and steak.
MAPLE HABANERO DIPPING SAUCE
Maple Habanero Dipping Sauce is so tasty. Serve it as a dip or use it as a burger topping or to dip your fries in. It is also great as a topping on burritos or tacos.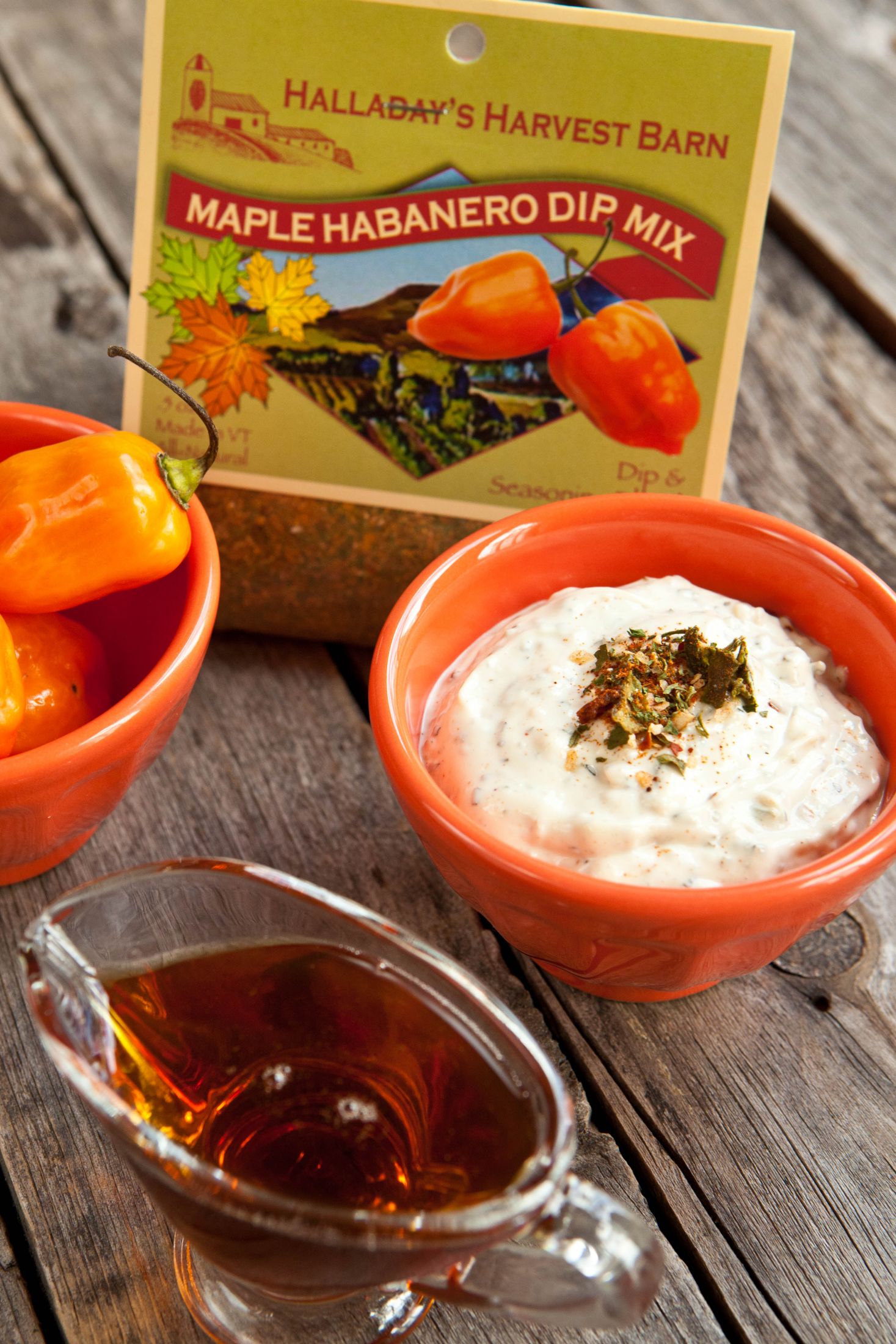 1 Tbsp. Halladay's Maple Habanero Seasoning
½ cup sour cream or Greek yogurt
½ cup mayo
(Or use a full cup of sour cream or plain Greek yogurt for a healthier option)
Combine all ingredients and mix well. Let chill.
CHICKEN TAQUITOS
Chicken Taquitos are crispy tasty little Mexican inspired appetizers. The corn shells turn crispy in the oven and the spicy sweet flavor of the Maple Habanero mixes perfectly with the cheese and chicken.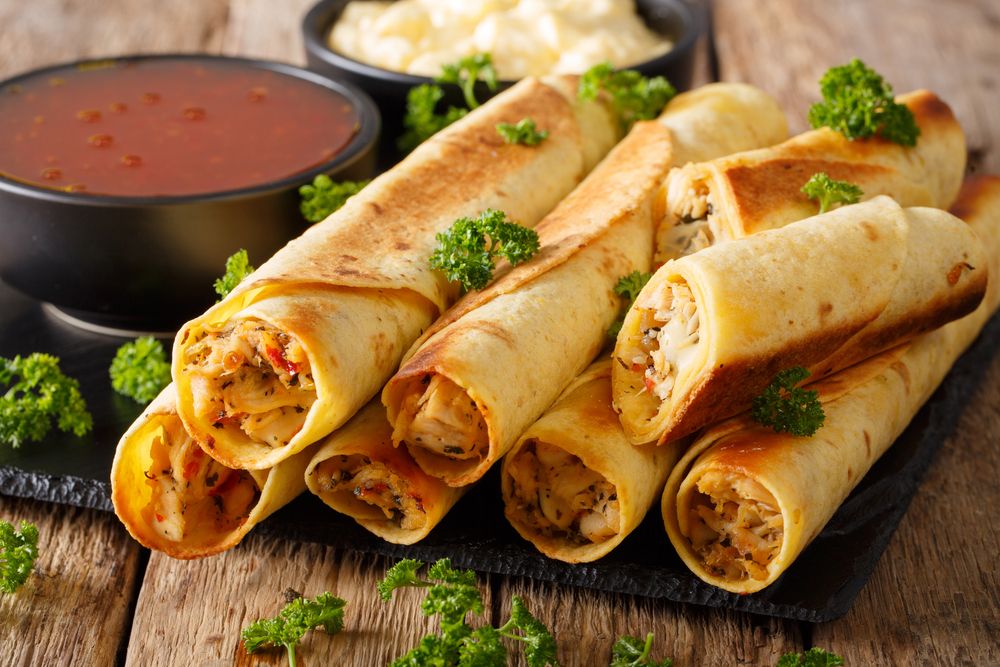 2 Tbsp. oil
1 cup Monterey Jack cheese
4 Tbsp. cilantro, chopped
1 Tbsp. Halladay's Maple Habanero Seasoning
12 4-inch corn tortillas
2 cups chicken, cooked and shredded
Preheat oven to 350ËšF. Heat oil in a skillet over medium-high heat. Fry tortillas (one at a time) for 5 seconds on each side to soften to make them pliable. Add more oil to pan as needed. Drain between layers of paper towel and keep warm.
Combine cheese, cilantro and seasoning. Divide cheese and chicken evenly among tortillas. Roll up each tortilla and place seam side down in a greased baking sheet.
Bake until crisp and slightly browned, about 15-20 minutes. Serve with Maple Habanero Dip, optional. One package of Maple Habanero Seasoning will yield enough for the above recipe as well as a batch of dip, if desired.
MAPLE HABANERO CHICKEN WRAPPED IN BACON
Maple Habanero Chicken Wrapped in Bacon is a quick chicken dish that is great served as an appetizer or added to the dinner menu. The seasoned cream cheese and the crispy bacon take chicken to a whole new level.
8 chicken tenders, halved
2 (3 oz.) packages light or regular cream cheese, softened
1 Tbsp. Halladay's Maple Habanero Seasoning
16 slices of bacon
Preheat oven to 400ËšF. Combine cream cheese and seasoning. Top each piece of chicken with 1 tsp. of cream cheese mixture, then roll and wrap with one slice of bacon, securing with a toothpick. Transfer to a baking sheet and bake, turning once, until cooked through, about 20 minutes.
If you try any of these recipes, we want to see your pictures! Post to Instagram or Facebook and tag us @halladaysharvestbarn and use the hashtag #halladaysathome so we can see them. Enjoy!  
 
-Kathleen Govotski, Owner Halladay's Harvest Barn