Air Fryer Salmon 5 Ways
06/23/2023
When the air fryer craze began, my husband had to be one of the first to purchase one. It seemed like yet another appliance to take up room on the counter and it did not get much use. Ivy, one of our staff members, began talking about all the delicious meals she created in her air fryer this spring. We pulled the air fryer out and began experimenting. Using Halladay's Seasonings to make quick marinades and rubs created some amazingly tasty dinners in the air fryer. 
Salmon is a really healthy dinner option. It is filled with omega-3's and is low in calories. We got in the kitchen and came up with several different options; some a bit sweet, some a bit spicy, and some garlic forward versions.
Air fryers act as a small convection oven, cooking items quickly and evenly with air being circulated. While we grill a lot in the summer, the air fryer offers a great alternative that does not heat up the whole kitchen. There are many air fryer options out there, and while they all offer slightly various temperatures and cooking times, we found the following to be the best tips to offer to you:
COOKING TIPS
Cooking at 400°F seemed to be the sweet spot for creating a delicious crispy exterior.

Preheat your air fryer for five minutes before adding your salmon.

Salmon fillets weighed about 1 to 1 ½ lbs.

Depending on the thickness of your salmon, we suggest about 8 to 10 minutes to reach an internal temperature of about 145°F.

We found that the salmon continues to cook a bit after being removed.
MAPLE GRILLED SALMON
Pairing a bit of sweet maple with some mustard seems to create the perfect flavor pairing for salmon. We think you will enjoy this tasty and simple to prepare version.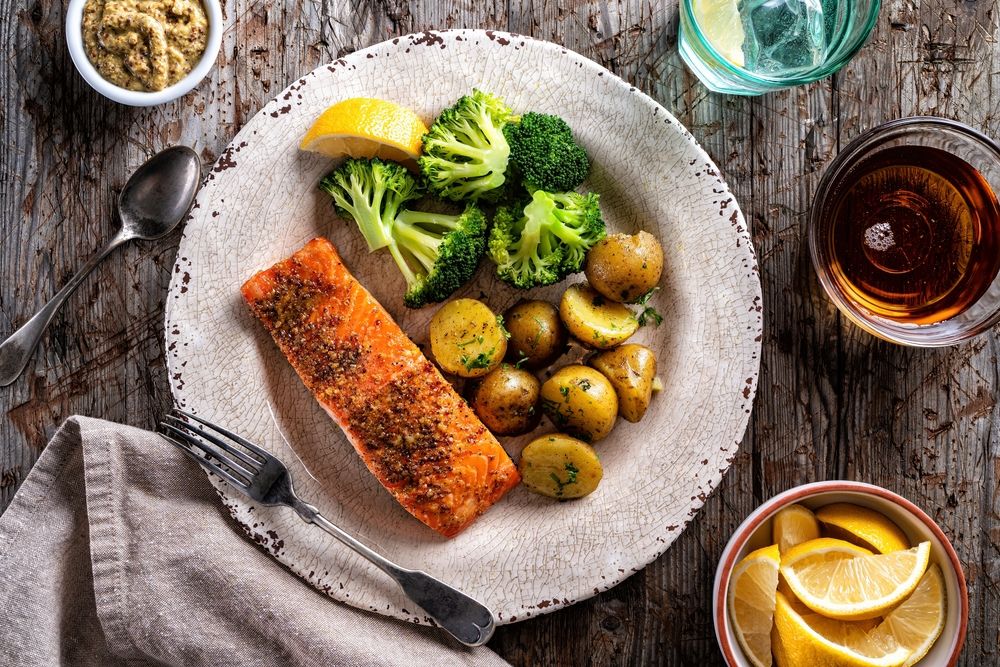 1 tsp Dijon mustard
1 Tbsp mayo
2 Tbsp Halladay's Vermont Maple Grill Glaze Seasoning
Mix mustard, mayo, and Halladay's Seasoning together; spread on salmon fillets. Air fry according to our suggested cooking tips above.
JERK SALMON
This jerk salmon recipe is so simple. Just a tiny sprinkle of our Sweet & Spicy Jerk Seasoning really brought the salmon to life! This would be a great base for simple fish taco night. 
1 Tbsp olive oil or melted butter
2 tsp Halladay's Sweet & Spicy Jerk Chicken Seasoning
Brush salmon fillets with olive oil or melted butter. Sprinkle Halladay's Jerk Seasoning on each filet. Air fry according to our suggested cooking tips above.
ORANGE CHIPOTLE SALMON
This was my personal favorite in our salmon trials. This slightly sweet, slightly spicy and tangy glaze made for a moist and flavorful salmon. YUM!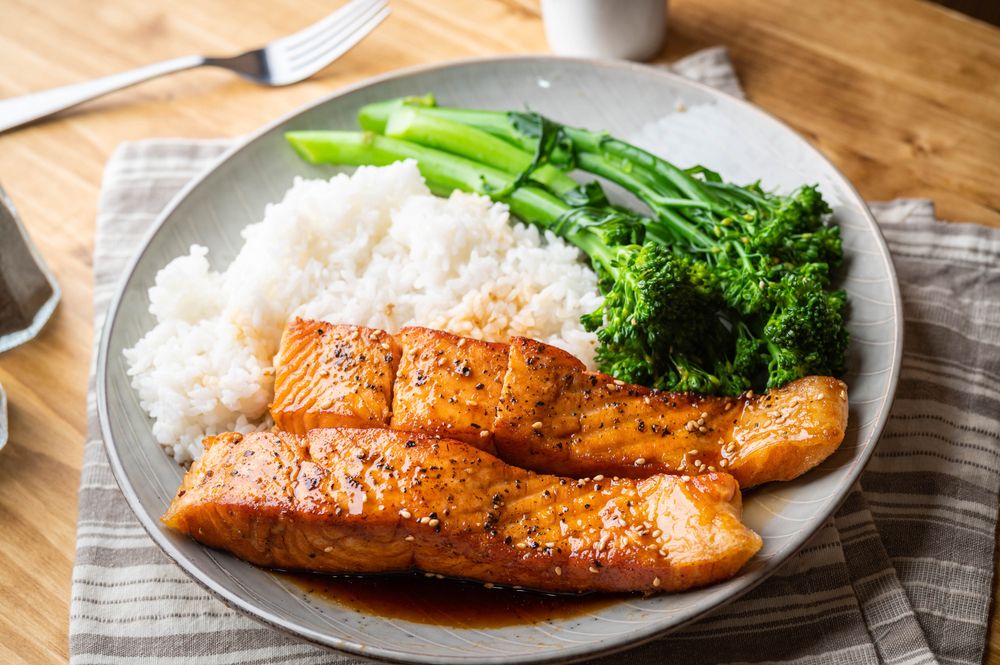 ¼ cup BBQ sauce (we love Sweet Baby Ray's)
2 Tbsp orange juice 
2 tsp Halladay's Garlic Chipotle Seasoning 
Blend all ingredients together; top each fillet with 1 to 2 Tbsp of prepared sauce. Air fry according to our suggested cooking tips above.
SCAMPI SALMON
This one is for all you garlic lovers! Our Scampi Salmon is so easy to prepare and the flavor is amazing. You might make a bit of extra sauce and serve it over your favorite pasta for a complete dinner.
2 Tbsp butter, melted
1 Tbsp lemon juice
1 Tbsp Halladay's Scampi Seasoning, hydrated in 2 Tbsp hot water.
Whisk ingredients together and spoon over each fillet. Air fry according to our suggested cooking tips above.
LEMON SPINACH SALMON
This light lemony glaze made for a moist, flavorful salmon. The capers add a bit of briny flavor which was great with the buttery sauce. 
2 Tbsp butter, melted
1 Tbsp Halladay's Lemon Spinach Seasoning
1 Tbsp capers, rinsed
1 Tbsp lemon juice
Combine all ingredients together and spoon a bit over each fillet. Reserve any extra marinade.  Air fry according to our suggested cooking tips above. Drizzle with remaining marinade before serving.
If you try any of these recipes, we want to see your pictures! Post to Instagram or Facebook and tag us @halladaysharvestbarn and use the hashtag #halladaysathome so we can see them.
 -Kathleen Govotski, Owner Halladay's Harvest Barn