5 Simple Ways to Enjoy Zucchini Noodles
08/07/2020
With all that is going on this year we have really changed some things for the better in our life and how we look at things. We are just a mile from our local market and have always run to the store for this or that every day. Between shows and our love of travel we were also on the road a lot and having dinner out a few times a week has been our way to unwind with friends and family.
This year we are at home………….. a lot. How to keep busy and engaged was really challenging in March and April when it seemed it rained non stop. Rick got seriously back into growing and gardening and seed trays and pots lined our dining room. Three small raised bed gardens later we are feeding ourselves and a lot of the neighbors. Eggs come from the small farm down the road. A couple farm stands, the farmers market and what is in the freezer keep us well fed. Harvest Barn spice mixes added to everything keeps meals tasty, easy and fun!
Composting has become a law in Vermont, so all garden scraps go into the composter to put back into the garden next spring. We all seem to be less wasteful and mindful of using everything up. Between composting, recycling and buying very little at the store our weekly trash has shrunk.
All that being said……… YIKES, 3 squash plants are producing large quantities of zucchini. The joke in New England is you keep your car locked in the summer so your neighbors can't leave any zucchini in your back seat. I thought I would get sick of using all that zucchini up. I remember that boiled, mushy squash of my childhood that we all had to gag down.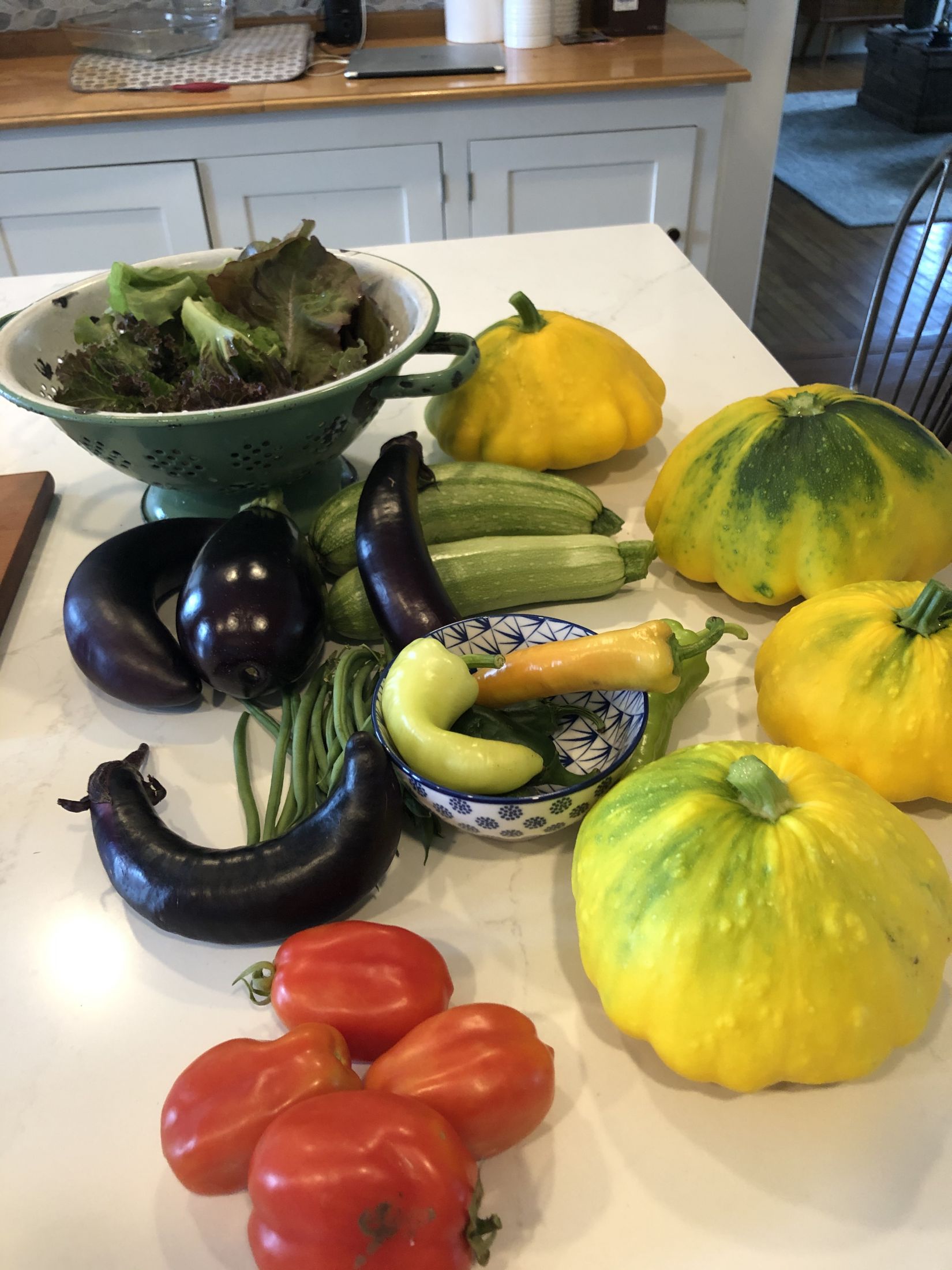 Interestingly enough, zucchini has become the new it menu item! Fun fact - did you know zucchini is actually a fruit that is usually served as a vegetable? It seems they magically appear overnight in the garden and can grow up to 3 feet long. I love them best when they are small and before the seeds develop. They are high in antioxidants, vitamins and minerals, high in fiber and are good for supporting your vision and regulating blood sugar.
Lucky for us, zucchini noodles have become a thing! 2 cups of zucchini noodles come in at about 77 calories vs 400 calories for 2 cups of pasta. You are also avoiding highly processed empty calories. Done correctly and with an excellent sauce I, the pasta junkie, can be totally happy without guilt.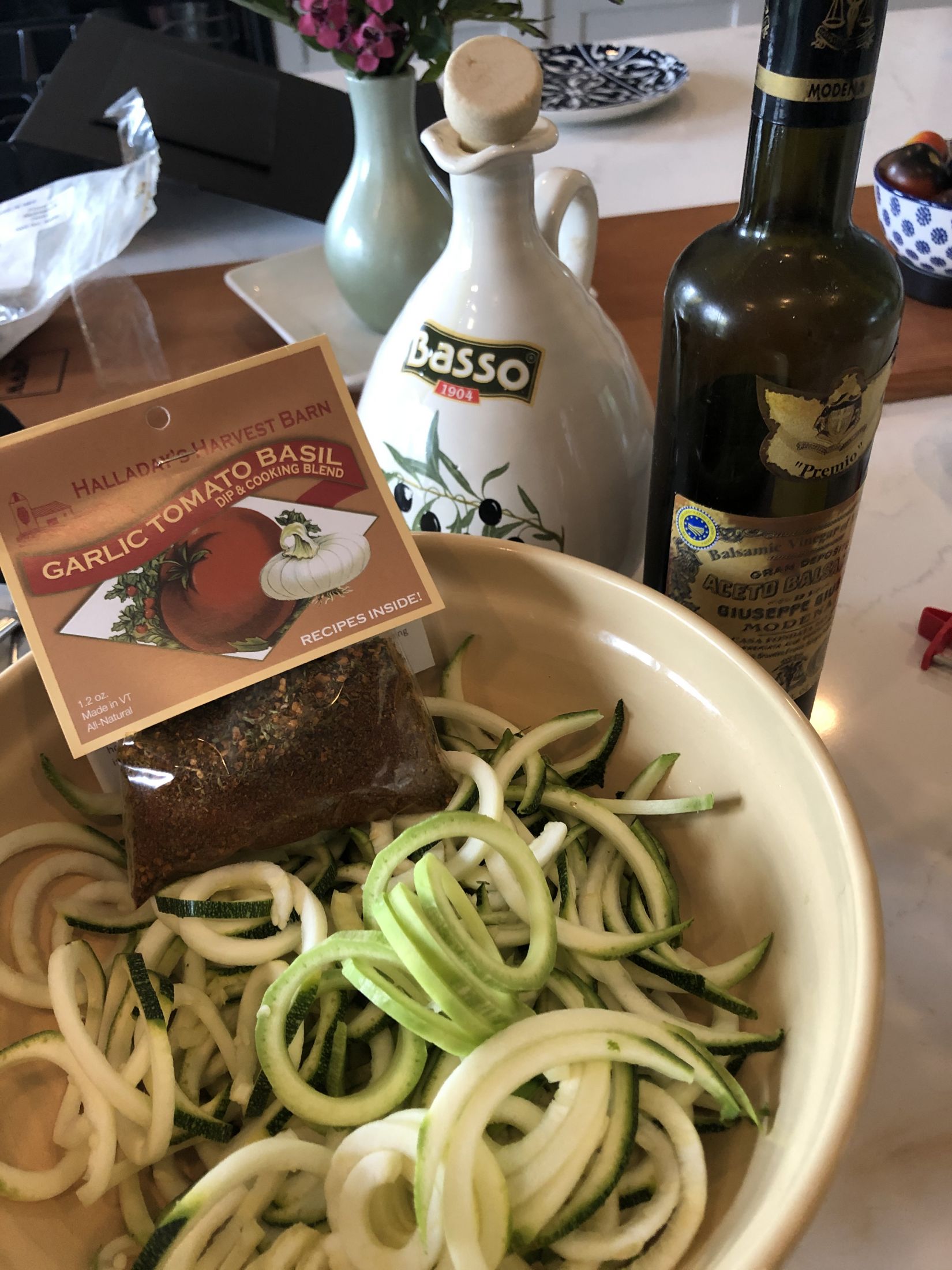 To make your "zoodles" you can use a vegetable peeler in a pinch but a better device such as the Kitchen Aid Stand mixer will really turn out some good zoodles. I find the thicker settings will make zoodles that don't get mushy when you cook them. They just need a couple minutes in the pan to cook up.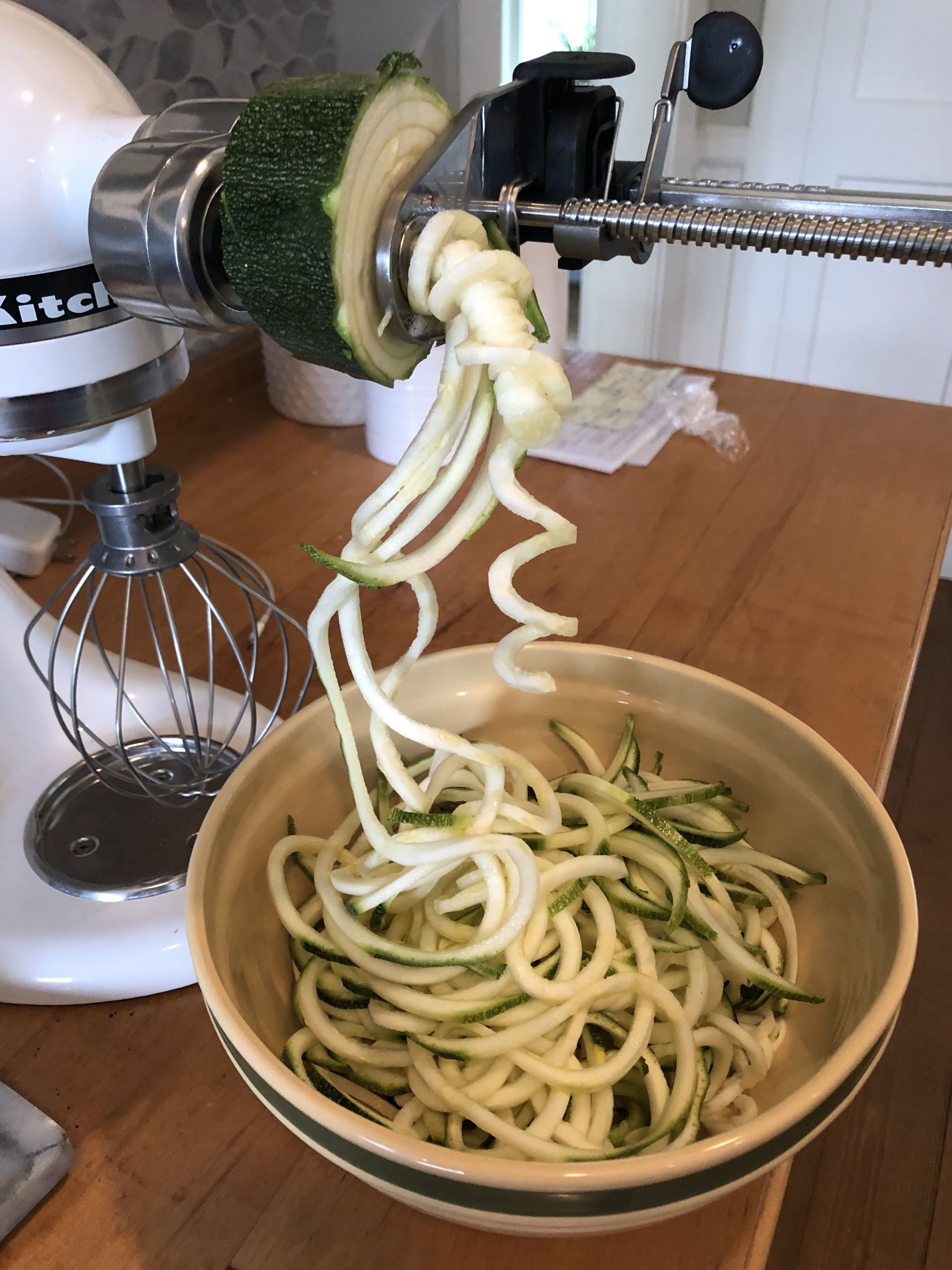 Here are some of our favorite recipes :
Garlic Lemon Zoodles
2 small zucchini, spiralized
2 tsp Halladay's Harvest Barn Scampi Mix hydrated in 1 Tbsp Hot Water
1 Tbsp Olive Oil
1 Tbsp Butter
1 tsp lemon zest
2 squeezes fresh lemon
1 Tbsp Parmesan cheese
Heat Olive Oil and butter in skillet. Add hydrated Scampi mix, for 30 seconds and then add in zucchini noodles. Cook for 1 to 2 minutes or just until slightly soft. Add lemon zest, Parmesan cheese and a couple squeezes of fresh lemon juice. Salt and pepper to taste and serve.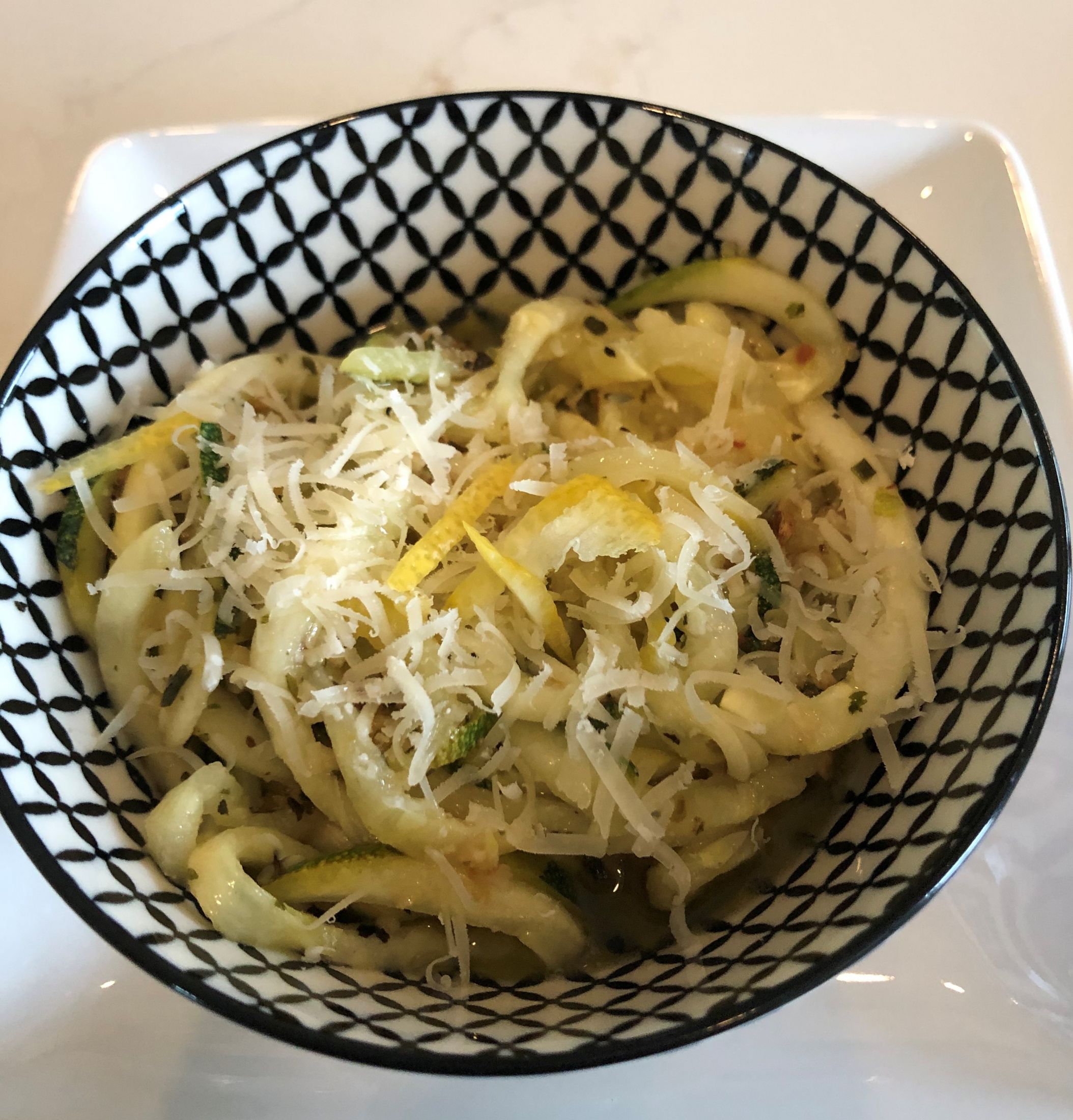 Tomato Basil Zucchini Noodle Salad
2 small zucchini spiralized
¼ cup olive oil
1 tsp Halladay's Harvest Barn Garlic Tomato Basil Seasoning
2 Tbsp Balsamic Vinegar
¼ cup black olives sliced
⅓ cup cubed feta or buffalo mozzarella cheese
½ cup cherry tomatoes quartered
Combine olive oil, seasoning and vinegar. Let sit at least 15 minutes to hydrate herbs. Blend all ingredients together. If this salad is made a couple hours ahead the zucchini soaks up the flavor of the dressing and the other ingredients.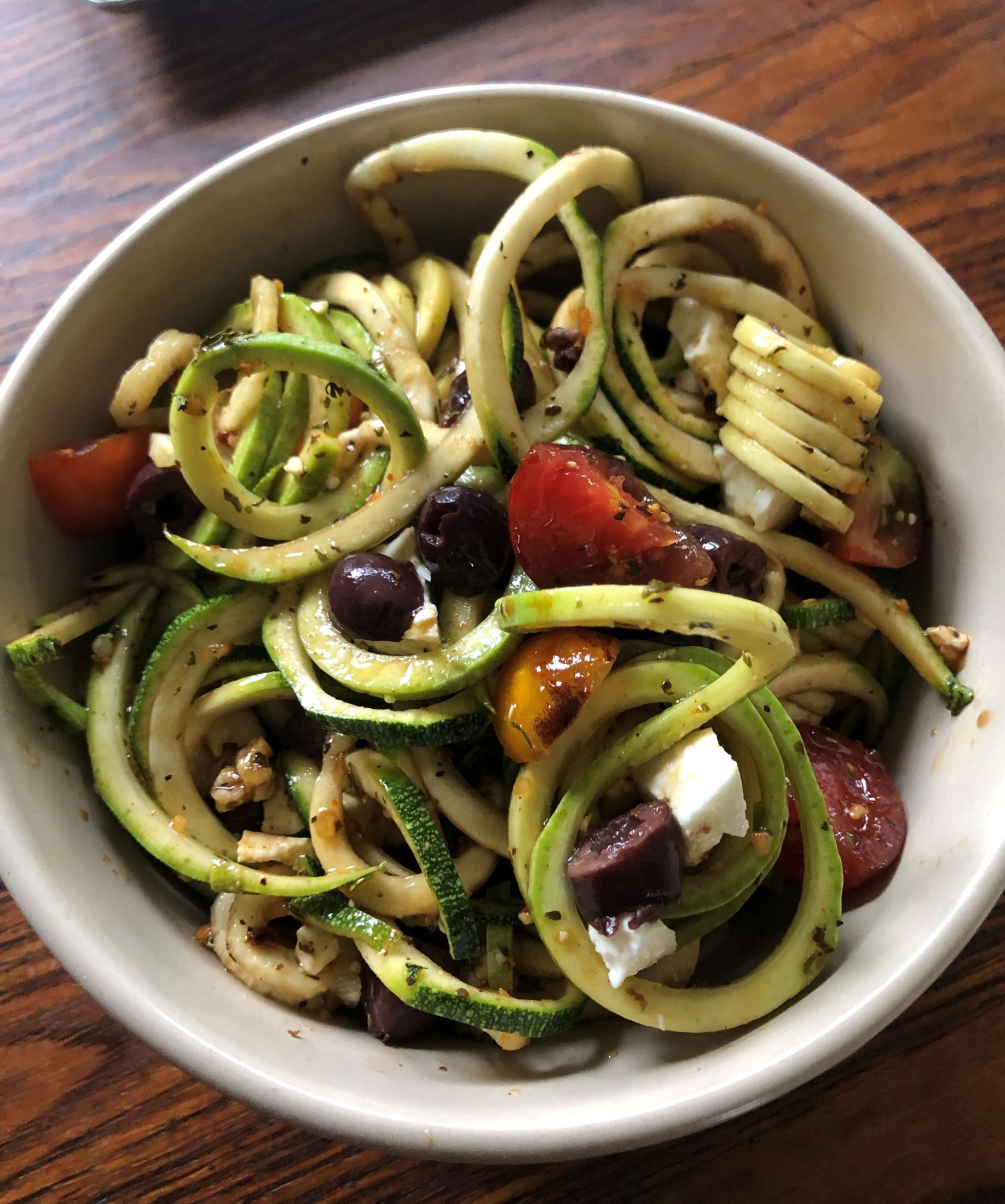 Shrimp Scampi Zoodles
1 lb of large shrimp/shelled
3 small zucchini spiralized
1 Tbsp of Halladay's Harvest Barn Scampi mix hydrated in 1 Tbsp hot water
1 Tbsp Butter
1 Tbsp Olive Oil
Heat olive oil and butter in skillet. Add hydrated Scampi mix and shrimp. Cook just until shrimp are pink. Remove shrimp from pan with slotted spoon. Cook zucchini noodles 1 to 2 minutes just until slightly soft. Add in shrimp for one more minute to combine. Top with Parmesan cheese if desired.
Sun Dried Tomato Basil Alfredo Zoodles
3 small zucchini spiralized and lightly cooked
Sauce:
¼ cup butter
1 cup regular of non-fat half and half
1 ½ cups grated Parmesan cheese
1 ½ Tbsp Sundried Tomato Basil Alfredo Seasoning Blend
In a medium saucepan, melt butter over medium heat. Add the half and half and the seasoning, simmer on low heat for 2 to 3 minutes. Whisk in the Parmesan until smooth. Toss with zucchini noodles and serve immediately.
Turkey Bolognese
2 medium or 3 small zucchini spiralized
1 carrot grated
1 lb Ground Turkey
2 Tbsp olive oil
1 Tbsp Halladay's Harvest Barn Garlic Tomato Basil Dip and Seasoning Blend
1 jar of your favorite pasta sauce
1 Tbsp half and half or heavy cream
In a medium saucepan brown turkey and carrots in 1 Tbsp. olive oil. Add in Garlic Tomato Basil seasoning and the pasta sauce. Simmer for 15 to 20 minutes. Stir in cream just before serving.
When sauce is almost done, cook zucchini noodles in 1 Tbsp of olive oil for 1 to 3 minutes until slightly soft. Top with prepared sauce and serve immediately.
If you try any of these recipes, we want to see your pictures! Post to Instagram or Facebook and tag us @halladaysharvestbarn and use the hashtag #halladaysathome so we can see them.
Have fun with that spiralizer, and enjoy every bite!
-Kathleen Govotski, Owner Halladays Harvest Barn