5 Recipes for Pumpkin Spice Lovers
10/08/2021
Pumpkin Latte lovers of the world, this blog is for you! Pumpkin used to be just a fall favorite but it has really come into its own the last few years. From pumpkin bisque to pumpkin alfredo, it is showing up on menus as a savory item in addition to its more common theme of dessert.  Gone are the days of just eating a slice of pumpkin pie on Thanksgiving.
Pumpkin is taking center stage in many different ways. Pumpkins are high in fiber and low in calories which mean they make you feel full without adding to your overall food intake for the day. They are also high in minerals, vitamins and antioxidants and are great for your immune system and your eyesight.
Think of adding some pumpkin into your diet. We had fun playing with pumpkin in the kitchen this week. We used our traditional Seafood Alfredo mix and added pumpkin puree to create a thick and creamy alfredo sauce. It would work well with our Chardonnay or Garlic Herb seasoning as well.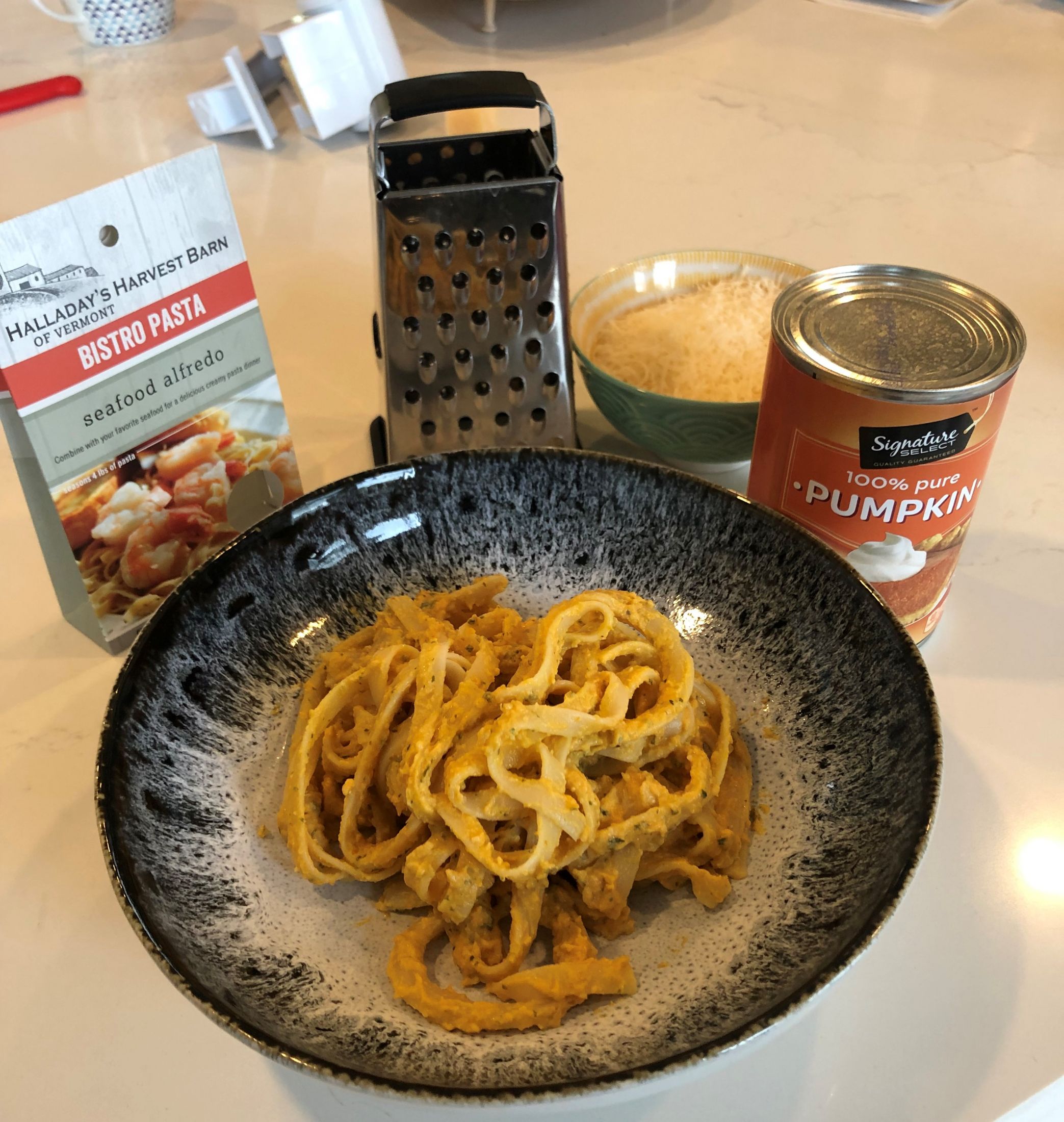 CREAMY PUMPKIN ALFREDO
1 lb fettucine pasta
½ stick butter
2 Tbsp Halladay's Harvest Barn Seafood Alfredo Seasoning
¾ cup cooked pumpkin puree
1 ½ cups grated parmesan cheese
1 ½ cups half & half or heavy cream
Bring salted water to a boil in a medium saucepan. Cook fettucine al dente according to package directions, drain once cooked.
While fettucine is cooking, melt butter in a saucepan. Add Seafood Alfredo Seasoning and stir to combine. Whisk in pumpkin puree and half & half; simmer until heated through and smooth. Fold in shredded parmesan cheese and whisk until well blended. Toss with cooked pasta and serve.
PUMPKIN & SHRIMP CORN CHOWDER
1 package Halladay's Farmhouse Corn Chowder
3 cups water
3 Tbsp butter
1 cup half and half or heavy cream
1 tsp lemon juice
1 cup prepared pumpkin
1 (15 oz) can corn, drained
1 cup shrimp, cooked and chopped
¼ tsp Old Bay Seasoning
Pinch of cinnamon
In a medium stock pot, combine Farmhouse Corn Chowder and 3 cups of water; simmer for 15 to 20 minutes. Remove from heat; add butter and let sit for 15 to 20 minutes. Add the half and half (or heavy cream), lemon juice, prepared pumpkin, corn, shrimp, Old Bay and cinnamon. Return to heat and simmer for 15 to 20 minutes, or until all flavors are well combined.
Our beer bread is so versatile. We decided to play in the kitchen to see if we could come up with a sweet pumpkin version for the fall. It was a hit with the staff. These tasty pull apart cinnamon rolls come together quickly with a mild pumpkin flavor. They would be a great for breakfast or brunch.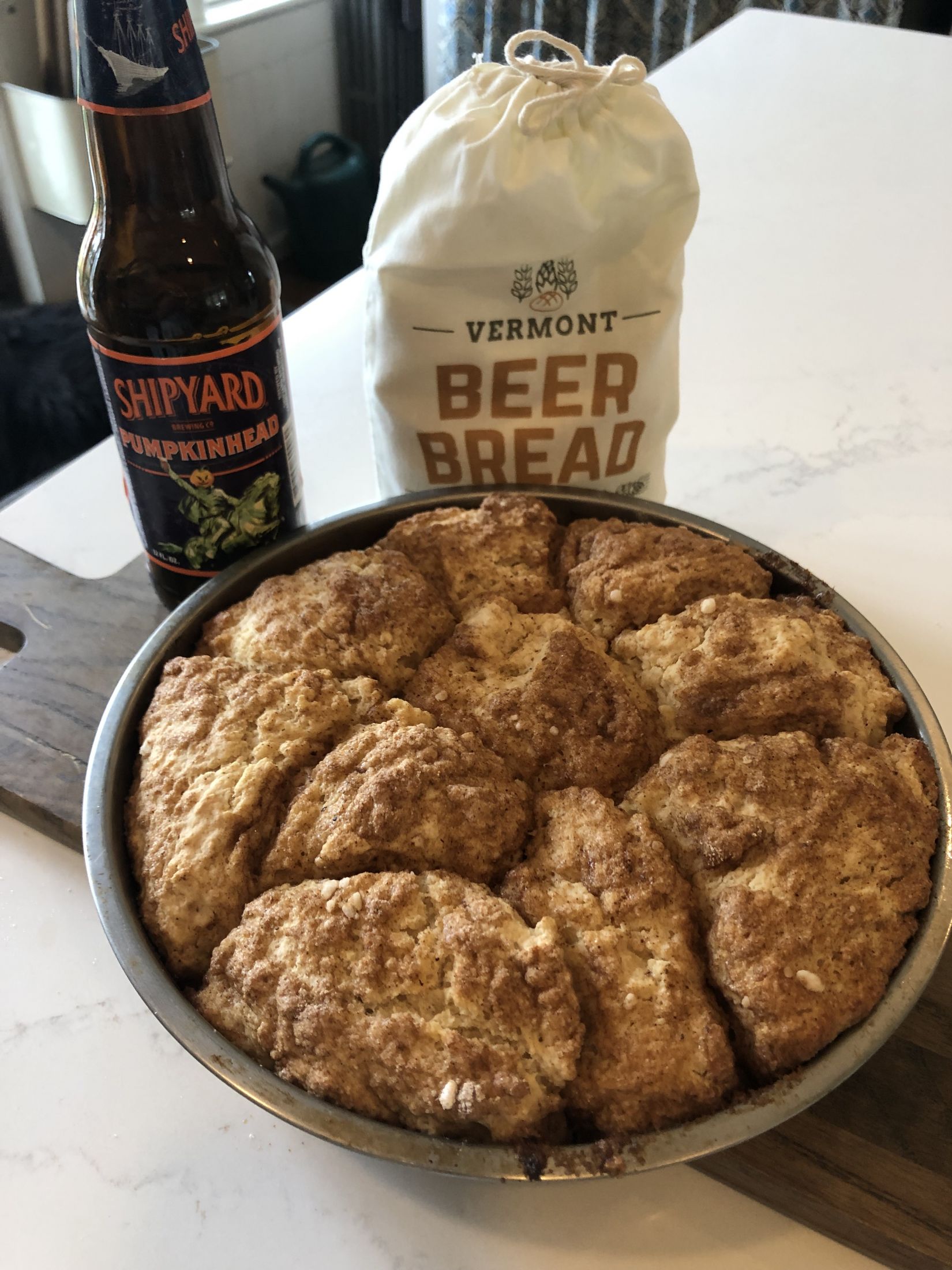 PULL APART CINNAMON PUMPKIN BUNS
1 package Halladay's Classic Beer Bread Mix
1 (12 oz) bottle pumpkin beer of choice
1 package Halladay's Harvest Barn Pumpkin Cheesecake Mix
½ stick butter, melted
½ cup of chopped pecans (optional)
Preheat oven to 350°F. Grease a 9" cake pan; set aside.
Pour Halladay' Pumpkin Cheesecake mix into medium bowl; you will rough the dough in this in the next step.
Combine beer bread mix with beer. Scoop dough in ⅓ cup increments and roll in Pumpkin Cheesecake mixture from previous step. Drop coated dough into greased pan. Repeat until all the dough is gone.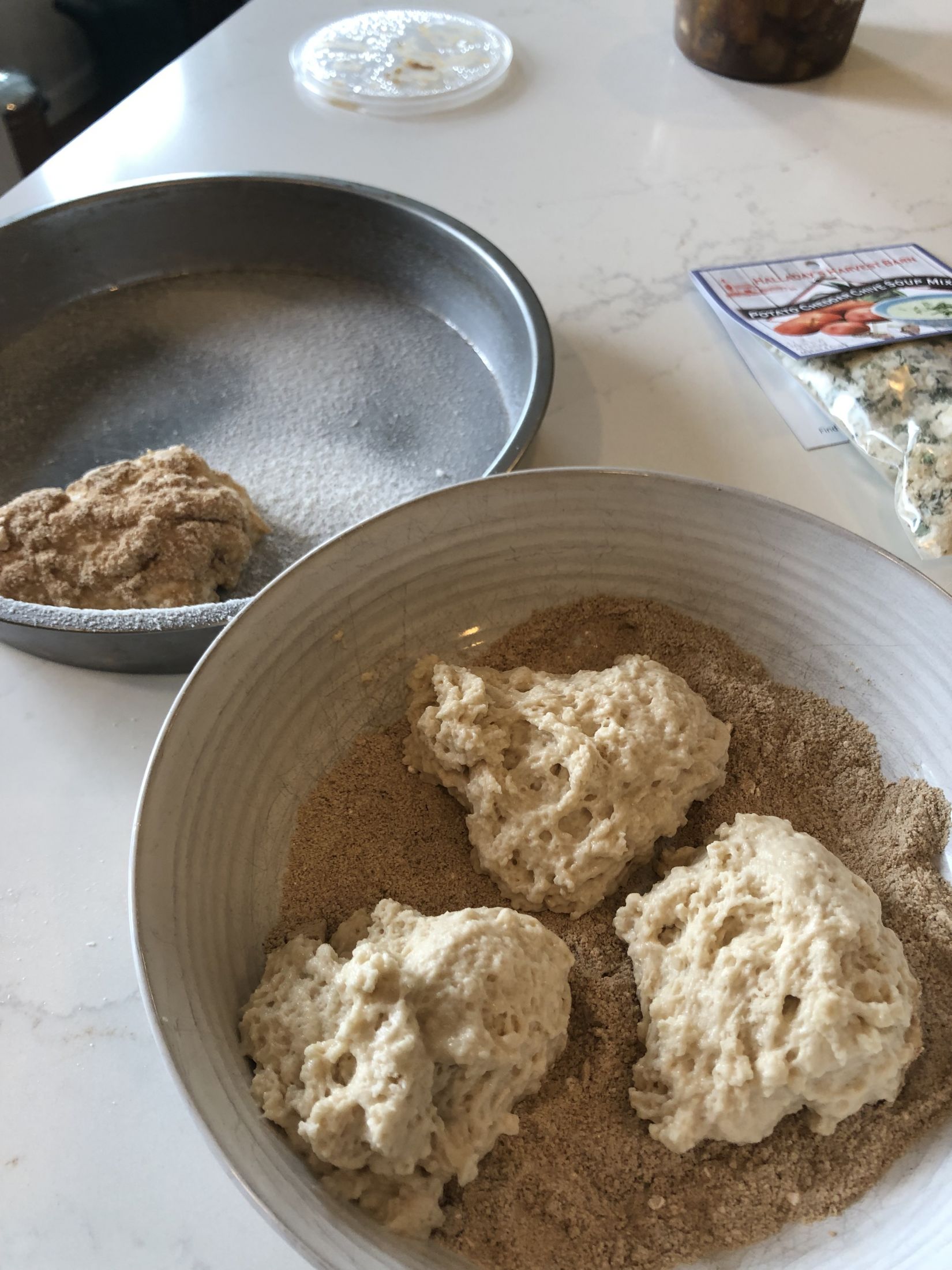 Add melted butter to remaining Pumpkin Cheesecake mix then pour this over the top of the buns. Sprinkle top with chopped pecans, if desired.
Bake for 15 to 20 minutes, until nicely browned and toothpick comes out clean in the middle.
Chex mix is a snacking classic. We decided to try a slightly sweet version using our Pumpkin Cheesecake as a base. It's a great snack to indulge in while watching all of your favorite spooky Halloween movies. But beware… it's addicting!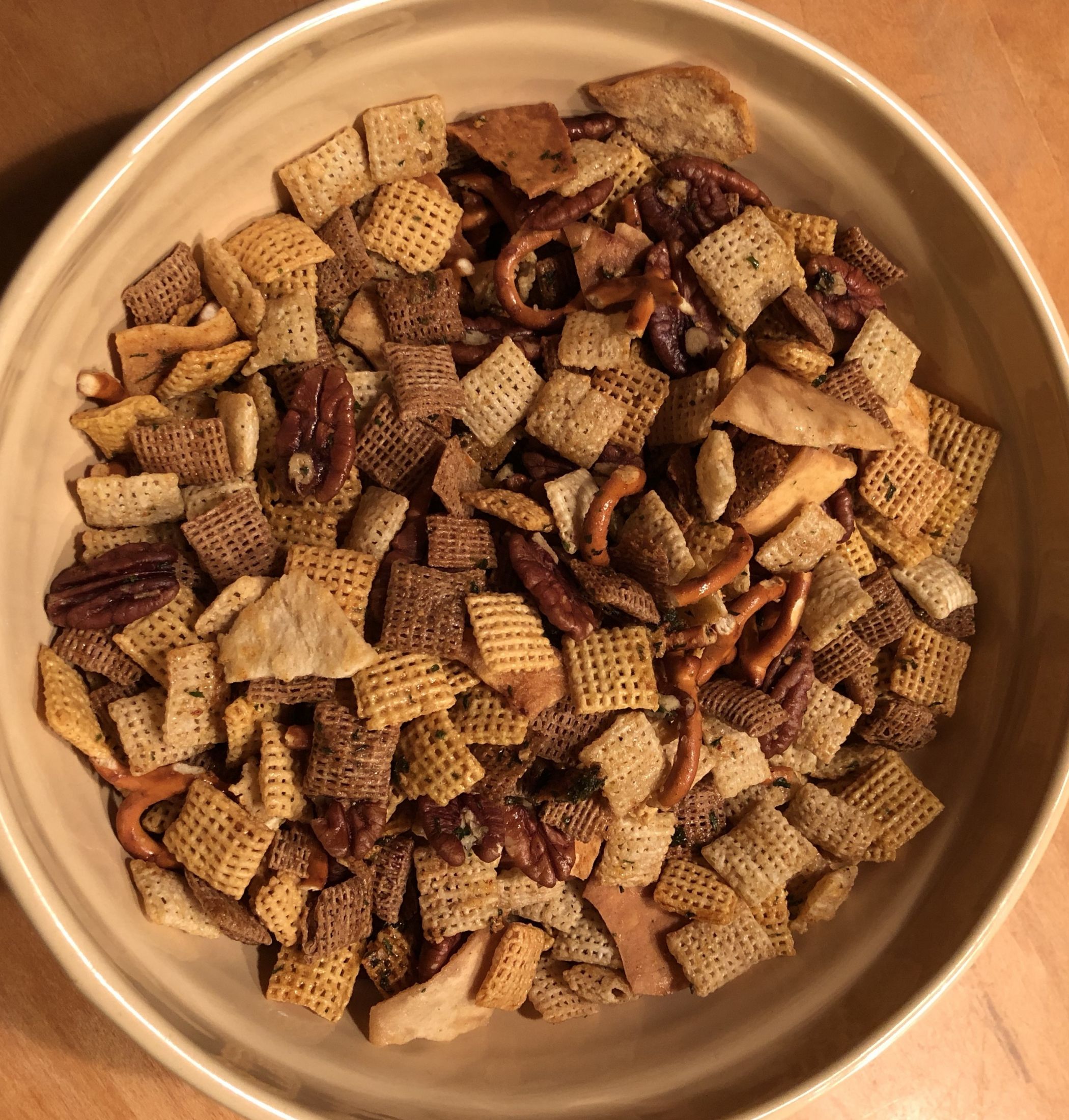 PUMPKIN SPICE CHEX MIX
2 cups Corn Chex Cereal
2 cups Wheat Chex Cereal
2 cups Rice Chex Cereal
1 cup pecans and/or walnuts
1 cup pita chips or pretzels
1 stick of butter
1 package Halladay's Pumpkin Cheesecake Mix
Combine cereals, nuts and chips in a medium bowl. Melt the butter and pour over cereal mixture, stirring as you go. Sprinkle the Pumpkin Cheesecake mix over the mixture and stir gently until well blended. Microwave for 3 minutes, stopping to stir after each minute. Pour onto a cookie sheet to cool. Once cool, store in a sealed bag or container until ready to serve.
In the vein of everything pumpkin we did a fun changeup on the classic cannoli. We added our Pumpkin Cheesecake to ricotta cheese and mini chocolate chips to create a fall cannoli dip. Serve it with broken up sugar cones as a fun fall treat.
PUMPKIN CANOLI DIP
1 (8 oz.) block cream cheese, softened
1 cup ricotta cheese
1 package Halladay's Pumpkin Cheesecake Mix
2 Tbsp. sugar
⅔ cup mini chocolate chips
Blend ricotta, Halladay's cheesecake mix, sugar, and softened cream cheese. Fold in mini chocolate chips. Chill for at least one hour. Serve with waffle sugar cones broken into medium size pieces.
There you have it, five delicious pumpkin recipes to try this fall. If you try any of these recipes, we want to see your pictures! Post to Instagram or Facebook and tag us @halladaysharvestbarn and use the hashtag #halladaysathome so we can see them. Enjoy!  
-Kathleen Govotski, Owner Halladays Harvest Barn