5 dip recipes that are perfect for poolside snacking
08/06/2021
Why break up the fun on warm poolside nights with a heavy dinner. We have been serving a lot of snack boards for guests this summer and they have been a big hit every time.  Prep your food ahead of time, this way you can just pull everything out of the fridge and be ready to serve in minutes. Prepping ahead also means that you can have all the cleanup done ahead of time and there will be just a few dishes to pop in the dishwasher at the end.
All of the great Harvest Barn recipes listed below can be served as a snack or put together to create a lunch or dinner. For a more complete dinner, add some cheese and crackers or French bread, some good smoked meat such as prosciutto, smoked ham or chicken, olives, and fresh sliced tomatoes and mozzarella cheese. Add a few of our favorite recipes below and snack away!
MEXICAN STREET CORN DIP
We all look forward to fresh corn in the summer. Its always so tasty fresh out of the field the day its picked. This Mexican Street Corn Dip captures the fresh picked taste of summer corn with a hint of spice and tang that really brings out the flavor. You can use frozen corn in a pinch but fresh corn cut off the cob is highly recommended!
4 cups cooked corn kernels
1 can Old El Paso mild green chiles, diced
1 Tbsp Halladay's Harvest Barn Zesty Fiesta Dip Mix
⅓ cup plain Greek Yogurt
2 Tbsp mayo
¼ cup Cojita Cheese, or Feta
¼ cup cilantro, chopped
¼ cup red peppers, diced
Combine all ingredients and let chill at least one hour for all ingredients to meld together. Serve with crisp Tortilla Chips.
FARM MARKET VEGGIE DIP
Our Farm Market Veggie Dip is a great way to enjoy a light poolside dip. It is bursting with all the fresh flavors of summer and is delicious served with pita chips, crisp potato chips or with fresh veggies.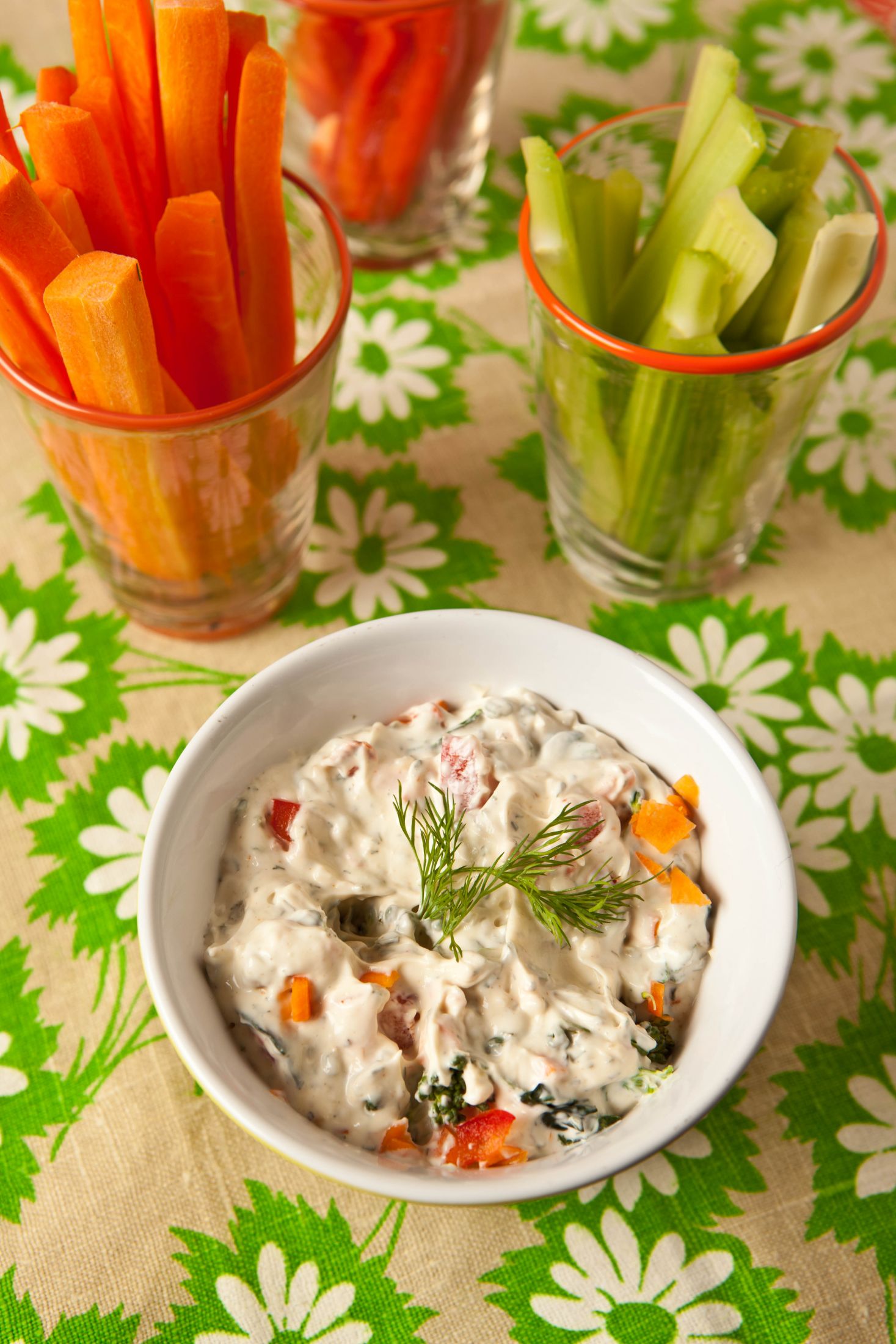 1 cup Greek yogurt
1 cup light Mayo
2 Tbsp Halladay's Harvest Barn Farm Market Vegetable Dip Mix
½ cup corn kernels
½ package frozen spinach, defrosted and well drained
¼ cup feta cheese
Combine all ingredients; let chill at least one hour before serving. Serve with fresh veggies, chips or Pita Chips.
BLT LAYERED DIP
This fun dip is like your favorite BLT sandwich that you can keep picking away at. It is constructed in layers and is great served up with juicy local tomatoes and crisp bacon. We love it served with warm crusty French bread.
3 Tbsp Halladay's BLT Dip mix
1 cup mayo
1 cup sour cream
2 cups shredded lettuce
1 cup cherry tomatoes, halved or 1 cup diced fresh tomatoes
6 strips bacon, crisply cooked and crumbled
Prepare dip by adding BLT mix to sour cream and mayo, let chill at least one hour. Just before serving, spread dip on small serving platter and top with shredded lettuce, tomatoes and bacon. Serve with French bread or pita chips.
GARLIC PARMESAN DIP
Our new Garlic Herb Dip is a new favorite. We have changed it up just a bit by adding some parmesan cheese to the basic recipe. Our favorite dippers are crisp summer veggies and pita chips.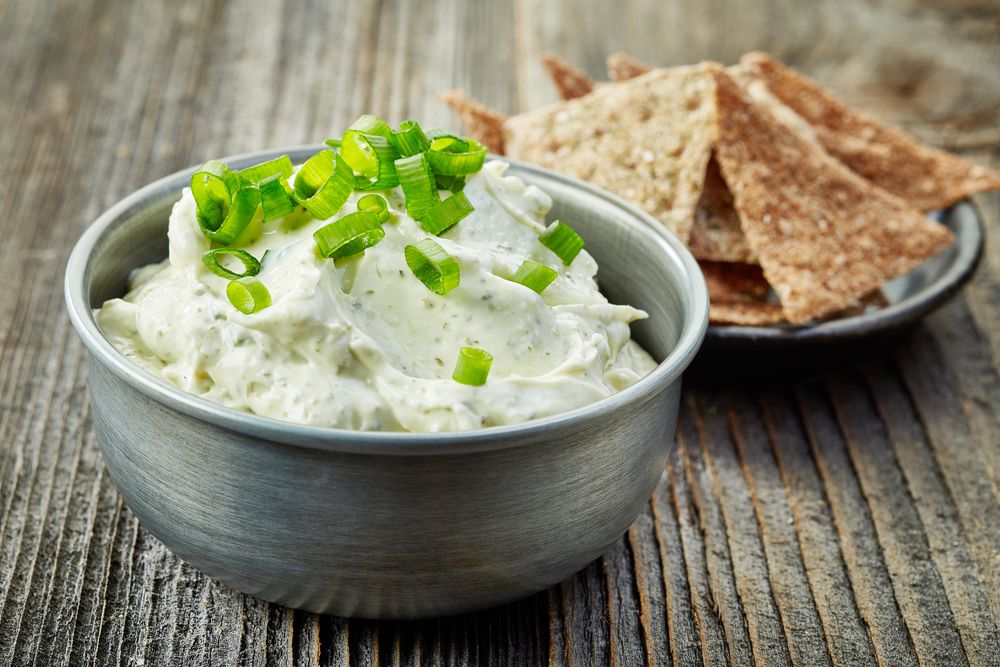 1 cup sour cream, or Greek yogurt
1 cup regular or light mayo
2 Tbsp Halladay's Harvest Barn Garlic Herb Dip and Seasoning Blend
2 Tbsp grated Parmesan Cheese
1 to 2 Tbsp chopped black olives, optional
Blend all ingredients and let sit at least one hour before serving.
LEMON BERRY CHEESECAKE DIP
Our Lemon Berry Cheesecake Dip is a nice light summer dessert or mid-afternoon snack to enjoy by the pool. Serve it with wedges of seedless watermelon, whole strawberries, banana slices, wafer cookies or graham crackers.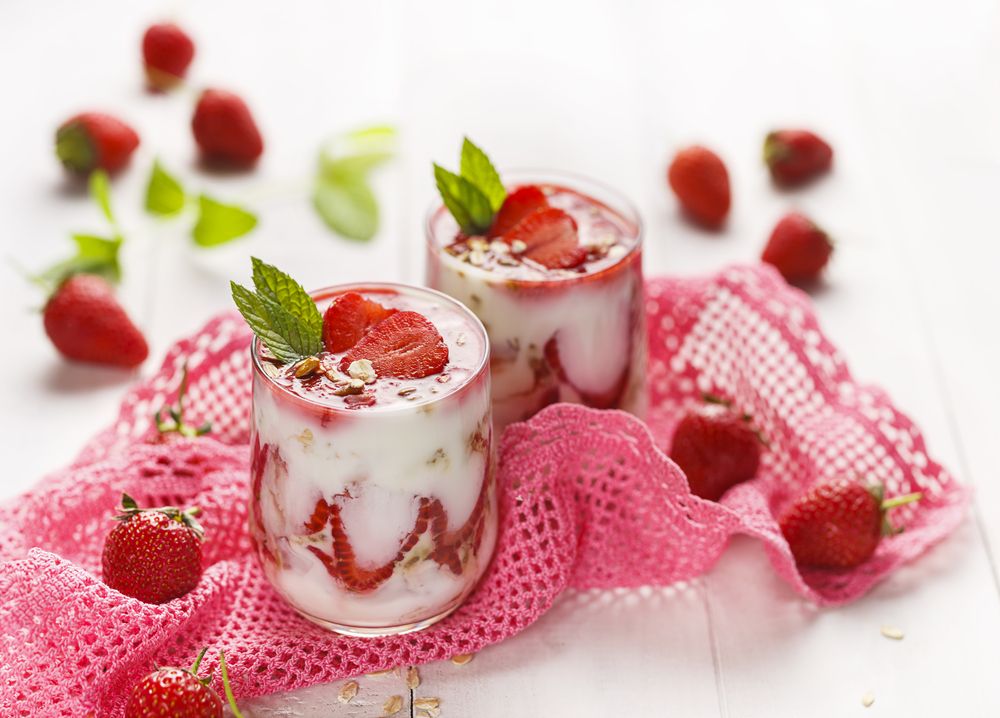 1 package Halladay's Lemon Drop Cheesecake Mix
1 (8 oz.) package cream cheese, softened
1 (8 oz.) container Cool Whip or 1-pint heavy cream, whipped
½ cup strawberries, chopped
1 Tbsp Strawberry jam
Combine cheesecake mix with softened cream cheese. Gently fold in Cool Whip or freshly whipped cream. Combine chopped strawberries with jam, set some aside for garnish, add the rest to cheesecake mix and gently mix together. Pour cheesecake mix into a bowl and chill for at least 30 minutes. Garnish with remaining strawberry mixture before serving.
So, there you have it. Five delicious snacks for your pool side gatherings. If you try any of these recipes, we want to see your pictures! Post to Instagram or Facebook and tag us @halladaysharvestbarn and use the hashtag #halladaysathome so we can see them.
-Kathleen Govotski, Owner Halladay's Harvest Barn