4 no-bake desserts perfect for summer
06/25/2021
Summer entertaining will be especially fun this year. We all had lots of time on our hands last year and this year it seems we will have to hustle to fit it all in. We are right back in the full swing of our busy lives. It feels good but a little overwhelming!
Today we are sharing a few creative twists on the basic dessert recipes you can find on our cheesecake packages. If you need a quick refreshing summer dessert, Halladay's Harvest Barn Cheesecake mixes are simple to prepare and are so tasty. It is always tempting to grab a dessert from the bakery at the grocery store, but once I read the list of artificial ingredients or have the first bite, I am over them. Our mixes contain natural flavors, do not have artificial colors, and are made with just a few simple ingredients.
Keep a couple of prepared pie shells/crusts on hand, a few blocks of cream cheese, whipping cream, cool whip or condensed milk and your favorite Harvest Barn Cheesecake mixes and you can whip up a yummy dessert in under 10 minutes, without heating up the oven.
For the summer season, Key Lime, Strawberry, Lemon Blueberry, Lemon Raspberry and our new Lemon Drop are all refreshing choices. The chocolate lover in me also longs for Tiramisu, Double Chocolate and Amaretto Mudslide.
LEMON BLUEBERRY DESSERT TARTS
Lemon Blueberry is one of my favorite dessert mixes. The lemon flavor is tart enough to contrast well with the slight sweetness and wild Maine dried blueberries. In this recipe we spoon the cheesecake batter into tiny tart shells and garnish them with fresh blueberries. These bite sized desserts are irresistible.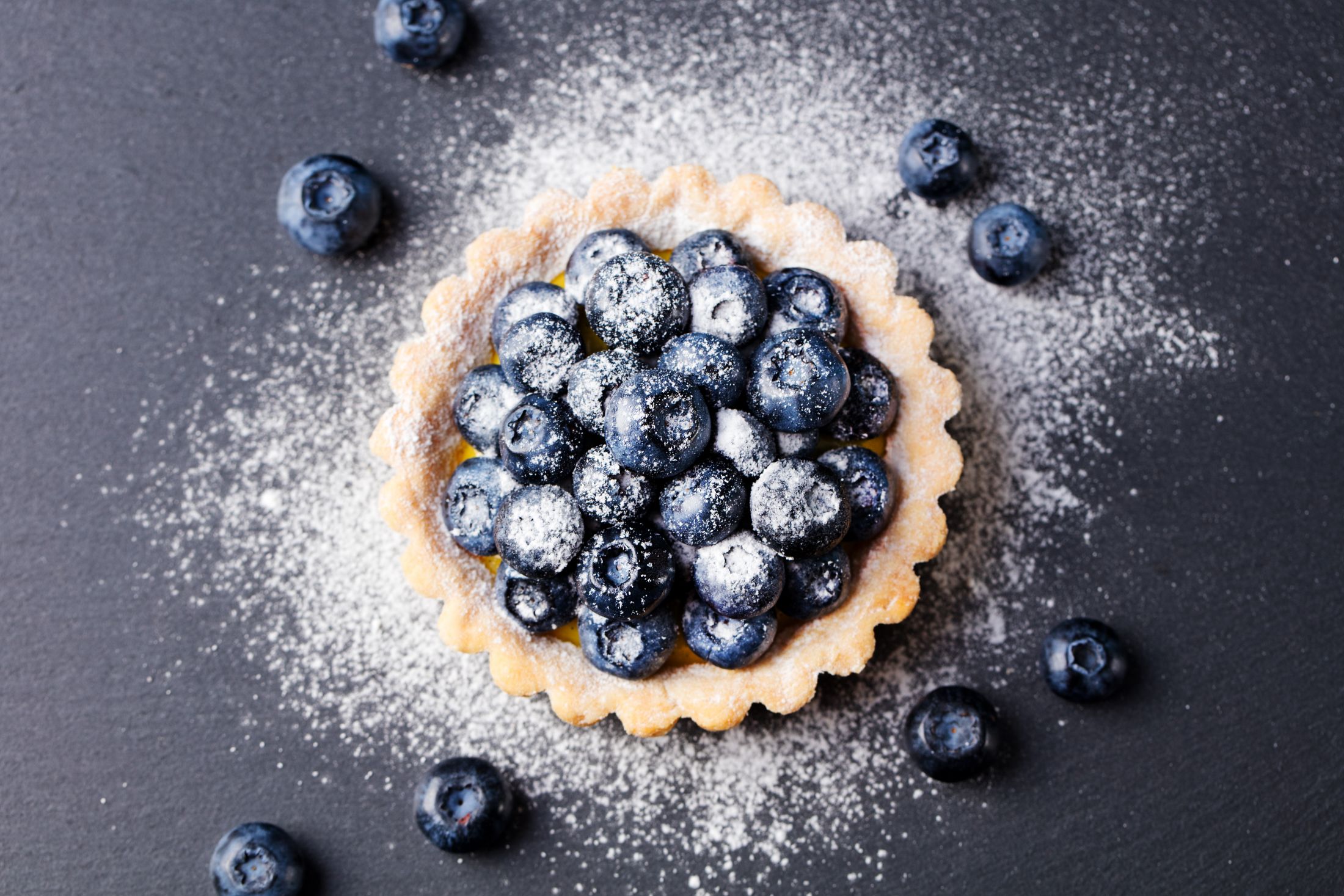 1 package Halladay's Lemon Blueberry Cheesecake Mix
1 (8 oz.) bar cream cheese, softened
1 (8 oz.) container Cool Whip or 8 oz. freshly whipped cream
24 (1-inch) tart shells
Fresh blueberries
Blend cheesecake mix with cream cheese; fold in Cool Whip or freshly whipped cream. Use a spoon or piping bag to fill tart shells. Garnish with fresh fruit.
OREO CHEESECAKE
This fun recipe is simply our basic cheesecake recipe with some crumbled Oreos added in. What dessert isn't great with added Oreos? You can use a basic graham cracker shell or use a chocolate shell to really bring out the flavor.
1 package Halladay's New York Style Cheesecake
1 (8 oz.) bar cream cheese, softened
1 (8 oz.) container Cool Whip, defrosted
2 Tbsp. butter
12 Oreos, lightly crushed
1 (9-inch) prepared chocolate graham cracker pie crust
Melt butter in small saucepan and add Oreos. Cook over low heat for 1-2 minutes; set aside. Combine cheesecake mix and cream cheese. Fold in Cool Whip and pour into prepared pie shell. Chill for at least one hour. Before serving, top with Oreos and drizzle with chocolate sauce, if desired.
STRAWBERRY ICEBOX CAKE
Have you ever had an icebox cake? They were a staple in the 50's. Layers of graham crackers alternated with a velvety filling magically combine to create a creamy cakelike dessert without all the baking AND slicing of layers. This strawberry Icebox cake is perfect to make with fresh local juicy strawberries.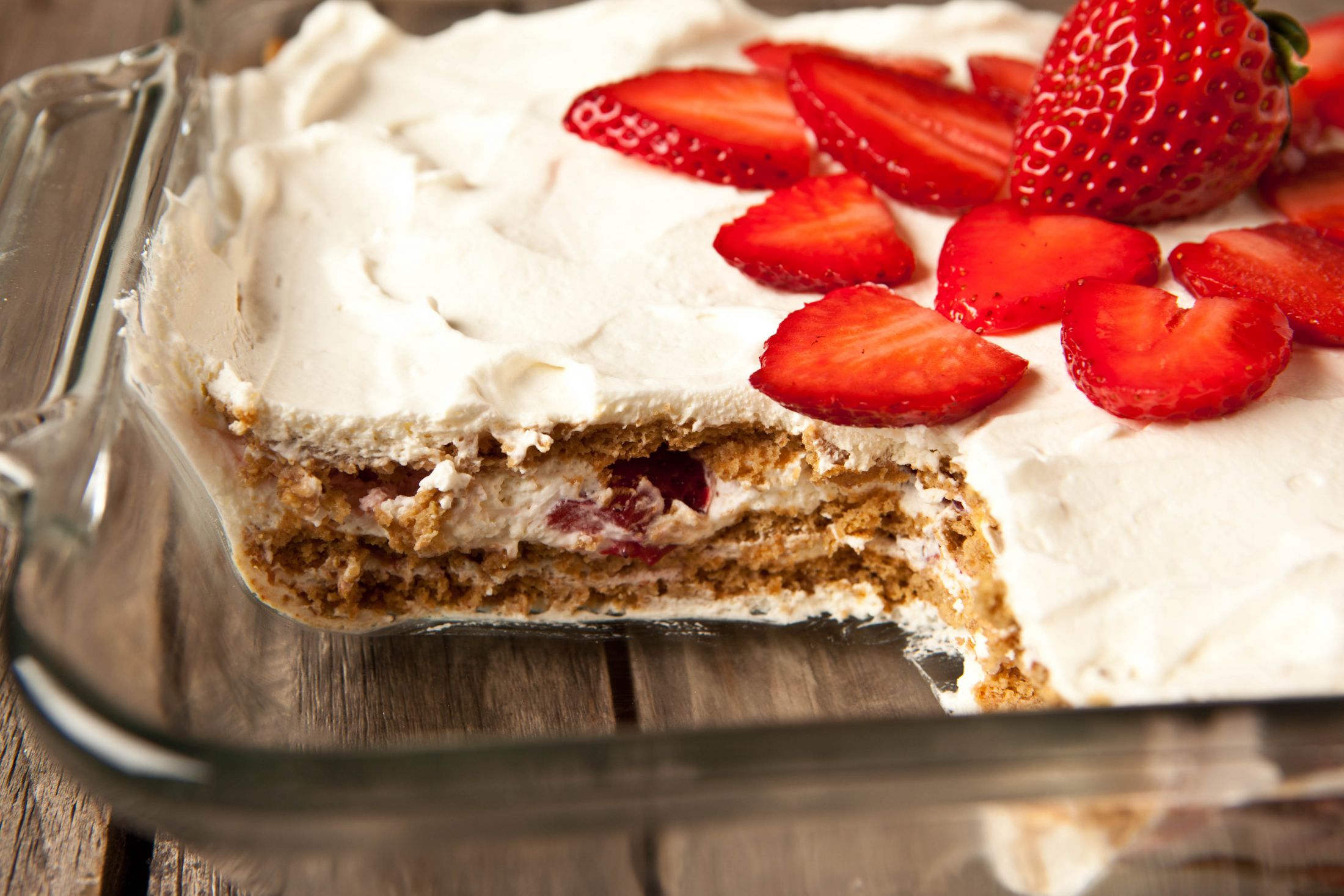 1 package Halladay's Strawberry Cheesecake
1 (8 oz.) container Cool Whip or 8 oz. whipped cream
2 sleeves graham crackers
2 lbs. strawberries, sliced and added to 1 Tbsp. sugar
Fold Cool Whip into cheesecake mix. Add thin layer of whipped cream mixture to bottom of a baking dish. Layer ingredients, first graham crackers, then Cool Whip, followed by strawberries. Continue to layer until ingredients are gone. Refrigerate at least 4 hours before serving.
Cake will keep for two days in the refrigerator.
LEMON RASPBERRY TRIFLE CUPS
Lemon Raspberry Cheesecake is one of our newer mixes. We loved the lemon Blueberry so much we created a version of this popular mix for all the Raspberry lovers. This mix has freeze-dried raspberries to give it delicious flavor. The parfait layers this delicious creamy filling with fresh or frozen raspberries to bring it to the next level.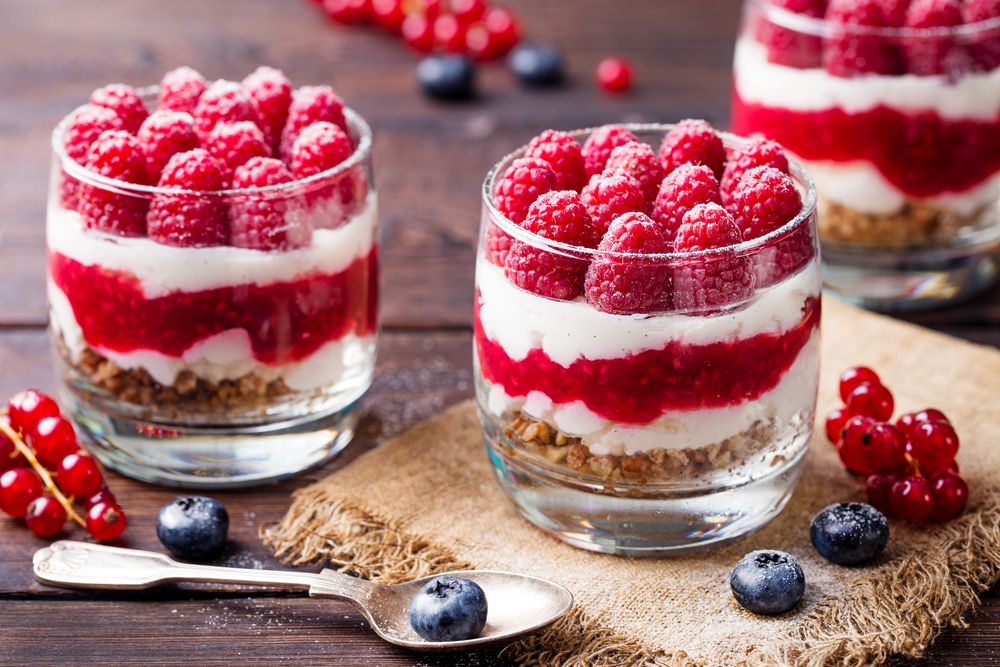 2 cups crushed vanilla wafers
4 oz. butter, melted
1 package Halladay's Lemon Raspberry Cheesecake Mix
1 (8 oz) block cream cheese, softened
1-pint heavy whipping cream, chilled
1 small container fresh raspberries
Add vanilla wafers to melted butter and toss until well blended. Set aside. In a separate bowl, combine Lemon Raspberry Cheesecake mix with softened cream cheese and chilled heavy cream. Whip until mixture is stiff. In small cocktail or dessert glasses, or small canning jars, layer buttered vanilla wafers and cheesecake mixture. Garnish with fresh raspberries. Chill at least 2 hours before serving.
So there you have it, four cool no-bake desserts perfect for summer, or any time! If you try any of these recipes, we want to see your pictures! Post to Instagram or Facebook and tag us @halladaysharvestbarn and use the hashtag #halladaysathome so we can see them.
-Kathleen Govotski, Owner Halladays Harvest Barn