4 Cozy Fall Dinners Perfect for Cooler Weather
09/10/2021
Today we are sharing a collection of cozy fall dinner recipes that are easy to pull together. They are all great comfort foods with a flavorful twist, perfect for cool weather. We will all be enjoying the nice fall days, but as it gets darker earlier, we have more time to spend in the kitchen whipping up something a little more special. Much can be done ahead of time and reheated on busy sports nights.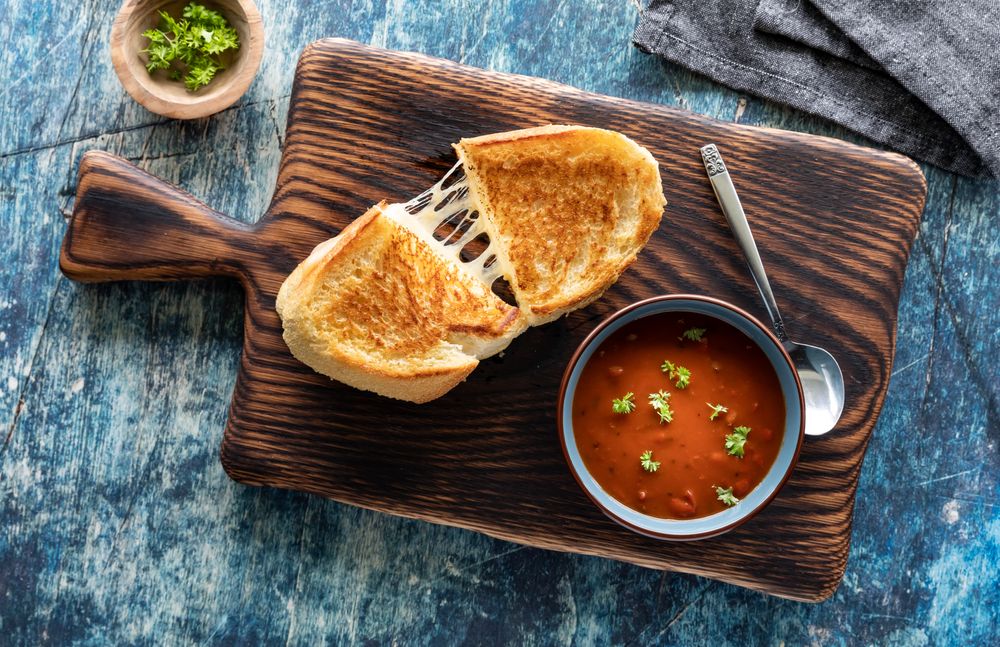 Our first dinner is an update on the classic grilled cheese and tomato soup. We have added basil and cream to our delicious Creamy Tomato Basil Soup and the grilled cheese is made delicious with brie, honey, and fresh basil. We think it will be a family hit. The soup makes a large batch perfect for the whole family.
CREAMY TOMATO & BASIL SOUP
4 cups cold water
1 package Halladay's Creamy Tomato Basil Soup
1 (28 oz) can pureed tomatoes
1 cup cream or half & half
In a sauce pan, combine Creamy Tomato Basil Soup mix and cold water; stir. Simmer on very low heat for about 20 minutes, stirring often. Add in pureed tomatoes and simmer for an additional 10 minutes. Add cream or half & half and heat through, about 5 more minutes, without bringing to a boil.
HONEY BRIE GRILLED CHEESE
2 slices sourdough bread
2 Tbsp butter
4 oz brie, sliced
Honey for drizzling
1 Tbsp fresh basil, chopped
Coat one side of each piece of bread with butter. On the non-buttered side, add the sliced brie, a drizzle of honey and sprinkle the basil over top. Top with other slice of bread, non-buttered side down.
Add remaining butter to a skillet over medium high heat and melt. Add grilled cheese sandwich, buttered side down. Cook for 2 to 3 minutes, or until golden brown, then flip. Continue cooking until the cheese is melted. Cut in half and serve with a bowl of our Creamy Tomato Basil Soup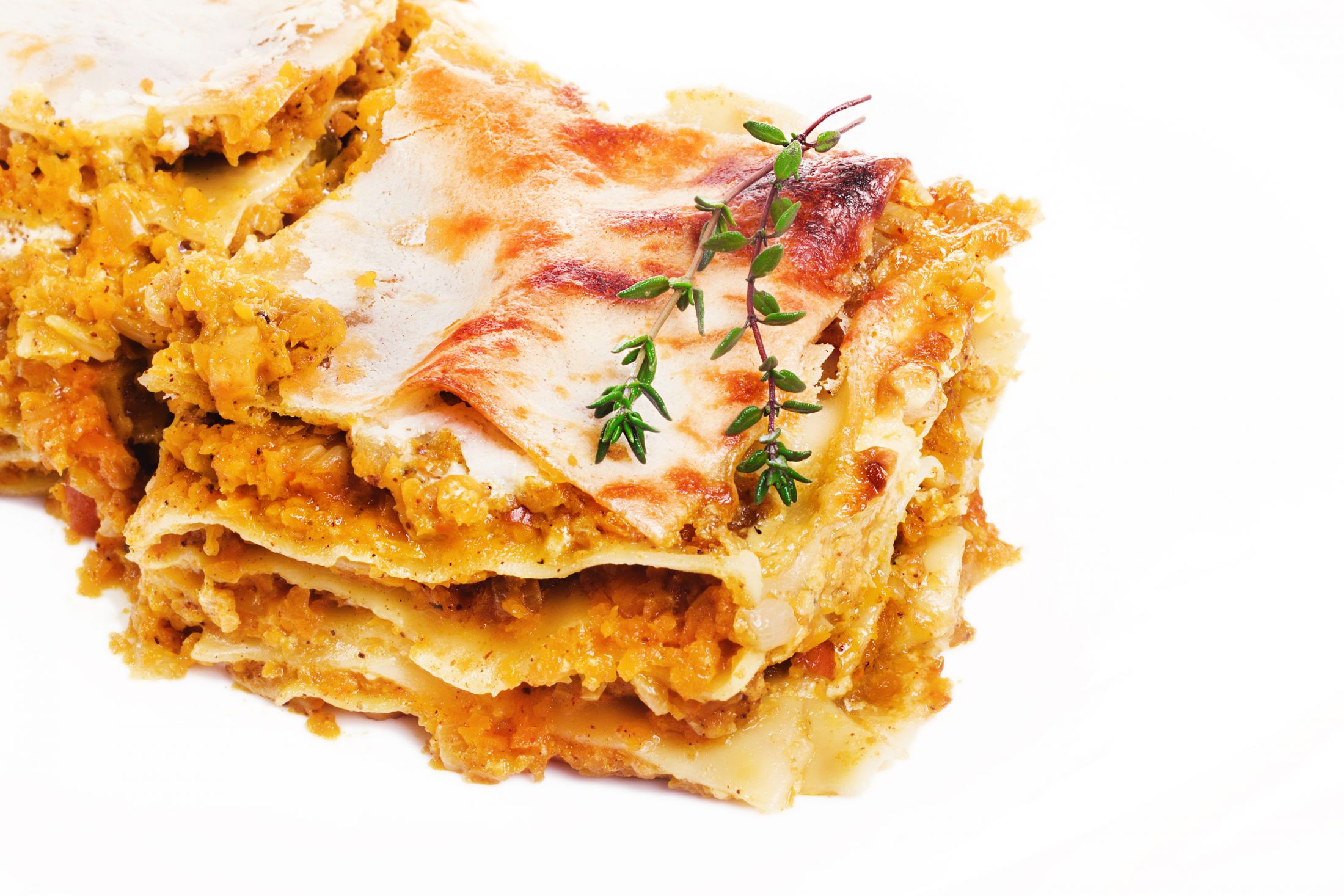 ROASTED BUTTERNUT SQUASH LASAGNA
One of the most unforgettable recipes to come out of the Harvest Barn Kitchen is our Butternut Squash Lasagna. It is decadent, filling, and sure to get ooh's and aah's. It is elegant enough to serve to company or perfect for a weeknight dinner.
3 lbs. butternut squash, halved and seeded
4 Tbsp. unsalted butter
2 Tbsp. Halladay's Scampi Bistro Pasta Seasoning
¼ cup flour
4 cups milk
1 cup heavy cream
1 package no-cook lasagna noodles
3 cups parmesan cheese, finely grated
Preheat oven to 450°F. Brush squash with olive oil; bake until soft, 45-50 minutes. Let cool, scoop out flesh; set aside.
Melt butter in large skillet over medium-low heat. Whisk in flour and seasoning; cook for 3 minutes. Whisk in milk until smooth. Simmer until thickened, about 10 minutes, stirring occasionally. Stir in squash; season with salt and pepper. NOTE: sauce can be made 3 days in advance and refrigerated.
Reduce oven to 375°F. Beat cream until medium peaks form; set aside.
Grease a 9X13-inch baking dish; spread 1 cup of sauce on bottom and cover with a layer of noodles. Add a layer of sauce and top with some cheese. Continue to layer until noodles and sauce are gone. Place final layer of noodles on top and cover with cream and remaining cheese.
Cover with foil; bake for 30 minutes. Remove foil and continue baking until top is golden brown, about 10 minutes. Let cool 5 minutes before serving.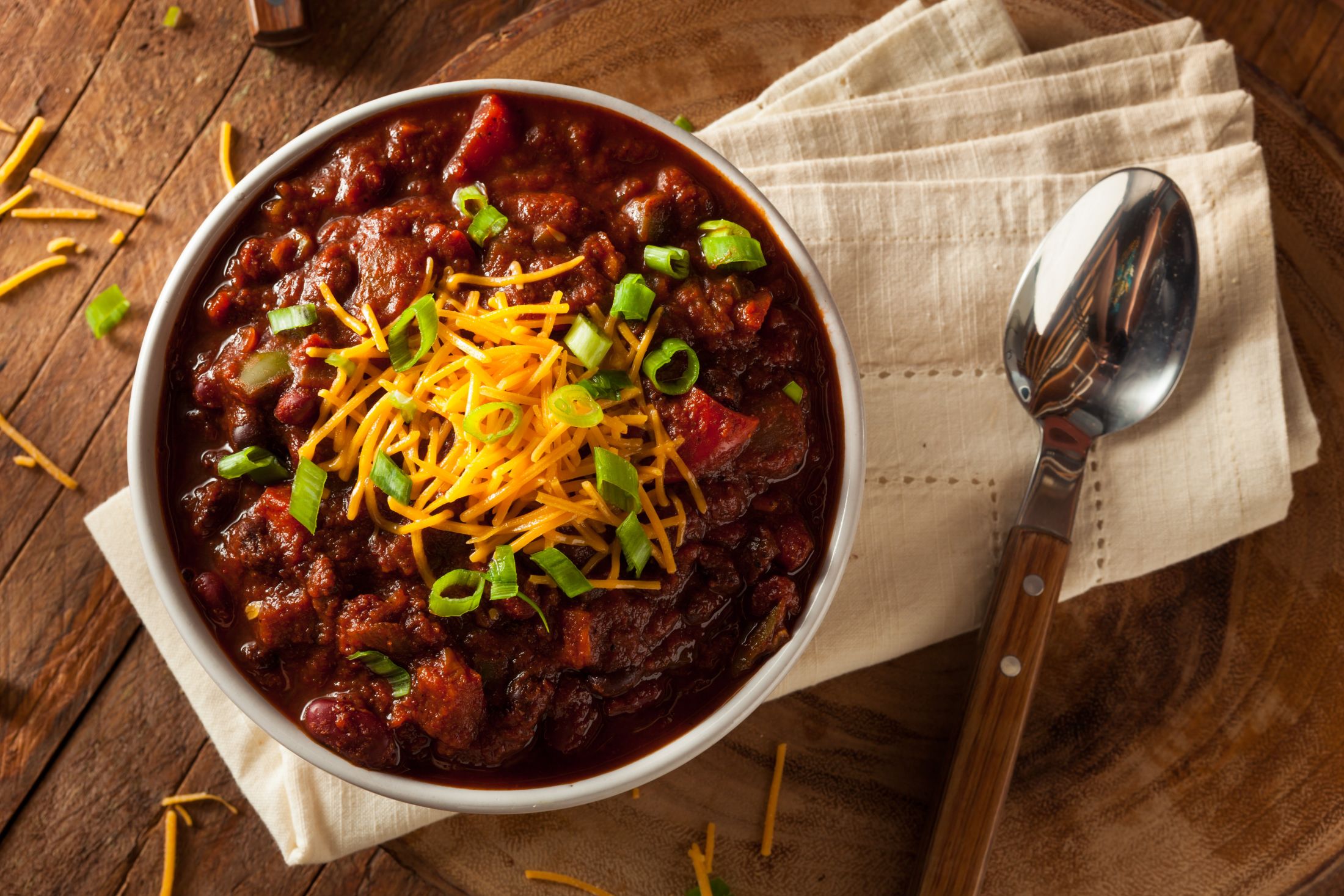 BLUE RIBBON MAPLE  BACON CHILI
Our Blue-Ribbon winning Maple Bacon Chili speaks for itself. It has won a blue ribbon in every chili cookoff we have entered! It has a smoky, slightly sweet, and spicy flavor and is our absolute favorite. Garnished with a little sour cream, cilantro, cheddar cheese and possibly even some tortilla chips will really take this dish over the top!
1 Tbsp. canola oil
4 strips of bacon, diced
1 lb. ground beef
1 lb. ground spicy Italian sausage
1 large white onion, diced
2 Tbsp. apple cider vinegar
2 cups water
1 (8 oz.) can tomato sauce
1 (28 oz.) can crushed tomatoes
1 (15 oz.) can black beans, drained and rinsed
1 (15 oz.) can red kidney beans, drained and rinsed
¼ cup maple syrup
3 Tbsp. Halladay's Farmhouse Chili Seasoning
3 Tbsp. Halladay's Maple Bacon Seasoning
1 cup dark beer or ½ cup of bourbon, optional
Heat a large stock pot over medium heat. Add oil, bacon and onion and sauté until onions and bacon are lightly cooked and browned.
Add ground beef and sausage, cook until completely browned and no pink remains. Stir occasionally to break up meat.
Add all remaining ingredients, scraping up browned bits from the bottom of the pan. Reduce heat and simmer for at least 30 minutes until flavors are well combined.
Serve with sour cream, green onions, cheddar cheese, crisp crumbled bacon or desired toppings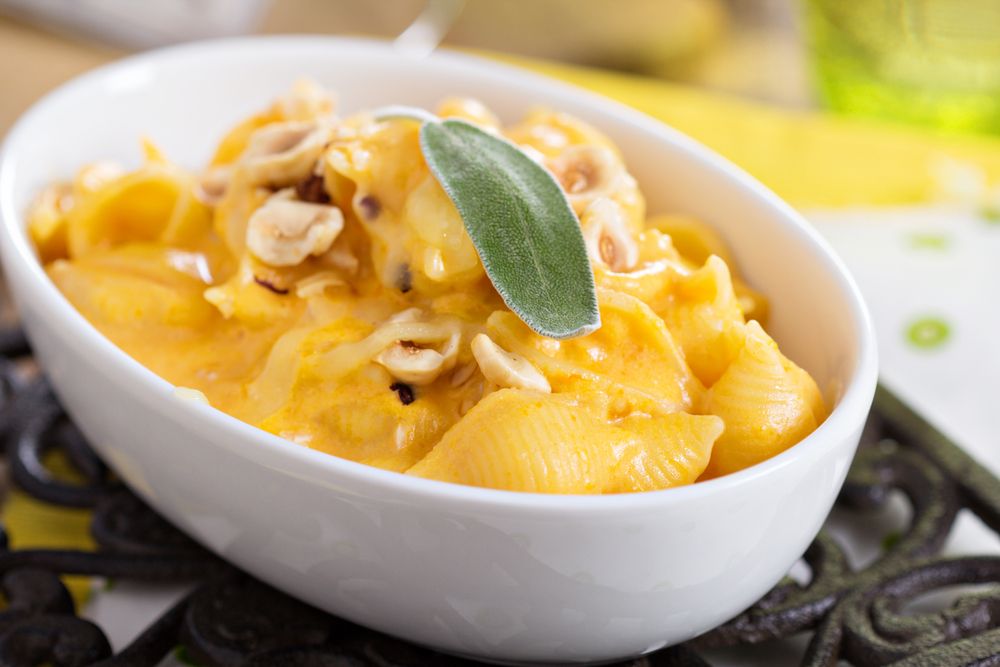 CHEDDAR  ALE PUMPKIN MAC & CHEESE
Our Cheddar Ale Pumpkin Mac and Cheese is creamy and delicious and has just a hint of beer flavor. The pumpkin adds another layer of flavor, increases nutrition and trims the calories.
1 lb. pasta shells, cooked
4 Tbsp. butter
3 rounded Tbsp. flour
1 cup chicken or vegetable stock
2 Tbsp. honey
2 cups milk
4 Tbsp. Halladay's Cheddar Ale Seasoning
1 (15 oz.) can pumpkin puree
2 ½ cups shredded sharp cheddar cheese, divided
Cook pasta according to package directions; set aside. Meanwhile, melt butter in a large skillet. Whisk in flour and cook for 1 minute. Whisk in chicken stock and simmer until reduced, 3- 5 minutes. Whisk in honey followed by milk and seasoning. Cook, stirring often, until thickened; whisk in pumpkin. Stir in 2 cups of cheese; salt and pepper to taste. Stir in cooked pasta. Pour into a 13x9-inch casserole dish and sprinkle with remaining cheese. Broil until cheese is melted and bubbling.
There you have it, four delicious cozy fall recipes. If you try any of these recipes, we want to see your pictures! Post to Instagram or Facebook and tag us @halladaysharvestbarn and use the hashtag #halladaysathome so we can see them. Enjoy!  
-Kathleen Govotski, Owner Halladays Harvest Barn