3 New Takes on the Classic Chicken Soup
02/18/2022
Chicken soup is the classic comfort food. It also seems just right when you are under the weather. We have been in the kitchen creating some chicken soup recipes with a twist to make them every day favorites.
Chicken soup can be delicious but at the same time a bit boring. In my early cooking days, I resorted to lots of salt just to bring a bit of flavor to a pot that tasted like boiled water. You don't have to boil your chicken forever to come up with some variations of the traditional chicken soup that are all delicious and ready in under an hour.
I love to use bone in chicken thigh quarters as a base for my soup. They do not dry out as breasts tend to do and the bones add more flavor and richness to the soup. Bone in thigh quarters were 99 cents a pound at the market this week and 4 of them made a huge pot of soup with some chicken left over for salads. I tend to take the skin off before cooking to cut down on the fat in the soup. If you like to leave the skin on you can let the soup cool and then skim off the extra fat.
You can start your soups with just water, but adding some chicken stock does help to flavor up your soup more quickly. I love to have Better Than Bouillon on hand but with a whopping 640 mg of salt per teaspoon I add it with a light hand. Including herbs in your soup also adds lots of flavor. We use many of our Harvest Barn blends as a base for our soup mixes. They are perfectly balanced without pulling out every herb in your cupboard.
We have included a basic recipe to start with, and have come up with 3 different variations. Experiment and find your own creative additions. Freeze those little bits of leftover veggies at the end of dinner and add them in. Add ¼ cup of cream, sour cream or yogurt at the very end to add in extra creamy flavor. Instead of adding more salt, try rounding out the flavor with the juice of a ½ lemon or lime.
If you are serving your soup with pasta or noodles, I often cook those on the side and just add them in as I am serving the soup. I am sure you have all started out with a big pot of chicken soup, added the noodles and then ended up with no liquid left and a pot of soggy noodles.
CHICKEN SOUP STARTER
2 Tbsp Halladay's Harvest Barn Chardonnay or Garlic Herb Blend (omit if using variations)
2 Tbsp butter or oil
1 onion, chopped
3 celery stalks, cut in slices
3 carrots, peeled and thinly sliced
8 cups chicken stock or water
2 bay leaves
2 lbs bone in chicken thighs
¾ cups rice or orzo
Sauté onions, carrots, and celery in butter or olive oil for about 3 to 4 minutes. Add seasoning, chicken stock or water and chicken thighs. Cook over medium heat for about 1 hour, or until the chicken is done. Remove chicken, shred chicken off the bone when it is cool enough, then add it back to the soup.
At this point add ¾ cup of rice or orzo, cook until done according to package directions. If you are adding noodles or pasta, cook them in a separate pot and add as you serve the soup. Orzo can also be done on in a separate pot.
And now for the variations!
MEXICAN CHICKEN SOUP
Substitute 2 Tbsp of Halladay's Harvest Barn Zesty Fiesta Seasoning for the Chardonnay or Garlic Herb Seasoning in the Chicken Soup Starter recipe above.  
After the chicken is added back in, add ¾ cup of rice and cook until rice is soft. You can also add frozen corn, or black beans. Before serving add the juice of one lime and ¼ cup of fresh cilantro, if desired. This soup is great served with a bit of shredded cheddar, a dollop of sour cream and a few crumbled tortilla chips.
MEDITERRANEAN CHICKEN SOUP
Substitute 2 Tbsp of Halladay's Garlic Tomato Basil Seasoning for the Chardonnay or Garlic Herb Seasoning in the Chicken Soup Starter recipe above.  
Add a 15 oz can diced tomatoes in the beginning. After adding chicken back in, add one can of drained and rinsed chick peas or white cannellini beans; simmer for 10 to 15 minutes for flavors to meld.
If desired, add in 4 to 5 cups of fresh spinach just before serving. This soup is great served with a sprinkle of Parmesan cheese on top.
HEARTY FRENCH CHICKEN SOUP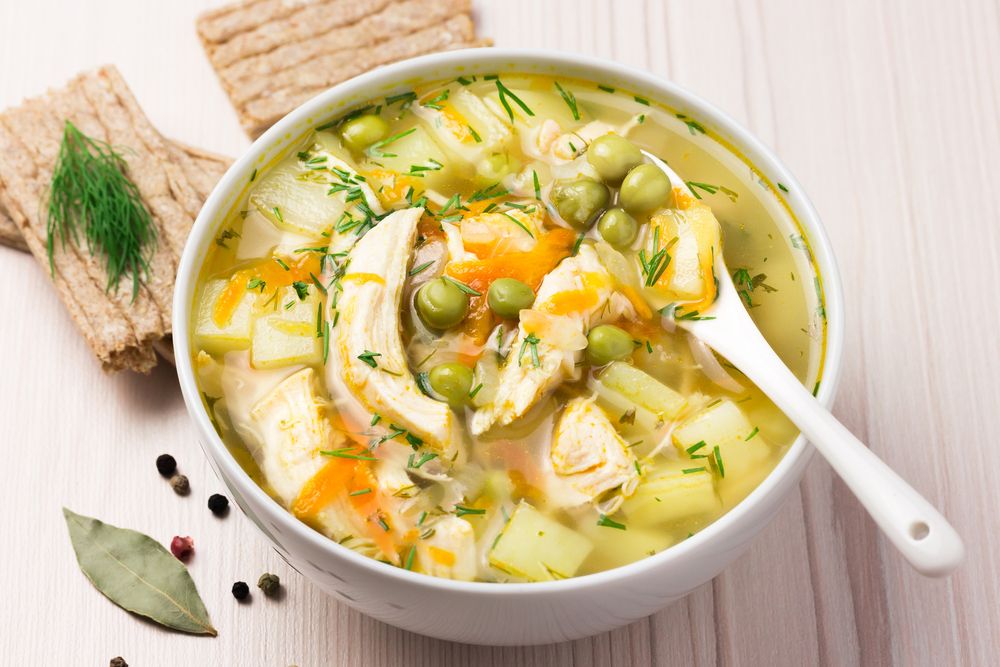 Use our Starter Recipe above, with Chardonnay or Garlic Herb seasoning.  When sauteing vegetables, add 4 chopped baby potatoes and 3 sliced leeks. Add one Tbsp of Dijon mustard to the soup; cover and cook on low heat until chicken is done and vegetables are tender.
So, there you have it: 3 w takes on the classic chicken soup! If you try any of these recipes, we want to see your pictures! Post to Instagram or Facebook and tag us @halladaysharvestbarn and use the hashtag #halladaysathome so we can see them.
-Kathleen Govotski, Owner Halladay's Harvest Barn