3 Delicious Foil Packet Recipes for Grilling at Home
07/16/2020
July is National Grilling Month. People are staying home more than ever. While I am obsessed with thinking about food and new ways to cook and serve food, I would rather be outside in the summer. Whenever we can put something on the grill it saves on cleanup and lets us spend more time together outside.

If we have to stay home, lets make it fun. We are lucky enough to have a porch, a deck and a screened in area. I have taken to thinking of each of these as a mini get away. My kitchen… it will still be there when fall comes.
Foil Packets are a fun way to throw a whole dinner together on the grill or to make some side dishes if you are grilling meat or fish. Our fun Thrill at the Grill Box is a great collection of spices for kicking up your grilling game. I have repurposed a couple of the mixes in the box to create some fun foil packets.


Jerk Shrimp Packets
1 ½ lbs jumbo shrimp
1 Tbsp. Halladay's Sweet & Spicy Jerk Chicken Seasoning
1 lb red skinned potatoes cut in thirds
2 Tbsp. olive oil
2 ears of corn, each cut into 4 pieces
1 lemon, thinly sliced
4 Tbsp. butter

Preheat oven or grill to 425. Cut four 18" pieces of foil.

Mix all ingredients, except for the butter and lemon slices, in a bowl. Divide evenly between foil packets. Top each packet with one Tbsp. butter and lemon slices. Fold foil to secure the package. Place on grill for 15 to 20 minutes, or until cooked through.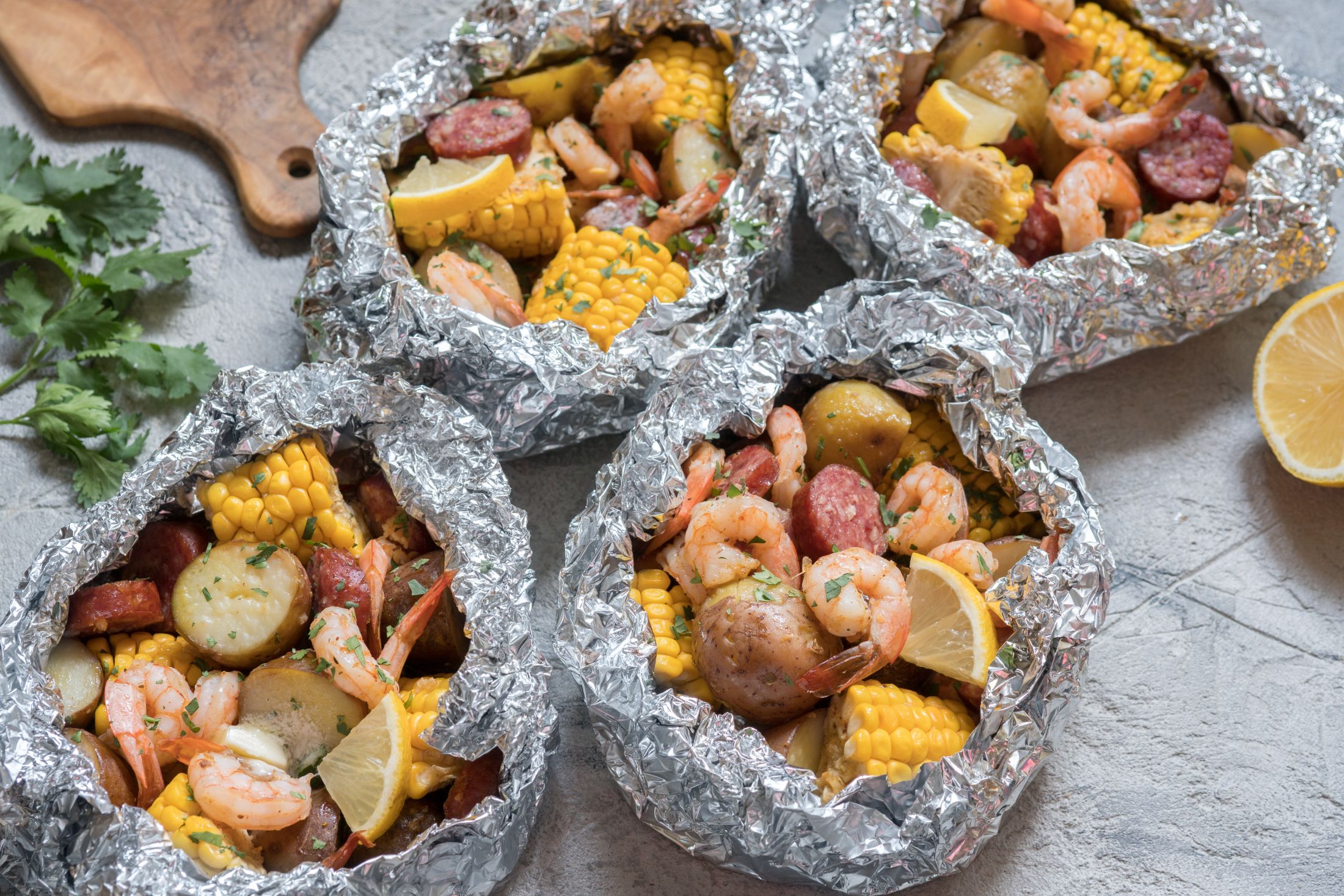 Savory Onion Grill Potatoes
4 red potatoes, thinly sliced
2 Tbsp. Halladay's Farmhouse Onion Burger Blend or Five Onion Dip & Seasoning Blend
4 Tbsp. butter
salt and pepper

Cut a large piece of foil, layer half the potatoes on the foil. Add one tablespoon of seasoning and 2 tablespoons of butter cut and patted on top of the potatoes. Repeat with the second layer. Add salt and pepper to taste. Fold the foil to create a secure packet. Grill for 20 to 30 minutes, or until done. Flip once half way through cooking time.
What about Mexican Night on the grill?! We created these easy foil chicken packets with a Mexican flair. They are great to serve with a nice garden salad or we served them sliced and with warm tortilla shells.
Zesty Fiesta Chicken & Veggie Foil Packets
4 chicken breasts or thighs 7-8 oz each
1 Tbsp Halladay's Harvest Barn Zesty Fiesta Dip & Seasoning Blend
15 oz can black beans, drained and rinsed
2 cups of whole kernel corn
1 cup of diced peppers
¾ cup of salsa
½ cup of Monterey Jack or Mexican Cheese
Cilantro, Jalapeños or the garnish of your choice

Preheat Grill to Medium Heat. Place 4 large pieces of foil out and spray with cooking spray. Place a chicken piece on each piece of foil and season with Zesty Fiesta Seasoning and salt and pepper to taste. Mix corn, beans and peppers together and top chicken with mixture. Fold in the ends to seal packets. Place packets on the grill, vegetable side down and grill for 10 minutes. Flip packets over and grill for 10 to 12 more minutes, until the chicken Is cooked through. Remove packets from the grill and carefully open foil and top with cheese. Loosely close the foil for a couple minutes to allow the cheese to melt.
Let us know if you try any of these foil packet recipes by sharing your photos on Facebook or Instagram with the hashtag #HalladaysAtHome. Happy Grilling!