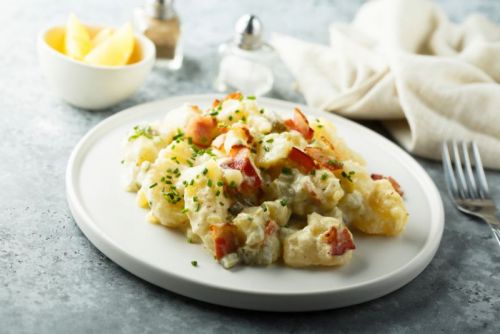 3 lbs. potatoes cooked, cooled and cubed
1 cup mayo
1 Tbsp Halladay's Bacon Cheddar Onion Dip and Seasoning Blend
¼ to ½ cup celery, finely diced
6 slices crisply cooked bacon, drained and chopped
1 cup shredded cheddar cheese
¼ cup red onion finely diced, optional
While potatoes are cooking, add the Bacon Cheddar Onion Dip and Seasoning Blend to the mayo to create your dressing. Thin with a little bit of milk if too thick.
Gently add the dressing, cheese, celery and onion to the potatoes. Chill before serving. Add the bacon in just before serving if you would like it to still be crisp.
1 large white onion, sliced thin and caramelized
4 slices crisp bacon, chopped
1 cup sour cream
1 cup mayo
2 Tbsp Halladay's Bacon Cheddar Onion Dip Mix
Combine all ingredients, chill for several hours or overnight and serve.