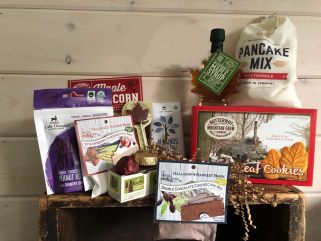 The Birthday Box
We have put together a collection of some of our favorite Harvest Barn mixes as well as some Vermont made treats from Lake Champlain Chocolates and Butternut Mountain Farms.
Buttermilk Pancake Mix
3.4 oz jar Maple Syrup
Halladay's Double Chocolate Cheesecake Mix
Halladay's Strawberry Cheesecake Mix
Maple Cream Filled Cookies
Maple Popcorn
2 Maple Lollipops
Lake Champlain 'Chocolates of Vermont' Sampler (4 pc.)
Lake Champlain Salted Caramel Dark Chocolate Bar
Lake Champlain Dark Chocolate & Peanut Butter w/ crunchy Quinoa Snack Bites


This item ships within 1-2 business days.