2 Tbsp. butter
2 Tbsp. Halladay's Seafood Alfredo Seasoning
4 oz. cream cheese, softened
1/2 cup sour cream
1/4 cup mayo
1 cup mozzarella cheese, shredded
1/4 cup parmesan cheese
1 cup of shredded cooked chicken
Melt butter, add Seafood Alfredo blend to hydrate and let sit for at least 10 minutes. Combine melted butter mixture with softened cream cheese, sour cream and mayo. Fold in the chicken, mozzarella and Parmesan cheese. Pour into decorative pie plate or oven proof dish. Bake at 350˚F for 20 to 25 minutes, or until hot and bubbly. Broil for an additional 2 to 3 minutes to brown, if desired. Garnish with chopped cherry tomatoes before serving, optional.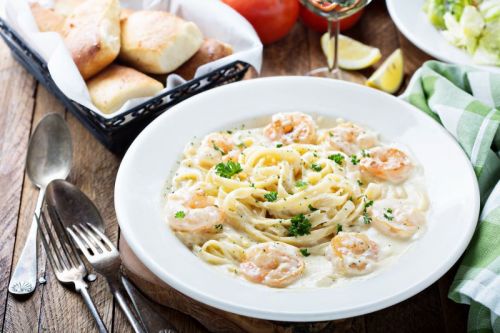 1 lb fettucine or pasta of choice, cooked
1/4 cup butter
1 cup half & half or heavy cream
1 1/2 cups parmesan, freshly grated
1 to 2 cups cooked seafood of choice
1 Tbsp Halladay's Seafood Alfredo Seasoning
In medium saucepan, melt butter over medium low heat. Add in half & half or cream and 1 Tbsp Halladay's Seafood Alfredo seasoning. Simmer for 5 minutes. Add Parmesan and whisk continuously until sauce is smooth. Fold in cooked, well drained seafood and continue to simmer just until seafood is heated through. Toss with cooked pasta; serve immediately.