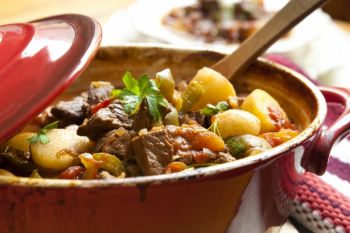 1 package Halladay's Farmhouse Vegetable Barley Stew
1 to 1 ½ lbs. lamb stew meat (or beef chuck roast)
12-16 oz. Guinness (or stout of your choice)
1 (10.5 oz.) can cream of mushroom soup
4 carrots, cut into 1-inch pieces
3 potatoes, cut into 1-inch pieces
3 ribs celery, chopped
1 onion, finely chopped
6 cups water

Combine all ingredients in a large slow cooker. Cook on low 7-8 hours or on high for 4-5 hours.