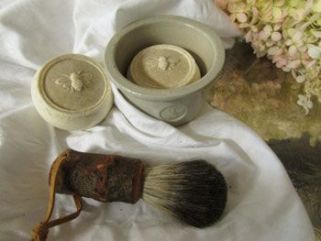 Bee Smoothed
-Rich in vitamins and minerals. Made with oatmeal & honey.
-Works up a thick, rich luxurious lather!
-Therapeutic properties of honey in healing cuts and scrapes while oatmeal has very soothing properties
-Easy to hold while working up a lather with a shaving brush
-Ingredients: Cocos nucifera (Coconut oil), Elaeis guineensis (Palm oil), Carthamus tinctoris (Safflower seed oil), Vegetable glycerin, Avena sativa (Oatmeal and oatmeal protein), Honey, Sodium Hydroxide (used in soap making process), Essential oils, Titanium dioxide mineral.